Disney/Star Wars released the first trailer for the animated anthology series Star Wars: Visions today. Due for a Disney+ streaming release on 22 September, the Star Wars: Visions features stories from seven Japanese anime studios – among them are Kamikaze Douga, Trigger and Geno Studio.
Which Star Wars: Visions episode did Kamikaze Douga create?
It first became apparent that anime studio Kamikaze Douga would be teaming up with Lucasfilm for its upcoming Star Wars: Visions series in July this year. 
A blogpost on the Star Wars website, dated 3 July, contains a summary of the most important points from a special Anime Expo Lite panel, during which Lucasfilm "pulled back the curtain" on the series.
The panel showed concept art and offered plot details for some of the stories that are on the way. It also revealed which studios and creators are behind each of the shorts.
Star Wars: Visions will feature Kamikaze Douga's episode The Duel. The other studios involved are: Geno Studio, Studio Colorido, Trigger (two episodes), Kinema Citrus, Science Saru (two episodes) and Production IG – more details on a couple of these below.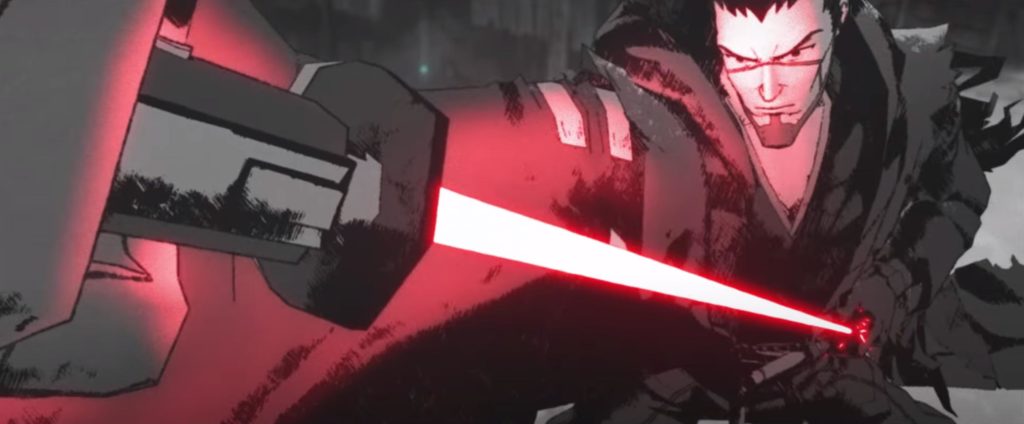 What is the Kamikaze Douga studio known for?
Founded in 2003 by Mizusaki Junpei in Tokyo, Kamikaze Douga is a Japanese digital animation studio.
Among their recent productions is the animated music video for Polkadot Stingray's song Keshin (below). They have also worked with American country music singer-songwriter Sturgill Simpson and Warner Bros Entertainment.
For a full list of their animations to date, visit Anime News Network's article on the company.
During the Expo mentioned above, Kamikaze Douga revealed concept art for their episode. The Star Wars blogpost describes it as featuring "Samurai-esque Jedi and Sith" and "an astromech droid with straw hat".
"It was just irresistible," said Jacqui Lopez, who is executive producing the series. "We were all overwhelmed when we saw this artwork."
Who are the other studios?
Two of the other studios, Science Saru and Trigger, have two episodes each. Trigger will produce The Twins and The Elder; Science Saru will produce Akakiri and T0-B1.
Geno Studio (Twin Engine) was confirmed by Lucasfilm as the studio responsible for an episode called Lop and Ochō.
Lopez said of Geno Studio's visuals: "The design style on this short really focuses on the collision between natural beauty and encroaching industrialization".
The titular Lop is apparently a "space bunny-person".
"She is cute and expressive and completely unwavering in her devotion to good and family and loyalty," Lopez is quoted as saying. "She's awesome."
Related Topics