Who is Olivia from The White Lotus? The HBO Max comic drama premiered on Sunday, 11 July and actress Sydney Sweeney is quickly gaining a cult following among viewers.
The White Lotus on HBO Max
The White Lotus premiered on Sunday, 11 July on HBO Max.
TV: Poopies' shark attack gives Jackass viewers a fright
Mike White, the writer/actor behind School Of Rock and HBO's small-but-smart Enlightened, is back with a six-episode limited series about the dysfunctionally privileged.
The White Lotus follows a group of guests at a tropical resort in Hawaii during the course of a week.
According to IGN, the series is a deeply unsettling but quietly hilarious look at the wealthy guests attempting to unwind, and the staff whose job it is to pamper them.
But with each passing day, a darker complexity emerges in these picture-perfect travellers, the hotel's cheerful staff and the idyllic locale itself.
The series is already getting great buzz from critics and currently has a Certified Fresh seal of approval at Rotten Tomatoes with an 85% approval rating.
The White Lotus has a stacked cast of A-listers including Connie Britton, Jennifer Coolidge, Murray Bartlett, Alexandra Daddario, Fred Hechinger, Jake Lacy, and Steve Zahn.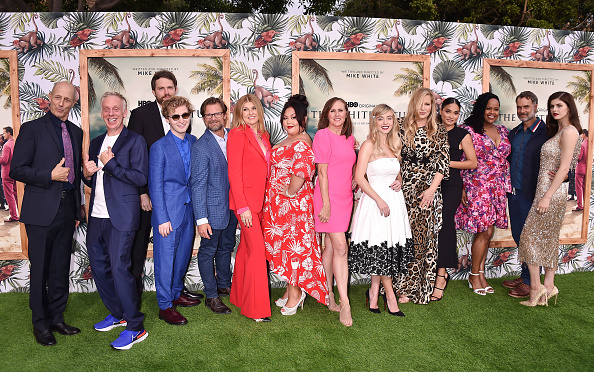 Who plays Olivia on The White Lotus?
Taking on the role of Olivia Mossbacher in The White Lotus is 23-year-old actress Sydney Sweeney.
Olivia is Nicole (played by Connie Britton) and Mark's (played by Steve Zahn) deeply cynical college sophomore daughter.
In the first episode of the series, we meet Olivia and her friend Paula (Brittany O'Grady), who Olivia's parents brought along as a guest to keep their daughter from griping the entire time.
TV: Is Summer leaving Y&R?
The actress who plays Olivia, Sydney Sweeney, made her debut as Haley Caren on In The Vault (2017).
Since then, she has appeared in the Netflix series Everything Sucks! (2018), Tell Me Your Name (2018) and Once Upon a Time… in Hollywood (2019).
However, Sweeney began gathering online fans for her roles in The Handmaid's Tale (2018), Sharp Objects (2018), and Euphoria (2019).
After Sydney Sweeney and her rumoured boyfriend Jonathan Davino were spotted smooching last year in Hawaii, fans went online to share their displeasure about seeing her with a man.
Sydney responded to that tweet by sharing a photo of herself at prom with a girl. She wrote in the tweet, "baby girl go have a feast. your girl at prom ;)."
Of course, this doesn't necessarily mean anything about Sweeney's sexual orientation, but female fans did start wondering if they have a chance with her now.
The White Lotus episode 2 spoilers
The White Lotus episode 2 is set to release on Sunday, 18 July at 9 pm ET on HBO Max.
In episode 2, entitled A New Day, Tanya's sense of attachment and attraction towards Belinda might grow further, prompting the latter to reciprocate to some degree.
According to The Cinemaholic, Rachel's doubts about her marriage will persist as Shane keeps his antagonistic relationship with Armond going.
Paula and Olivia's friendship might encounter some issues with the former now dating a staffer. They might end up losing their stash of drugs, which Armond will probably find and then proceed to use.
Finally, Mark might receive some positive news from his doctor and decide to reach out to his son earnestly.
TV: What happened to Preacher on Virgin River?
Related Topics