General Hospital star Josh Swickard and his wife Lauren appear to be living out the fairytale dream so let's take a look inside their life.
Swickard plays the role of Harrison Chase in General Hospital who is the son of Professor Gregory Chase and journalist, Jackie Templeton. Swickard walked onto the soap canvas on 21st February 2018 and remains a regular on the show.
Let's take a look at Josh Swickard's career, family life and relationship as he celebrates his three-year wedding anniversary.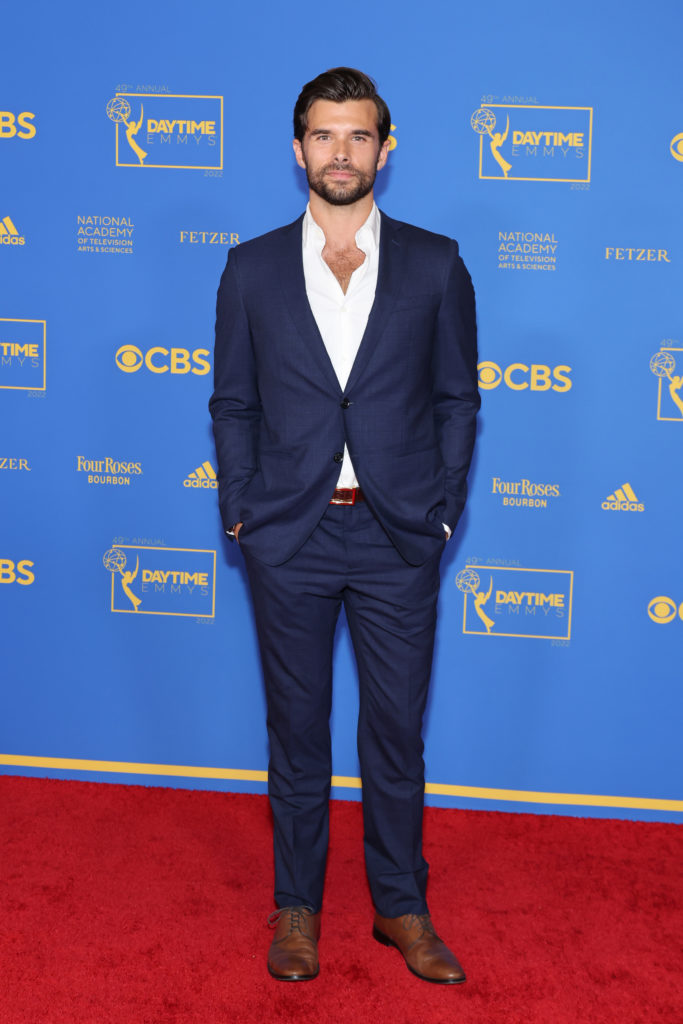 Timeline of Josh and Lauren Swickard's relationship
In December 2018, Josh announced his engagement to his girlfriend and fellow actress Lauren York. The pair married less than a year later on 6th July 2019, two days after his 27th birthday.
The couple met on the set of the Netflix movie Roped and dated for a year before he popped the big question. "He eventually asked for my number underneath the famous Warner Brothers water tower in Hollywood," Lauren told Distractify.
The actor got down on one knee in the most romantic way – in front of all of their family whilst on a ski holiday in Beaver Creek. He acted out the word "proposal" during a game of charades, and then said 'Well… this was not a charade.'. The actor then showed 'Lo' an engagement ring and asked her to marry him- dreamy, right?
Interestingly, their wedding had a theme of 'Old Hollywood Glamour' which is pretty spot on seeing as they're both in the acting industry. The vows took place at the Hyde Park United Methodist Church. As Josh's father is a pastor, he officiated the wedding and his grandfather was his best man. Lauren's father walked her down the aisle and following the ceremony, attendees went to the stately home, Greenacres, to carry on the party.
Marquees were filled with white floral arrangements and candles on the tables. The wedding cake was a lemon olive oil cake with strawberry filling and vanilla icing, which guests dug into following the dinner. The happily married couple then left the venue in a 1963 Rolls-Royce to end their big day.
Two years later, Josh and Lauren, welcomed a daughter on 2nd April 2021. They called their little bundle of joy, Savannah Kaye Swickard, and she is now one year old.
Josh celebrates anniversary with an Instagram tribute
Swickard shared a photo on his Instagram for their wedding anniversary and in a heartfelt caption wrote, "Happy Anniversary Lo. Thanks for being my travel buddy, baby mama, lover. Life is better with you and I'm forever grateful." Comments instantly flooded in with good wishes from fans and friends. Including General Hospital star James Patrick Stuart who wrote "So great together."
Lauren responded to the anniversary post revealing that although they are all smiles in the photo, she was actually poorly on this day: "I love you. And I love that you chose this picture. Best memory ever ❤️❤️❤️ (aside from the being super sick this day part HAHA)"
Who is Josh Swickard?
Josh Swickard is an American actor who was born in Illinois on 4 July 1992 to parents Bob and Gina Swickard. Bob is a Pastor and his mother Gina is a vocal coach. He also has three sisters Elyssa Swickard, Kalia Swickard and Elayna Swickard.
After attending Glenwood High School he went to the College of DuPage to major in accounting. With initial dreams of going into finance, he had a change in career when he got into modelling at college.
Swickard eventually started working with an acting coach and began auditioning for roles. Along with playing Chase on GH, he has amassed a wealth of credits, and we sure do love seeing him on screen!
Related Topics