Hulu's latest series Only Murders In The Building surprised fans with a cameo by comedienne Tina Fey in episode 1. That wasn't the last of her as she made another appearance in episode 4, adding to the well-loved cast.
*Warning: Spoilers ahead for Only Murders In The Building*
Created by John Hoffman and veteran comedian Steve Martin, Only Murders In The Building guarantees a laugh as Hulu's latest mystery crime comedy. So, how can you make it even funnier? You add Tina Fey to the cast.
Fey's cameo as Cinda Canning, podcast host of Not All Is OK In Oklahoma, in episode 1 was a pleasant surprise for viewers since she was never teased to be on the show.
Three episodes later, she joins forces with fans Steve Martin, Martin Short and Selena Gomez in their investigation to track down the murderer of Tim Kono.
NEW: Who plays Sylvie Dubois in Into The Nights?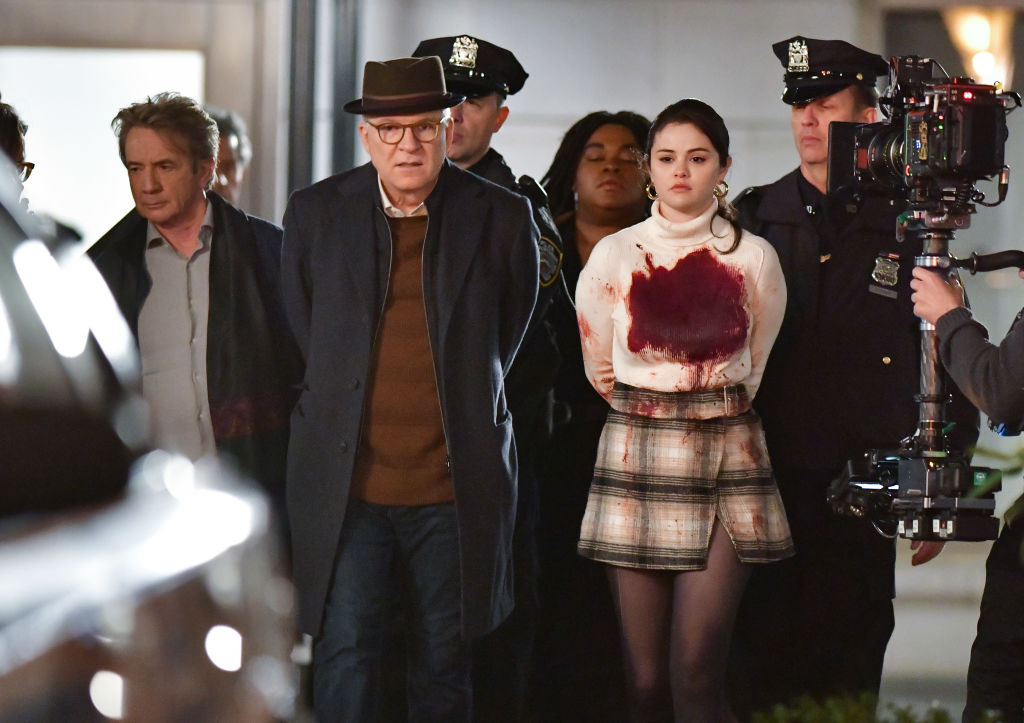 How does Cinda Canning help the detective wannabees?
Cinda returns in episode 4, aptly entitled Sting, to help the three true-crime fans uncover the killer of their neighbour. In this episode, The Police singer Sting is the latest suspect. Yes, another star cameo.
When Oliver's beloved dog Winnie gets poisoned, all fingers point to Sting as the culprit because of his hatred for dogs. It doesn't help when Mabel finds out the rock star lost millions to Tim's employer.
With so much evidence and no experience, the only thing to do is hire a professional – Cinda Canning.
Advising them with the wise words "embrace the mess, that's where the good stuff lives", the trio take her actions too literally when they prepare a turkey to entice him. This was the same move Cinda did when she recounted the time she got a mayor to admit his wrongdoings by cooking him a turkey dinner.
How this was going to persuade a rock star we don't know but, by the end of the episode, Sting is no longer a suspect. He's also relieved to find out Tim was murdered rather than committed suicide since Sting fired him before his death.
READ MORE: Fans react to Samara Weaving doppelganger Emma Mackey in Sex Ed trailer
What other cameos will there be?
For now, IMDb have only credited Tina for two episodes of Only Murders In The Building so we shouldn't expect more of the comedienne onscreen. Perhaps we'll continue to hear her on the podcast?
Other than Tina and Sting, several other celebrities have appeared as The Arconia residents:
Jackie Hoffman as Uma Heller: Feud actress Jackie Hoffman played a grumpy New Yorker who flips Charles off less than two minutes into episode 1.
Nathan Lane as Teddy Dimas: Lane, the original voice of Timon in The Lion King, appears as owner of grocery chain Dimas Delis and backer of Oliver's Broadway projects.
Maulik Pancholy as Arnav: Charles' next-door neighbour is portrayed by the 30 Rock actor, the show created by Tina. He compliments Charles on the aroma of his omelettes, which remind him of a woman named Lucy, who we eventually learn about in episode 4.
A behind-the-scenes photo of possible cameos has been circulating on Twitter since March 2021. It features Tina and Maulik so there might be some truth to this image. Can you recognise all the actors?
Only Murders In The Building is available to stream on Hulu and Disney+ now.
Related Topics