Oklahoma meteorologist Matt Mahler presented his last weekend weather forecast on News 9 today (Sunday, 22 August) after announcing he would be leaving the channel earlier this month. Following his departure, some are curious to know where the weather anchor will go next.
Is Matt Mahler leaving News 9?
Yes. The meteorologist announced he would be leaving his role on News 9 after almost 12 years earlier this month on Twitter.
At the time, in a post to his 11,400 followers, Matt Mahler wrote: "BIG LIFE NEWS! My time at @NEWS9 (11 yrs) and in broadcast meteorology (14 yrs) is coming to an end."
Mahler joined News 9 in 2009 as a weekend meteorologist on News 9 This Morning and, over his 11 years on the show, became a well-known part of the News 9 weather team.
Before joining News 9 Mahler was a weekday meteorologist for NBC affiliate KFDX.
CELEBRITY: Why did Bert Kreischer have surgery? Twitter post sparks interest
TRENDING: Who was late musician Don Everly's wife Adela?
Where is he going?
While announcing his departure from the News 9 last month, Matt Mahler revealed he would not be returning to TV in his next role. Instead, the meteorologist will be joining payroll and human resources provider Paycom as a client trainer.
After sharing the news he would be leaving News 9 on Twitter, he also posted about his change in career paths on Facebook.
He wrote: "I have recently accepted a job at Paycom here in Oklahoma City as their newest client trainer. I'm excited for all the new challenges that will come with this position and, if I'm honest, I'm excited about the Monday through Friday schedule too. "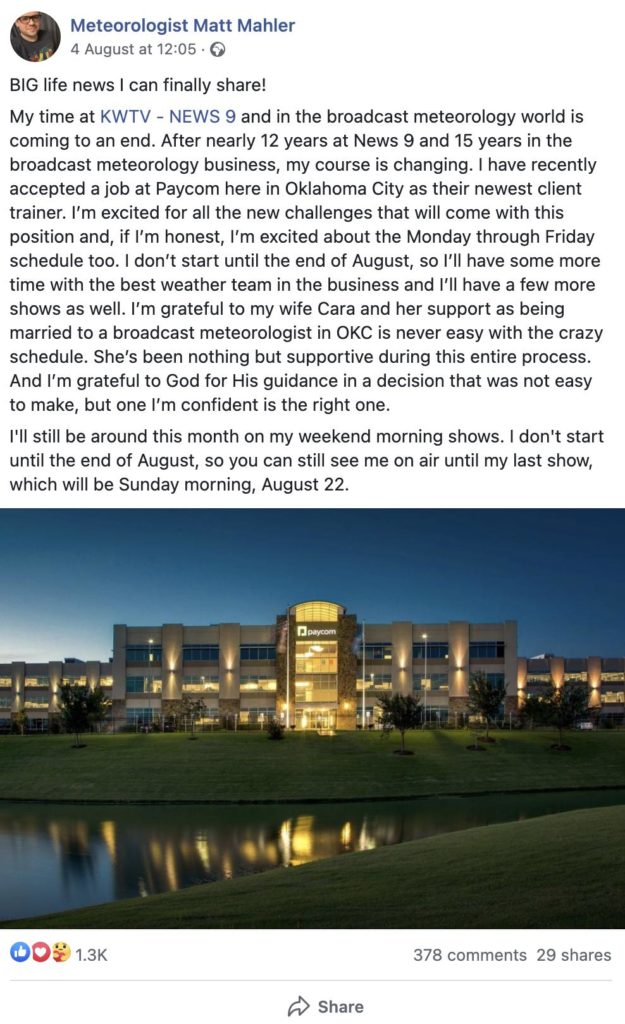 EXPLAINED: Drake's green watch stirs Kanye West beef: Group chat text explained
Colleagues react to Mahler's departure
In honour of his last morning newscast at News 9 today, Sunday, 22 August anchor Ashley Holden commemorated Matt Mahler's time on the channel in a video that looked back on memorable moments over the years.
Talking of his time as part of News 9 he said: "I've had the best co-anchors, the best producers, the best co-workers and just the best people I could have asked for. I can't say anymore, I'm going to lose it."
Following today's broadcast his co-anchor Ashley Holden took to Twitter as she admitted she would miss their early starts together:
Other's have also shared their goodbyes to the meteorologist on the social media platform:
Related Topics