Stranger Things does an incredible job at invoking some serious 80s vibes, and one way they achieve it is through the characters' hair.
Mullets, perms, you name it; the Stranger Things cast look straight out of an 80s classic teen film thanks to the hair and make-up department.
Joseph Quinn joins the cast for the fourth season as Eddie Munson, the Hellfire Club leader who is kitted out in a metal rocker style, long hair and all.
But you might be wondering whether Joe is wearing a wig for his character or whether the long locks are all his own. Let's take a look at how he got into the character of Eddie Munson.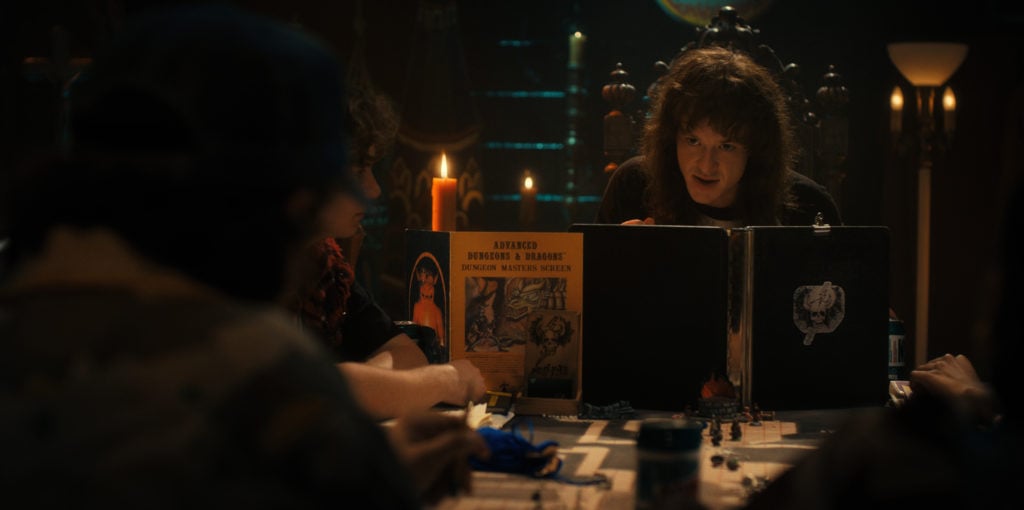 Is Joseph Quinn wearing a wig in Stranger Things?
If you've seen any recent pics of Joseph Quinn, you'll know the actor currently sports a cropped hairstyle. But he actually had this hair all along! While playing the role of Eddie Munson, the British actor wore a rocker wig to complete the character's look.
Joseph Quinn shared a video to Instagram which showed his transformation into Eddie Munson. Sitting in a trailer, Joe gets his wig carefully fitted and crafted to give a natural look.
Some fans were disappointed to learn Joseph Quinn was wearing a wig while playing Eddie. One fan tweeted: "Finding out Eddie Munson's hair is a wig was heartbreaking."
RELATED: Joseph Quinn makes Spotify private as fans discover his 'Eddie' playlist
Joseph Quinn talks Eddie transformation
Speaking to the Los Angeles Times following the conclusion of Stranger Things 4, Joseph Quinn touched on his newfound fame. He also referenced wearing the wig, which he thought would prevent him from being recognised:
"Yeah, I thought that was going be a proper kind of [disguise]. I think if I was walking around with the wig on, which I only do on weekends, it would be a bit worse, but it's ok. My friends say they're very looking forward to Halloween."
In an interview with The Guardian, Quinn also revealed the wig helped him get into the role. He said 99.6 per cent of getting into character was "the wig" and joked it was "objectively ridiculous".
Quinn continued: "When I take it off, that helps me go unrecognised, so it's been a blessing in that respect."
There are more wigs in Stranger Things than you may realise
Joseph Quinn isn't the only character in Stranger Things to don a wig, as many of the cast undergo serious hair transformations for their roles.
In season 2, an astonishing 150 wigs were used by the actors. Even David Harbour, who plays Hop, was wearing a wig in season 2. However, it's unlikely with his shaved head in the most recent season that any wig was required. The most recent series also saw more than 150 wigs used, which required three trailers to hold all the wigs, as reported by Allure.
A Refinery29 interview with the show's hairstylist Sarah Hindsgaul when season 2 premiered revealed only two characters had their natural hair: Steve Harrington and Eleven.
Millie Bobby Brown wears a wig in Stranger Things 4 as Eleven has her hair cut short once again. You can watch her wig transformation on Netflix.
READ NEXT: How old is Eddie in Stranger Things and how does his age compare with the actor?
Meet Sarah Hindsgaul and the hair team on Stranger Things
Sarah Hindsgaul has overseen the characters' hair on Stranger Things since the first season in 2016. She has been head of the hair department, working alongside wig-maker Rob Pickens.
Pickens is the founder of Wigmaker Associates, based in Beverly Hills and New York. The company creates custom hand-tied wigs for use in film and television.
On Wigmaker Associates' Instagram, it has been sharing behind-the-scenes looks at Stranger Things wigs. Check out Natalia Dyer testing her wig for the character of Nancy below:
Check out Sarah Hindsgaul's tribute to the hair team below:
You can watch Stranger Things 4 on Netflix now.
Related Topics