At 22, I moved to a small suburb of Nagasaki in Japan to teach English for a year. At the time it seemed like a good move: I had just graduated with an arts degree, and Ireland was about to head into an economic recession.
Like many things in life, moving to Japan on my own was not something I had initially planned, but more stumbled into. The idea first came to me while attending a graduate jobs fair at UCD. As I walked past engineering and accountancy stands that were only interested in recruiting graduates who had chosen sensible degrees, I began to realise how limited my prospects were. Anyone in need of a social scientist? No takers?
Just when I had given up and was about to leave, I passed a stand for the JET Programme (Japan Exchange Teaching Programme), where an enthusiastic woman asked me how the thought of a free flight to Japan sounded. Pretty good, I concluded, and after a few months and a rigorous application process, I was on my way to Tokyo with a group of other concerned but excited Irish graduates.
Tokyo times
As part of the programme all new arrivals had to attend an introductory three day conference in Tokyo. We were put up in the famous Keio Plaza hotel in Shinjuku with all our fellow new arrivals from the US, Australia, South Africa and other countries with English as a native language.
Tokyo felt like a completely different world to me. The hotel we were staying at had so many floors your ears popped when using the lift, the toilet in my bathroom had its own washing device and a barista bowed to me while serving my coffee at Starbucks, which felt a bit unsettling. Those three days were filled with making new friends, eating and drinking lots of things I had never heard of before and attending late night karaoke sessions.
If this was what my whole year would look like, I was going to be just fine.
Arriving in Nagasaki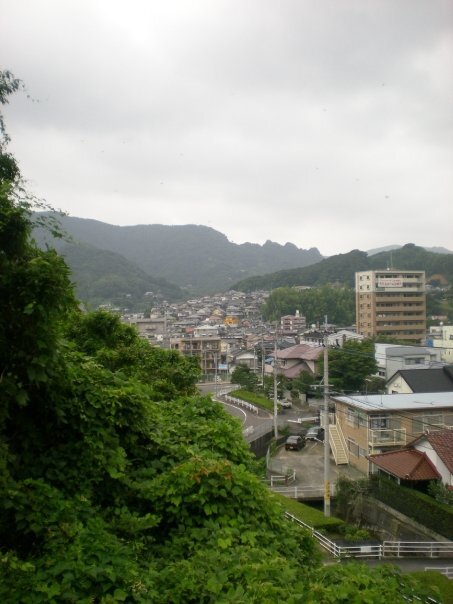 On arriving in Nagasaki each of us newbies were met by an English teacher at the school we'd be working at. One by one each of my new friends headed off to their new homes. I was already aware that I would be the only foreigner living in my town but I had somehow managed to put that thought out of my mind til this moment.
I was eventually met by a kind faced, petite Japanese teacher called Yuko Soda who helped me set up a bank account, get registered with the local government and brought me to the apartment I would be living in.
To my horror, on entering I was greeted by piles of rubbish, empty beer cans and a note from its former resident apologising for the mess. Unfortunately, he had struggled to cope with the experience and was unable to tidy the place in time for my arrival. A pang of fear rose in my chest and I started to wish I had maybe studied that engineering degree.
In true Japanese fashion though, a number of extremely kind teachers at the school came over and helped me to clean up the place making it a bit more liveable. Then they shut the door after themselves and left me to my own devices.
Coping with isolation
My surroundings in Nagayo were very different to those in Tokyo. Instead of my ears popping while using the lift, I could hear the sounds of cicadas outside and instead of bustling streets I was in a very quiet suburb. It was the middle of July, when the climate in Japan is extremely hot and humid. I didn't have a phone yet or any internet access so I really was all alone.
In fact it took three months for my internet to be connected so I had to get used to having limited or no contact with family and friends for quite some time. I had a few days till I started work so the first thing I bought was a bicycle. Those first few days all I did was unpack, try to recover from my jet lag and cycle around my neighbourhood til I was tired enough to sleep at night.
With only knowing how to say Hello and Thank you in Japanese, my first trip to the supermarket was quite the challenge. I breathed a sigh of relief to discover that at least they had roman numbers so I could tell how much everything cost. Still, I accidentally bought yogurt instead of milk more than once and struggled to find familiar items that I understood how to cook with.
In those first few days or even months I was in survival mode. I had no idea when I would meet any of my new expat friends again as I didn't have a phone or internet access or even any of their contact details. I stuck to a routine of going to work — where at least there were a number of English-speaking teachers and some very friendly students who were excited to meet a foreigner — cooking basic meals for myself with ingredients I recognised and cycling every evening, exploring my new and alien surroundings.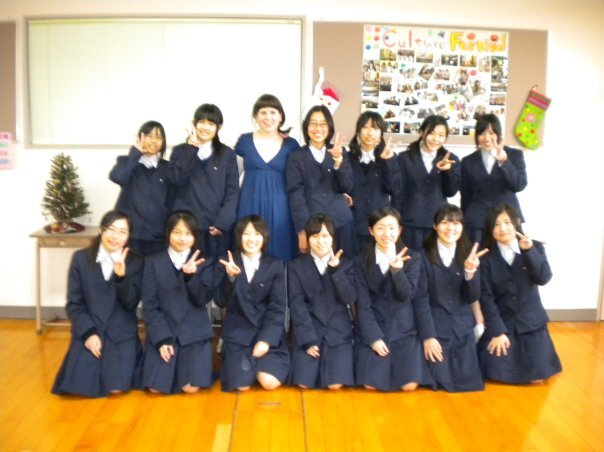 Settling In
Gradually, I adjusted to my new surroundings and even got used to my new way of life, bought a Japanese phone and finally got my internet set up. I even managed to track down a few of the friends I had made in Tokyo and eventually became part of a friendly expat community in Nagasaki where my weekends consisted of exploring nearby towns, cities and islands and finally experiencing this new country with other people.
I was also lucky enough to meet a like-minded Canadian girl named Katie who lived in a nearby town. Gradually I came out of survival mode and had someone to lean on. As time went on we would take turns staying over at each other's places during the week, which gave us a sense of normalcy.
This new and foreign world became a lot more familiar as time went on and I no longer bought yogurt instead of milk at the supermarket, could decipher the correct kanji symbol for each station on my train journeys and found cute cafes and restaurants and shops selling clothes that fit me. Things became easier. I was connected and had adjusted, so much so that I decided to stay a second year.
Social Distancing
Looking back what I learnt the most from this experience was that human beings are survivors and have a full reserve of coping mechanisms. At 22 I had never lived on my own before, let alone in a completely foreign country. I had never spent that much time alone or disconnected from friends and family but I somehow managed.
Back then I had willingly walked into a situation which required me to live in isolation for a period of time and it was a risk I was willing to take.
But now, during the pandemic, things feel different and perhaps more difficult, as social distancing and self isolation are things that have been forced on us.
At present I still live alone, but this time in a familiar city and I at least have internet access and a mobile phone. But I find myself returning to a few of the strategies I used back in those initial weeks in Nagasaki. My bicycle has become a saviour once more and the highlight of my day is going for long cycles exploring different parts of Edinburgh. My favourite person to turn to for comfort is still my beloved friend Katie, who although she lives in Vancouver now, is still always there when I need someone to confide in and has, like myself, lived through a period of isolation before.
Let's just hope that better days are to come and survival mode is only a temporary measure we must resort to.
Related Topics