New York Jets quarterback Zach Wilson's ex-girlfriend, Abbey Gile, is alleging he slept with his mom's best friend in a now-deleted Instagram comment, the New York Post reports. That might be just a vicious rumor but fans want to know the age of Zach Wilson's mom Lisa?
At the present, there has been no confirmation of these rumors by any of the Wilson family. Zach Wilson has yet to make a statement about the comments made by his ex.
We take a closer look at Zach Wilson's family life, as well as his siblings, career success and Abbey Gile dating rumors.
SPORT: Inside Taylor Rooks and Ja Morant's friendship after latest interview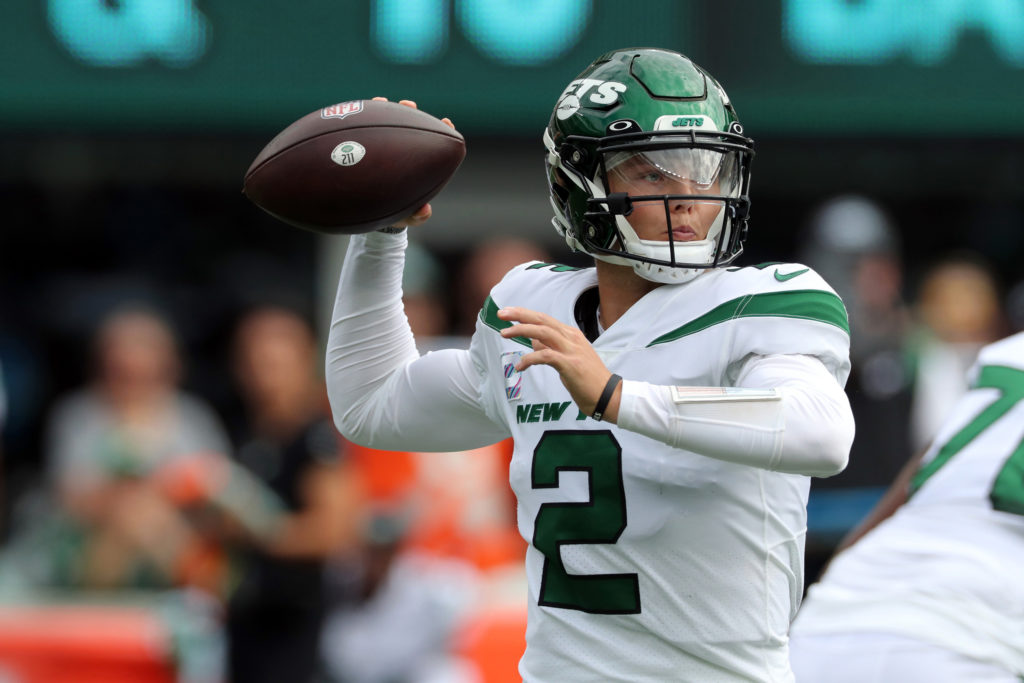 Meet New York Jets quarterback Zach Wilson
Zach Wilson was born on 3 August 1999 and is 22 years old. He is 6ft 3in and is currently quarterback for the New York Jets.
He declared early for the NFL draft and was drafted number two overall by the Jets in 2021. He was also the youngest freshman quarterback to start for the Cougars when he was at Brigham Young University.
Wilson attended Corner Canyon High School in Utah, playing American football and varsity basketball.
He was recruited by multiple colleges including California, Oregon State, Syracuse and Colorado State.
What did Zach Wilson's ex say about him?
Abbey Gile is a college student at Utah Valley University, where she is part of the college dance troupe. Gile and Wilson reportedly dated when they were in high school until they split earlier this year.
According to the New York Post, Gile was accused of being a 'homie-hopper' by one follower on Instagram, to which she reportedly replied Wilson was sleeping with his mom's best-friend.
Zach Wilson's former roommate Dax Milne is rumoured to be dating Abbey Gile as he shared a romantic post on his Instagram with the caption: "Word on the street." Fans and sports sites have been claiming this mystery blonde is in fact Zach Wilson's ex.
The Focus has reached out to Zach Wilson for comment.
TRENDING: Yu-Gi-Oh! apparently predicted James Wiseman would be a bust years ago
Zach Wilson has since been seen out with TikTok influencer Nicolette Dellanno, although neither have confirmed a relationship.
How old is Zach Wilson's mom Lisa?
Lisa Wilson was born on 8 August 1973 and is 49 years old.
She became a social media sensation when her son was drafted by the New York Jets in the 2021 draft. She appeared on TV shows celebrating her son's achievements and soon gained a strong following online.
Mrs Wilson also has her own health Instagram account with more than 100,000 followers. She posts healthy food recipes, life advice, and cleaning hacks. She is currently a stay-at-home mom but also runs her own health brand, Live Life Legit, with a YouTube channel and podcast on the way.
She recently posted a picture of herself with her six children – Whitney, Josh, Zach, Micah, Isaac and Sophie – on Mother's Day.
The Focus has reached out to Lisa Wilson for comment.
CELEB: Who did Gregory Itzin play in Friends? Late actor's role explored
Are Zach Wilson's family also into football?
Zach Wilson has five siblings. His brother Josh plays as a linebacker for the Cougars at Brigham Young University, while brothers Micah and Isaac also appear to be heavily involved in football.
Zach's parents, Lisa and Michael Wilson, have instilled a love of the game in the whole family. Wilson's sister Whitney is a professional dance teacher, and is now married to Chad Beckstrom.
Related Topics