What we know about Jake Jarman's parents after the British gymnast won his fourth Commonwealth gold medal at the 2022 Birmingham Games.
Jake Jarman is a quadruple Commonwealth Games champion after taking gold in the men's vault final. This came after Jake's score of 14.666 in the floor final blew the competition away to win his third gold of these Games.
On Friday, Jarman won gold in both the team competition and the individual all-around after finishing ahead of England team-mate James Hall who was in second place.
"With the support of the team behind me, especially with the personal team behind me, it really showed me that I can do this," Jarman said. "I put the work in. It was just a matter of keeping calm, staying composed. Enjoying the competition makes it so much better."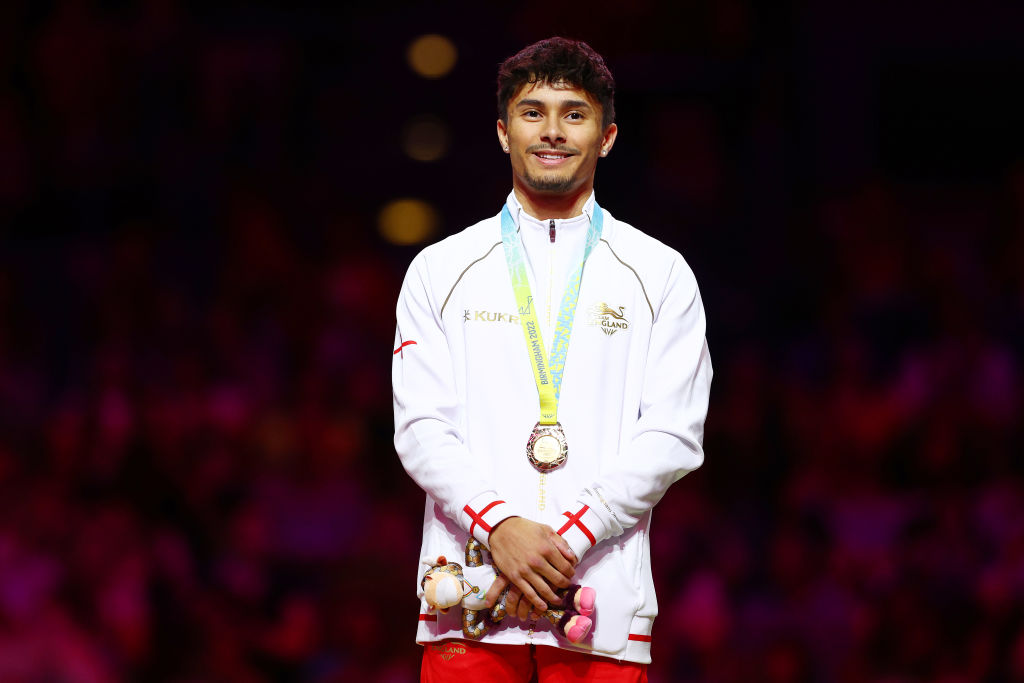 Jake Jarman parents and his British and Philippine heritage
Jake Jarman was born on December 3, 2001 in Peterborough, England. Jake's dad is Tony Jarman, one of Retirement Line's Annuity Specialists. Jake Jarman's mother is Filipino and from Cebu.
Jake told Phil Star Global in 2017: "I lived in Cebu for two years, from age three until five. I am proud to have both Philippine and British heritage. I still get to talk to my family in Cebu, using Skype and they are always following my progress. I love Cebu and its great beaches, and I have very good memories of my time at school and with my cousins, Lola, and Lolo."
Tony Jarman recalls that Jake always had a lot of energy, even as a child. He said, "He was always bouncing off walls and running into tables. We tried several activities to wear him out, but it was his nan that took him to the local gymnastics club who quickly realised he had a natural talent.

"Jake then began training at Huntingdon Gymnastics Club, an established gym able to support his development, and he has never looked back."
Tony is on Instagram @posh2cebu and often posts about Jake.
His dad has always remained positive
In 2021, at the age of 19, Jarman missed out on selection for the 2020 Tokyo Olympics and was named as a reserve in the four-man squad for Team GB.
Although disappointed, Tony Jarman remained positive about his son's progress.
Jake's father told the Peterborough Telegraph: "Being selected as a reserve is still a fantastic achievement.
"At just 19 he has such an outstanding opportunity for success and he remains very positive about the future."
Jake Jarman shouted out his girlfriend after gold medal win
After sealing his second gold medal of the 2022 Commonwealth Games, in the artistic all-round competition, Jake Jarman shouted out his parents and girlfriend.
"I just want to thank my mum, my dad, my girlfriend and my personal coach for all their support and the crowd has just been amazing as well," he said per Peterborough Today.
Jarman is coached by Ben Howells at Huntingdon Gym Club.
According to several online outlets, Jake Jarman's girlfriend is reportedly called Georgia. He has shared one photo with her before. The image was taken somewhere in Greece in 2020 with Jake captioning the post, 'Miss this place'.
However, Jake has never publicly announced the relationship or any romantic link.
The Focus has reached out for Jake for comment.
What have you made of Jake's performances so far? Let us know in the comments below!
Related Topics