In a recent interview with YouTube boxing channel iFL TV, Dillian Whyte was in a thoughtful mood reflecting on being floored by one of boxing's most memorable shock punches.
"I didn't get beat up or anything, I didn't get outboxed, I didn't get manhandled," he told interviewer Kugan Cassius. "I just got caught with a peach of a punch."
That punch was, of course, a beautiful left uppercut launched by Alexander Povetkin. Whyte seemed on the verge of halting the Russian in their fight last month – until the shot deposited him on the canvas like a skydiver minus a parachute.
"One punch can change everything" might be heavyweight boxing's biggest cliché. It's constantly parroted by promoters hyping up a mismatch, or commentators vainly stoking the coals of a dull fight.
But when that punch hits home, it can make for the most shocking and sublime scenes in boxing. In honour of Povetkin's "peach of a punch," we've put together some of our favourite one-shot KOs from over the years.
The best shock punches over the years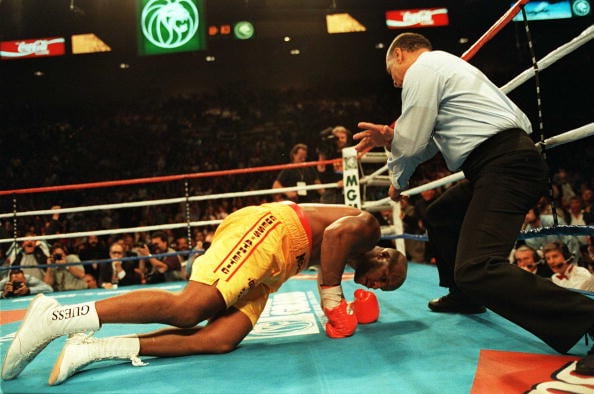 Foreman vs Moorer (1994)
Going into the tenth round of his boxing match with Michael Moorer, most people thought George Foreman's "impossible dream" was dead. Many had thought so for years.
Foreman was attempting to regain the heavyweight championship he had lost to Muhammad Ali in 1974. Once he'd been known as the division's greatest puncher, feared for the uppercuts that lifted Joe Frazier off his feet.
But that was two decades ago, and "Big George" had spent nine rounds being countered by his younger, sharper opponent. As his points piled up Moorer started standing toe-to-toe with the veteran, beating his gloves together in a display of machismo.
In the tenth, Foreman made his move. A left hook to the body forced Moorer in front of the larger man, where an expectant right hand sent the champion down for the final seconds of his reign.
Teddy Atlas, who trained Moorer, began climbing into the ring as the count started. "Michael ain't getting up," he told the cornermen. He knew Foreman had spent twenty years preparing to land that one punch.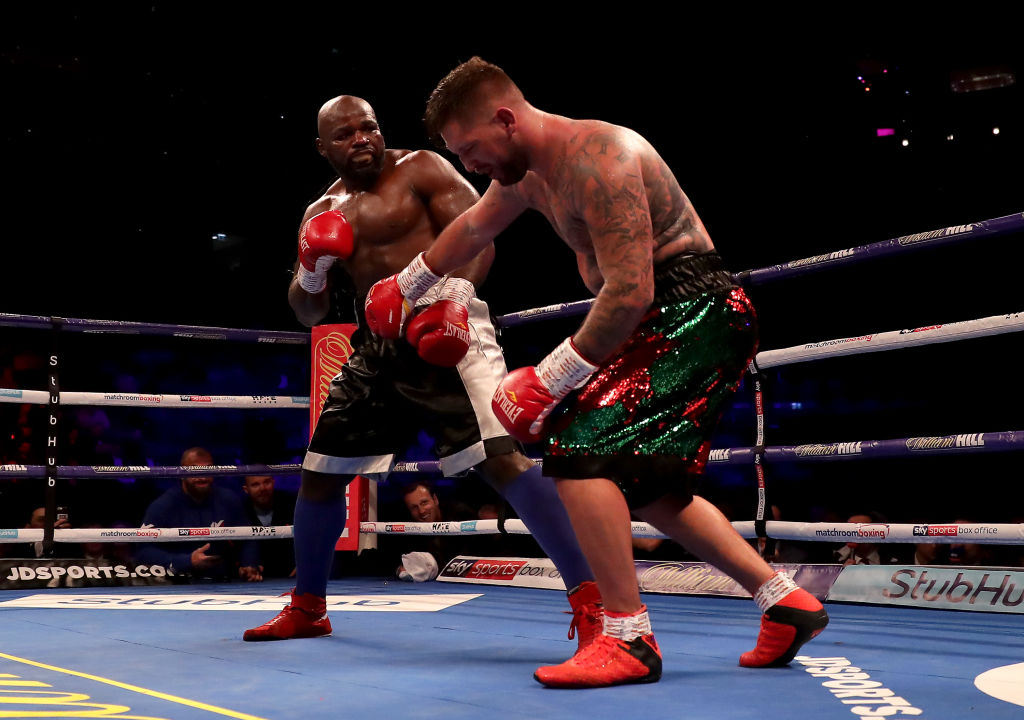 Chisora vs Takam (2018)
When Dereck Chisora entered the ring for his bout with Carlos Takam, he was wearing a distinctive red cap emblazoned with the word "WAR."
The headgear had been immortalised by Marvin Hagler thirty years earlier, and would prove a harbinger of the evening's events. Chisora was prepared to fight – to lose – a series of battles, so long as he won the war.
Time and again, Chisora found himself pinned against the ropes while Takam drove home vicious uppercuts and body punches. The fight looked like a mugging in a phone box, but the Finchley man doggedly endured his punishment.
When Chisora attempted a jab in the seventh, Takam saw it coming and began to counter. What the Cameroonian didn't see – and wouldn't until the replay – was the enormous right hand that followed, and stretched him out on the canvas.
Takam tottered to his feet, but the fight had ended with that one punch. The blow that knocked him down for a second time was simply a formality.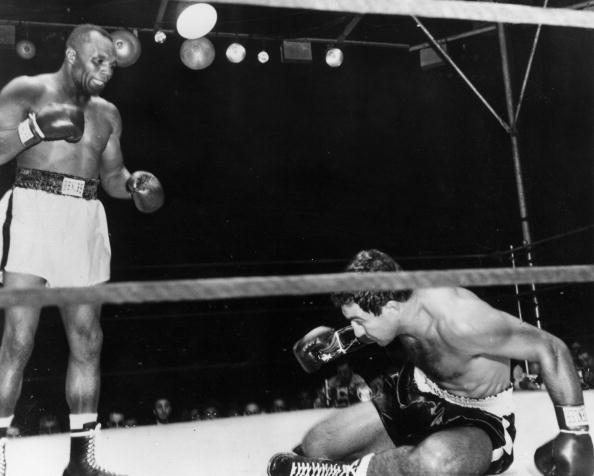 Marciano vs Walcott I (1952)
The dying seconds of Rocky Marciano's fight with Jersey Joe Walcott have been compared to a gunslinger's duel. Both men faced each other and unleashed their right hands: Marciano landed first.
Before that fateful 13th round, Walcott seemed set to retain his heavyweight title. Both men had their moments in the fight, but Walcott simply had more of them. He out-jabbed "The Brockton Blockbuster" at range; up close, he ducked and slipped and smothered his opponent's work.
The fight ended with a single punch thrown by Marciano, which travelled no more than twelve inches to the champion's chin. A ringside photographer captured the moment it landed, as Walcott's face became a grotesque mass of rippling flesh.
While referee Charley Daggert completed the 10-count, the New Jersey native slumped onto the ropes and pitched forward – prostrated before that awesome right hand.
Related Topics