As Australian tennis star Nick Kyrgios advances in Wimbledon's Men's Singles, he is cheered on by his father and sister.
Kyrgios, 27, is ready to take Centre Court by storm this year, as he sails through his first games of the tournament.
There to cheer him on are his family who are in London to watch Nick compete this summer. Seen supporting from the stands, many Wimbledon viewers are becoming acquainted with the Kyrgios family since the tournament began back on 27 June 2022.
But while his father and sister make an appearance at this year's Wimbledon, his brother and mother are nowhere to be seen… but for good reason. Let's take a look at the Kyrgios family and find out more about why Nill and Christos are absent from London this year.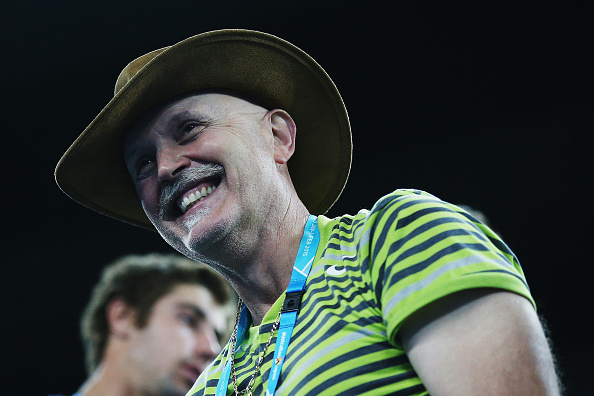 Who are Nick Kyrgios' parents?
Nick Kyrgios is the youngest child of Giorgos and Norlaila "Nill" Kyrgios. The couple has three children, the eldest being Christos, followed by Halimah.
While the family are based in Australia, the family come from a diverse background. Giorgos is Greek while Nill is Malaysian. The couple met in Australia where they had both relocated from their countries of birth.
Giorgos is a house painter, although it is unclear whether he still holds this profession. Nill moved to Australia in her 20s to begin a career as a computer engineer.
RELATED: Who is Cameron Norrie's Wimbledon coach, Facundo Lugones?
Nick Kyrgios' mother is descended from royalty
While the Kyrgios family live a relatively ordinary life in Canberra, despite the fact they have a tennis superstar in their midst, Nick Kyrgios' mother's upbringing was far from ordinary.
Born in Gombak, in the Selangor district in Malaysia, Nill held the title of a princess. Her grandfather's cousin was the Sultan of Pahang. Her royal birthright, then, gave her the title of the Tengku of Pahang. This loosely translates to the princess of the Pahang state.
When Nill Kyrgios relocated to Australia, she renounced her title.
Nick Kyrgios embraces both his parent's heritage. After her son's epic defeat of Rafael Nadal at Wimbledon in 2014, Nill spoke with the Malaysian press and touched on their heritage:
"Nick is very close to his Malaysian family, whom he has visited many times… He even played tennis at Cameron Highlands the last time we were in Malaysia. The entire Kyrgios family is very close to my family. I want Malaysians to take pride in Nick's achievements as Malaysian blood runs through his veins."
TENNIS: Frances Tiafoe's girlfriend was a body double for Venus Williams in King Richard
Nill stays in Australia with brother Christos for baby's arrival
Nick Kyrgios' mother is absent for this Wimbledon, but for good reason: the Kyrgios family is expanding!
Just as the tournament commenced, Nick's elder brother Christos became a father. Nill has stayed in Australia with Christos whilst Giorgos and Halimah jet off to London for Wimbledon.
On 29 June 2022, Nill shared an image of her grandchild to Twitter. The baby boy's name is George Onyx Kyrgios.
This is not the first instance that Nill Kyrgios has missed out on supporting her son's tennis tournaments. Previous years have seen Nill miss out due to a heart problems, as reported by the Daily Mail. Christos Kyrgios relayed the information to The Herald Sun: "She's a fighter. She has some heart issues and combining that with the heightened tension around watching Nick's matches, she hasn't been able to watch them at all, even on TV, over the last few years."
In September 2021, Nick Kyrgios quit all of his tournaments to spend time with his ailing mother.
Older sister Halimah makes an appearance at Wimbledon
Although Christos and Nill could not make it to London, Nick Kyrgios has plenty of family support from his father and sister. Featuring heavily as a spectator at this year's Wimbledon is Nick's older sister Halimah.
Halimah is an actress, model and singer. She also works as a voice and performance coach.
Competition clearly runs in the Kyrgios family, as Halimah decided to take on The Voice Australia last year. While she didn't make it through coach Rita Ora's semi-final line-up, Halimah impressed with her talent. "I have so much respect for you, so much admiration for you in so many different ways," Ora said of Halimah.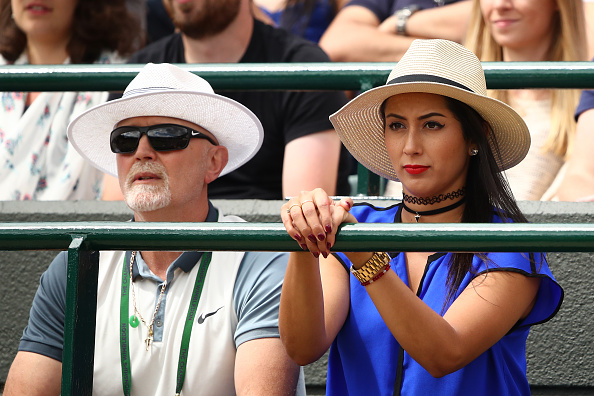 Related Topics