Tennis fans have been asking what happened to Simona Halep at the 2022 Western and Southern Open (Cincinnati Masters) after the former world no.1 was forced to withdraw.
The 2022 Western and Southern Open (Cincinnati Masters) is currently taking place in Mason, Ohio near Cincinnati. The tournament runs from August 13 to August 21 at the Lindner Family Tennis Center.
It is part of the American hard court season and enables players to prepare for the upcoming US Open. Two-time Grand Slam champion Simona Halep was taking part this week but her Round of 32 match was cut in rather confusing circumstances.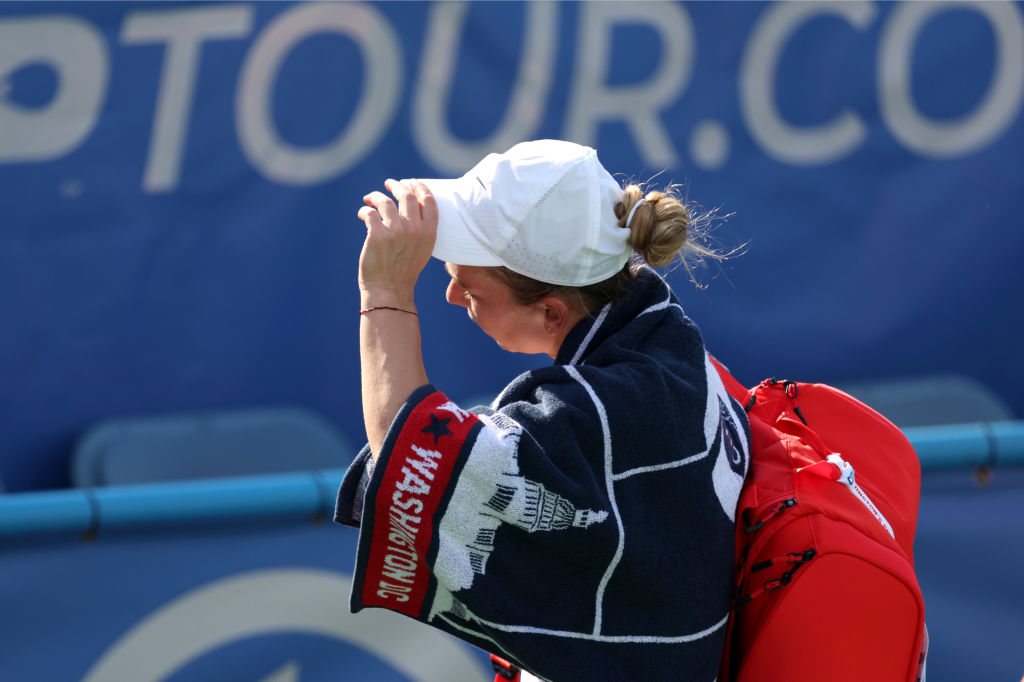 What happened to Simona Halep at the Cincinnati Masters?
Halep was set to face Veronika Kudermetova in the second round in Cincinnati. However, Simona Halep was forced to withdraw from the Western & Southern Open due to a right thigh injury.
Kudermetova received a walkover into the Round of 16 and will face either Paula Badosa or Ajla Tomljanovic.
It comes just a week after Halep's win at the National Bank Open in Toronto, Canada. She beat Brazil's Beatriz Haddad Maia in a three-set final, 6-3, 2-6, 6-3, to jump into the Top 10 for the first time in a year.
She was forced to retire at the WTA Washington Open recently
Recently, the Romanian was taking on Anna Kalinskaya in the Round of 16 at the Citi Open. However, the former world no.1 was forced to retire from the match while down 5-7 0-2. Fans naturally wondered what happened to Simona Halep as her opponent moved on to the next round.
According to reports, Simona Halep retired from the match due to an illness and was clearly not feeling her usual self. From the start of the match it was clear something wasn't right as she looked in visible discomfort throughout.
Some fans speculated the extremely hot and humid conditions on court played a factor.
"I stayed really composed," Saville told News9 Live. "I managed the energy really well. It was very hot."
Twitter account Romanian Tennis shared footage of Halep appearing to struggle with the heat. Other fans claimed Simona looked "exhausted" in the tough conditions.
Halep has had difficulties on court before
That wasn't the first time Halep has visibly struggled on court.
Following her elimination from the 2022 French Open at the hands of Zheng Qinwen, Simona revealed she suffered a panic attack during the match.
Halep was leading the match when the panic attack occurred and she eventually called the doctor on to the court.
"I probably put pressure on myself too much, because I really wanted to do well," she told SI afterwards. "I felt good, I practise, I work hard. But it just didn't happen, and probably I got a little bit of panic during [the match] thinking, overthinking.
"But I was leading, so there is no reason, in particular, why it happened. It happened, so I have to accept it. It's something normal that everybody has."
"I didn't feel better during the match," she told the Guardian. "If I would have felt better, I would have started to play a little bit better. No, I couldn't. That's why I said at the start I couldn't manage it, and I don't have many words about it. I just accept it, and I take it.
It remains to be seen how bad Halep's thigh injury is. The Romanian faces a race against time to be fit for the US Open in twelve days' time.