Ahead of his Round of 16 match at Wimbledon later, we find out more about Australian Alex de Minaur's coach, parents and girlfriend.
Alex de Minaur is enjoying his joint best Grand Slam run to date and is into the fourth round at Wimbledon. The Australian 19th seed beat Britain's Jack Draper in the second round before beating another Brit, Liam Broady, 6-3 6-4 7-5 in the third round.
De Minaur is currently ranked no.24 in the world, but has been as high as no.15, which he reached in June 2020. The 23-year-old now faces off against unseeded Chilean Cristian Garín in the Round of 16, where a win will see him reach his first major quarter-final.
Alex de Minaur's parents and upbringing
The tennis star has a pretty diverse and interesting background. Alex de Minaur's parents are mother Esther and father Anibal, with the former originating from Spain and the latter coming from Uruguay.
Alex's father ended up moving to Australia and owned an Italian restaurant in Sydney. It was there he met Esther when she started working at the restaurant as a waitress. Esther went on to become a house keeper while Anibal shut the restaurant and opened a few car washes in Spain.
De Minaur has dual Australian and Spanish citizenship, relocating to Alicante, Spain, when he was five. He completed most of his early education in Spain before returning to Australia at 13 but moved back to Spain in 2015.
Alex is fluent in English and Spanish, and told the Sydney Morning Herald in 2017: "I used to represent Spain but I always felt I was Australian. As soon as we moved back here again that was the first thing I wanted to do – play for Australia."
Alexalso has two brothers and three sisters – Dominic, Daniel, Natalie, Cristina and Sara.
Who is Alex de Minaur's coach at Wimbledon
Alex de Minaur's coach is Adolfo Gutierrez, someone who has been extremely important to Alex's career. When he was living in Australia as a youngster, Alex was coached by Kerry Dock and then by former Australian player Cindy Dock.
When he was nine and living in Alicante, he started being coached by Adolfo Gutierrez. However, De Minaur's parents were struggling financially at the time, and couldn't pay for Alex's travel expenses.
Gutierrez refused to accept any fee from Alex's parents in return for his training and offered to do it for free.
Alongside Adolfo in Alex's coaching corner is former world no.1 and Aussie legend Lleyton Hewitt. Hewitt watched De Minaur during his run to the Wimbledon boys' singles final in 2016 and was impressed by his work ethic.
The two have worked together ever since.
"Hewitt has always been an idol," said De Minaur (per ATP Tour). "I always looked up to him growing up. For him to now be in my corner and helping me out as a mentor, really getting me to believe I belong here where I am and that I have got the level, is just incredible."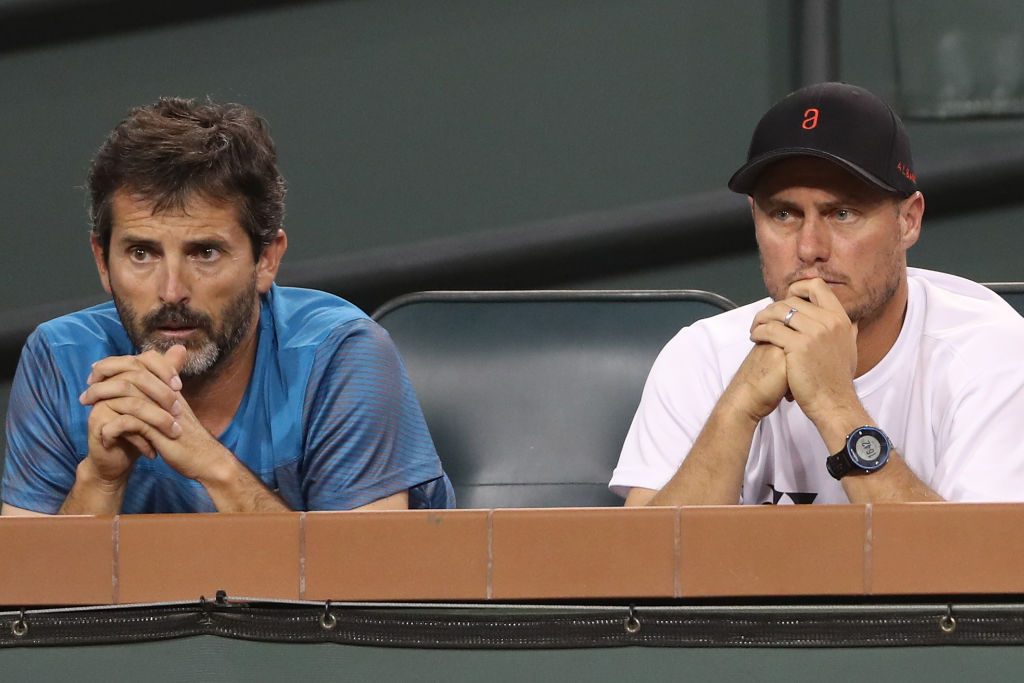 His girlfriend is fellow tennis player Katie Boulter
Alex de Minaur's girlfriend is fellow tennis player Katie Boulter, who has also been playing at Wimbledon this week.
After he beat Jack Draper, Alex shouted out Katie who was watching on from the sidelines fresh off her win over sixth seed and 2021 finalist Karolina Pliskova earlier in the day.
"Before we talk about my match, could we talk about Katie Boulter today?" De Minaur said. "I mean, she had a pretty good win herself.
Boulter also paid tribute to De Minaur following her win over Pliskova, saying she was "a very lucky girl" to have him.
"He is the epitome of a fighter and someone who goes out and gives their all every single day. That's what I aspire to be like. He helps me do that. I'm a very lucky girl," she said.
Sadly, home favourite Katie Boutler was knocked out of the women's singles by France's Harmony Tan. She'll no doubt be cheering Alex on in his fourth round match-up later today.
How far do you think Alex will go? Let us know in the comments below!
Related Topics