Sue Bird shouted out the famous Wildrose Bar in Seattle during her emotional farewell speech at Climate Pledge Arena on Sunday (August 7).
Sue Bird gave an emotional speech during her final regular-season home game on Sunday. The 41-year-old was drafted by the Seattle Storm first overall in the 2002 WNBA Draft and has gone on to become of the best WNBA players of all time.  
Bird is a four-time WNBA champion, 13-time WNBA All-Star, and five-time Olympic gold medalist with Team USA. In June, she announced she would be retiring from professional basketball after the 2022 WNBA season.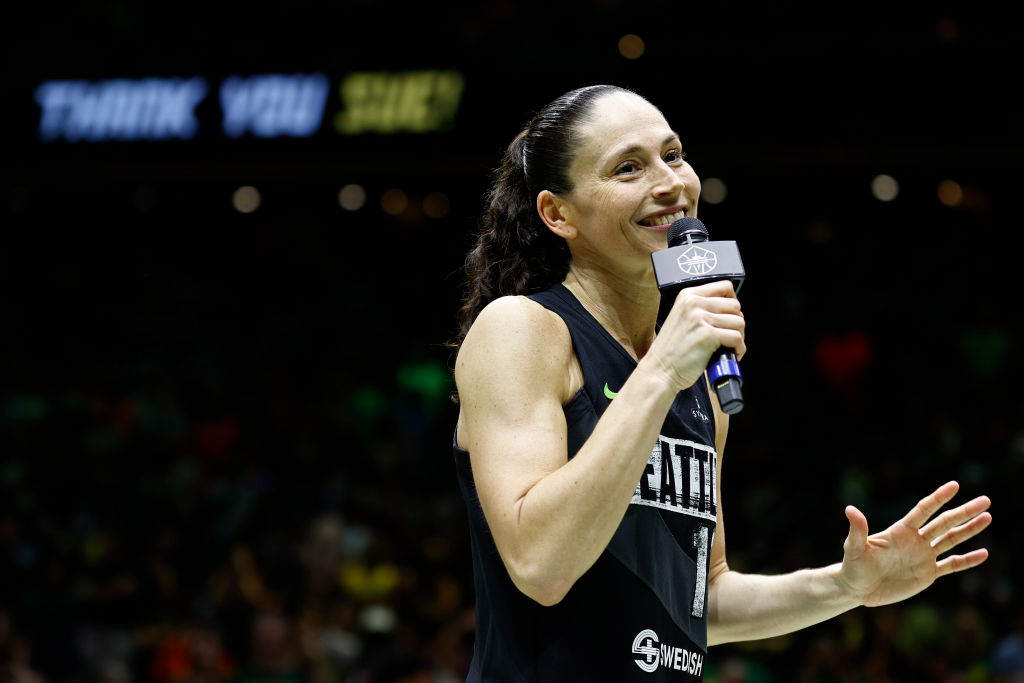 Bird honored in pre-game ceremony
All eyes were on a packed-out Climate Pledge Arena on Sunday in what could be Bird's final game, depending on how the upcoming best-of-three first-round series plays out.
Whatever happens, though, it will be her final regular-season game at home and the organization wasn't about to let that come and go without appreciating her stellar service over the years.
In a pre-game ceremony, Bird was gifted a special GOAT ring while her teammates wore honorary GOAT T-shirts celebrating her legacy.
Sue Bird shouts out Wildrose Seattle in farewell speech
Ahead of her final regular-season home game, Seattle mayor Bruce Harrell officially declared it "Sue Bird Day" in Seattle:
In her farewell speech, Sue Bird shouted out Wildrose, a lesbian bar in Seattle she often went to with teammates after first moving to the city.
She said: "I saw a season ticket-holder there. She came over to me, put her arm around me. She's like 'Hey, I don't know if this is the place you wanna be.'
"And, you know, on the outside I said 'Oh ok, thanks.' On the inside, I was, 'Oh, I know where I am'!"
The Wildrose is in the Capitol Hill neighborhood of Seattle, Washington, and has been open since 1984. In 2015 it was reported to be the city's only lesbian bar.
Bird publicly came out as gay in a 2017 ESPN story, revealing she was in a relationship with women's US soccer star Megan Rapinoe.
NBA: Klay Thompson's 'other' brother Mychel is part of the Warriors' coaching staff
Fans were loving the fact Sue Bird shouted out Wildrose Bar Seattle in her farewell speech:
How her final game panned out
Unfortunately, the game didn't pan out the way Bird would have wanted.
The Storm came out on the losing end against the Las Vegas Aces, falling 89-81. Bird finished with nine points, six assists, four rebounds and one steal in 32 minutes on the floor.
"I'm not gonna lie. it kinda sucks to lose my last game here," Sue Bird admitted after the match, "but, you know what? I lost my first game too so it's ok."
The Storm now sit fourth in the WNBA at 20-13 but crucially didn't drop out of the No.4 seed as the No.5 Mystics also lost. The Mystics are now one-half game behind Seattle, with the No.4 seed set to host the first two games in the best-of-three first-round series.
Do you think Bird is the greatest WNBA player ever? Let us know in the comments below!
Related Topics