Simone Biles' boyfriend Jonathan Owens has been vocal in his support of the Team USA gymnast as she withdraws from the 2020 Olympics' gymnastics team final and the individual all-around competition.
Owens, 26, knows the pressure of working as a professional athlete. He currently plays as a football safety in the NFL for the Houston Texans.
Biles, 24, shocked the world by withdrawing from the gymnastics team final and the individual all-around competition at the 2020 Summer Games in Tokyo after an unexpected balk on her vault. Jonathan Owens, her boyfriend of over one year, said he was "so proud," of Simone Biles after withdrawing.
With Biles and Owens making headlines this summer, one thing about the couple has drawn interest: their height difference. Simone Biles is known for her short stature, but the significant height difference between the couple has also raised questions about how tall Owens is. Let's take a look.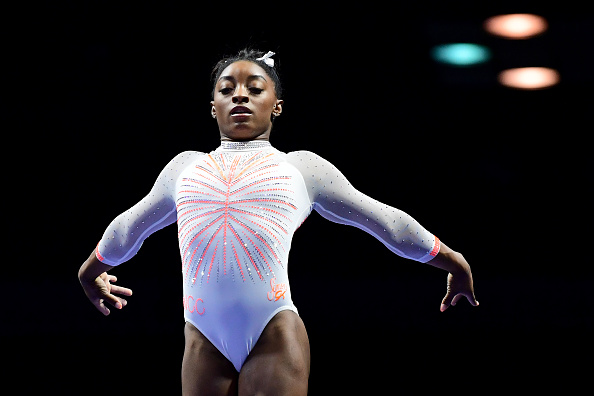 How tall is Jonathan Owens?
American football player Jonathan Owens stands at 1.8m tall, which is around 5ft 11.
This is not a significantly tall height. In fact, the average height of a male in the United States is 5ft 9, which puts Owens just above average. It is not a significantly tall height for an NFL football player either.
This height revelation may come as a surprise, considering Jonathan Owens' snaps with Simone Biles, which see him towering over the gymnast.
SPORTS: Who are NBC's 2021 gymnastics commentators?
What is the height difference between Simone Biles and Jonathan Owens?
Simone Biles is one of gymnastics' smallest competitors, standing at 1.42m which is 4ft 8.
There is a fifteen inch height difference between Simone Biles and her boyfriend.
This fifteen inches is over a foot and a quarter in difference, which is why Jonathan Owens looks significantly taller than his girlfriend.
Who are the other smallest gymnasts?
Surprisingly, Simone Biles isn't actually the smallest gymnast to have ever competed in the Olympics.
In fact, Quartz published an article during Rio 2016 exploring the "curious case of the incredible shrinking Olympic gymnast." Quarts reveal that there have been numerous petite gymnasts who have succeeded in the Summer Games. There was even a "pixie gymnast" era which was fronted by 4ft 6 (1.37m) gymnast Tatiana Gutsu of Romania in 1992.
Brazilian gymnast Flávia Lopes Saraiva is the smallest competitor, standing at 1.45m, which is 4ft 3.
Related Topics