USA hurdler Devon Allen has just progressed to the Olympic final with a convincing win in the 110m hurdles semi-final at Tokyo 2020. The track star, and former wide receiver, is set to make a big impact in the final tomorrow (5 August 2021). We introduce you to Devon Allen's parents, girlfriend and the rest of his family.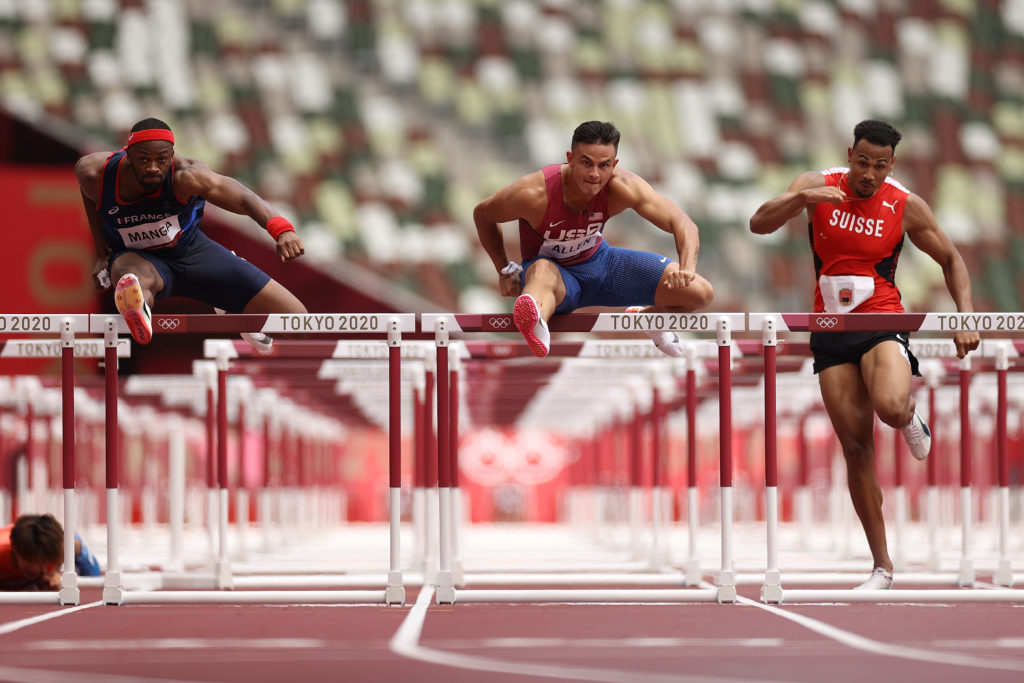 110m hurdler progresses to Olympic final
Devon Allen asserted his desire for the gold medal today with an impressive performance in the 110m hurdles semi-final at Tokyo 2020.
He convincingly won his heat in a time of 13.18s, and has the second fastest qualifying time for the final, only just behind Grant Holloway's time of 13.13s.
However, fans fell in love with his personality, not just his athletic prowess. The track star had some fun with the camera and the audience before the start of his semi-final race, and fans were loving it.
OLYMPICS: Who is Gabby Thomas' ex-boyfriend Sam Geschickter?
Who are Devon Allen's parents?
Joey Lyn Knudson and Louis Allen
Devon Allen's mother is Joey Lyn Knudson and his father is Louis Allen.
Allen is incredibly close with his family. Both his parents set up GoFundMe fundraisers to get their son to the Rio Olympics in 2016, as well as be able to go and support him. His father raised nearly $20,000, while his mother raised about $8,000.
His father Louis previously worked as a software engineer, but was laid off just before the Rio Olympics.
Allen's parents are no longer together; his mom Joey lives in Seattle and travels to watch his races.
Knudson has said about her son: "He is my inspiration for so many things I'm working on in my own life. He and his twin sister are the best things that have ever happened to me!"
Allen's twin sister Carissa is also an athlete. However, while Allen played football and track for Oregon, Carissa attended Northwest Christian University and plays volleyball.
Devon Allen's ethnicity is white, and his nationality is American as he was born and raised in Phoenix, Arizona.
TRENDING: What is sprinter Erriyon Knighton's high school?
Meet Devon Allen's girlfriend Morgan Mitchell
Morgan Mitchell is an Australian track athlete who was born on 3 October 1994 in Carlton, Australia, and is 26 years old.
She is best known for running the 800m, but previously competed in the 400m. Unfortunately she did not qualify for the 800m finals at the Olympics this year in Tokyo.
When Mitchell is not training or competing on the track she is a trainer at the LA based fitness studio F45.
The pair have been in a long-term relationship for about three years now, and were introduced by former Canadian athlete Annie LeBlanc.
SPORT: Who are Athing Mu's family?
Allen will be looking to go a few spots better than his 5th place finish at the Rio Olympics. We can't wait to see him in the 110m hurdles final tomorrow.
Related Topics