Courtney Frerichs captured the silver medal in the women's 3,000m steeplechase at the Tokyo Olympics in what was a close-fought race with Uganda's Peruth Chemuti. Back home in Missouri, Courtney's husband Griffin and the rest of her family were watching, cheering her on. Needless to say, they were overjoyed by the result.
American wins silver in closely fought 3,000m steeplechase
Middle-distance runner Courtney Frerichs led Team USA in the women's 3,000m steeplechase by claiming the silver medal.
The 28-year-old from Nixa, Missouri, ran an incredible race, taking the lead with a mile to go.
With two laps to go, it was between her and Uganda's Peruth Chemuti for the gold.
However, with less than 300m to go, Chemuti overtook Frerichs and held on for gold in a time of 9:01.45.
Frerichs took a marvellous silver in 9:04:79, the third-fastest time of her life.
It is the highest ever finish by an American woman in the event, surpassing Emma Coburn's bronze in the 2016 games in Rio.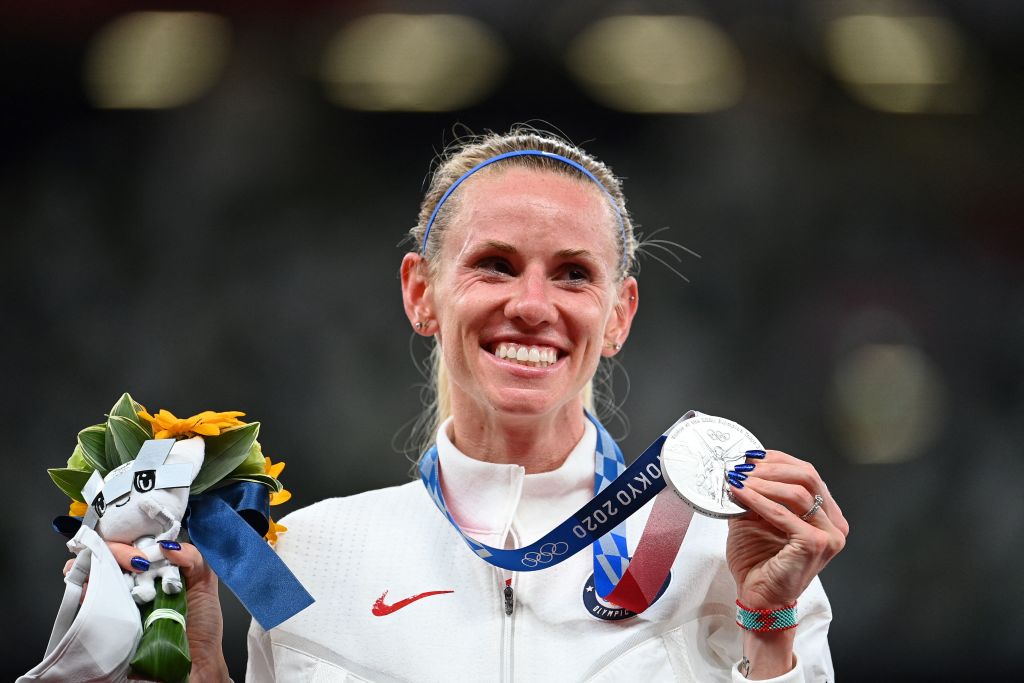 Courtney's family, including her husband, celebrate back home in the US
Frerichs was born on 18 January 1993.
Courtney attended the University of New Mexico where she won the steeplechase NCAA title at the 2016 NCAA Division I Outdoor Track and Field Championships.
She also won the silver medal at the 2017 World Championships.
However, the Olympics are a different animal altogether, and her whole family were cheering her on from back home in Nixa.
According to a report, about 100 of her family and friends gathered to watch her compete.
When she took home the silver, her parents, dad Scott and mom Kathy, were both overcome with joy.
Courtney's husband, Griffin Humphreys, was also there.
"The emotions are coming together now. It's been a little up and down since the race and during the race. I'm just excited to see her and give her a hug, and see that medal," he said.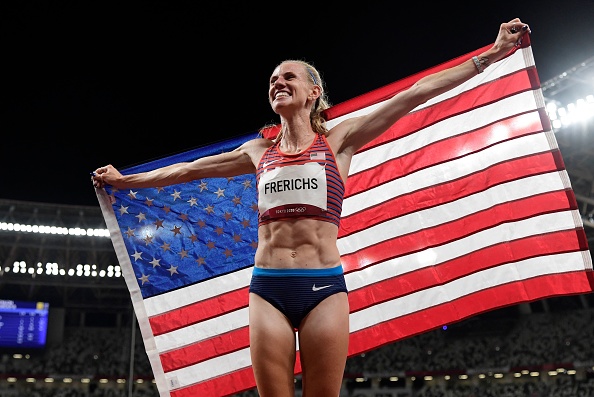 Courtney Frerichs and husband Griffin on Instagram
Not much is known about Courtney Frerich's husband Griffin but, according to a bio on Bowerman Track Club, they married in 2017.
Courtney recently uploaded a picture of the happy couple on their wedding day to Instagram, celebrating their four-year anniversary.
Griffin is an ardent supporter of his wife, often posting pictures of her competing on his own Instagram.
According to his bio, Griffin is at Portland State University as part of its athletics and track and field programme.
Related Topics