Shaquem Griffin has announced his retirement from the NFL just four years into his professional career, stating that he is now "on to Plan A" in a statement.
The linebacker, 27, made history back in the 2018 NFL Draft as he was the first one-handed football player to be drafted into the modern NFL.
Griffin, whose twin brother Shaquill is a cornerback for the Jaguars, announced his retirement on Wednesday, August 24, 2022. He penned a statement in The Players Tribune.
As Shaquem Griffin bids his pro football career goodbye, we take a look at some of the highlights of his career, including the significant net worth he racked up over the past four years.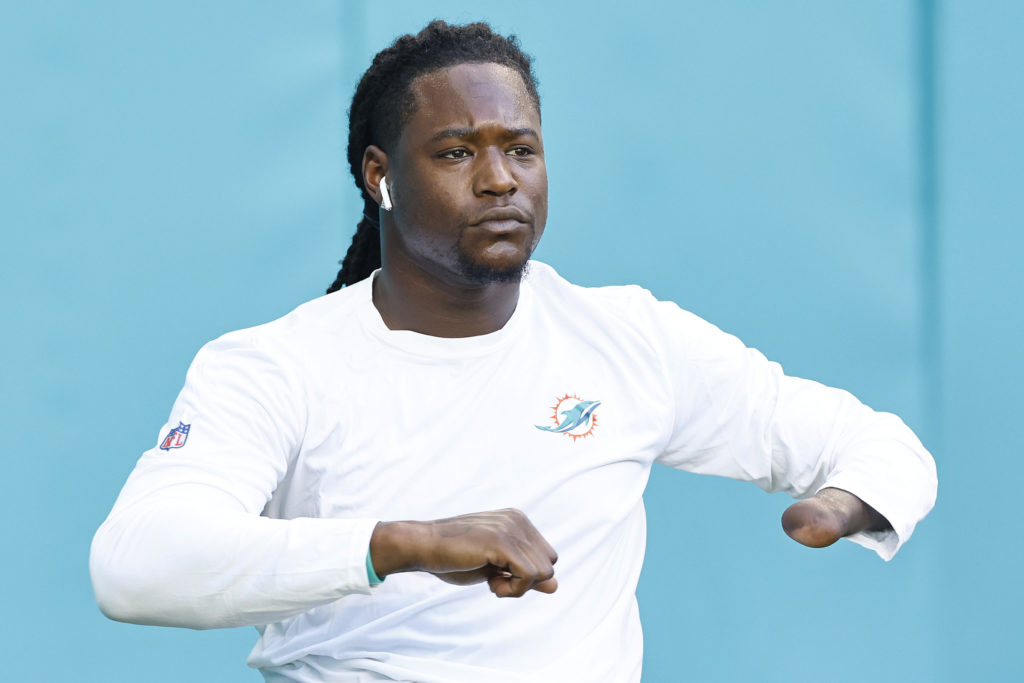 Shaquem Griffin's net worth and NFL career earnings explored
Over his four-year career in the NFL, Shaquem Griffin racked up a net worth in the millions. It has been reported that Shaquem's net worth is approximately between $3-5 million.
Back in October 2018, several months after being drafted, the Daily Star reported that Shaquem Griffin had a net worth of $798,000 (£606,728), despite only being in his first season in professional football.
Earlier that year, in May, Shaquem had signed a four-year deal with the Seattle Seahawks of $2.78m (£2.11m). This deal consisted of a $318,000 signing bonus, followed by a $480,000 base salary in 2018. Shaquem's base salary was set to increase over the following three years of the deal: $570,000, then $660,000, then $750,000 respectively.
This was not the sum Shaquem Griffin was eventually paid, as he was later signed to the Seahawks practice team before being released to the Miami Dolphins. Spotrac reports that in the 2021 season Shaquem was on the practice team, he earned $165,600.
NETFLIX: The animation studio behind Lost Ollie are linked to Star Wars and Marvel
Shaquem Griffin landed major deals and endorsements
While Shaquem Griffin did not earn as much as expected during his time with the Seahawks, he did land a number of brand deals which will have secured him more earnings.
Business Insider reported in 2018 that Shaquem had signed (or was set to sign) deals with Nike, Bose, JCPenny, and Eleven James, a luxury watch brand. Terms of the agreements were not revealed at the time, although it could have brought Shaquem Griffin a large sum.
Nike have shelled out billions on athlete endorsements over the years. Their biggest deal was struck with Michael Jordan, who has earned the company billions. Nike also have a billion-dollar lifetime deal with both LeBron James and Cristiano Ronaldo, according to The Richest. So, the company is definitely not shy to shell out on athletes!
About Shaquem's history-making career in the NFL
Shaquem Griffin was selected by the Seahawks in the fifth round of the 2018 NFL Draft having made his name playing college football for the University of Central Florida Knights.
Shaquem made history as the first player with one hand to be drafted in the NFL's modern era. He had his left hand amputated at the age of 4 due to amniotic band syndrome, a congenital condition.
In his retirement statement, Shaquem spoke of the barriers he has overcome in making it to the NFL: "The guy a lot of people thought couldn't play in college and said would never make it to the NFL because nobody with only one hand had ever done that before. I made it anyway. I persevered."
REVISITED: Kobe Bryant saved the day in forgotten Hang Time cameo with Anthony Anderson
Shaquill offers his twin brother support amidst retirement news
Following Shaquem Griffin's retirement statement being made public, his twin brother Shaquill offered him support online.
Shaquill retweeted Shaquem's retirement statement with the added caption: "True legend." This was accompanied by the goat emoji, in relation to the acronym GOAT – Greatest Of All Time.
Jaguars cornerback Shaquill Griffin has reposted many tributes to Shaquem's NFL career to his Twitter feed.
Related Topics