The NFL season opener between the Bucs and Cowboys didn't disappoint. Brady and the Bucs came through in thrilling fashion but once again the referees were at the centre of the drama. They missed an obvious OPI call after fans overheard them saying 'let's just say this' over a penalty incident earlier in the game.
Brady, Bucs overcome Cowboys in season opener
The new NFL season got off to a thrilling start on Thursday night.
Defending Super Bowl champions the Buccaneers edged the Dallas Cowboys 31-29 at a packed Raymond James Stadium.
44-year-old Brady, in his 22nd season, threw for 379 yards and four touchdowns.
The Cowboys, including Dak, were impressive in the season opener but were denied an upset victory by a Ryan Succop field goal with only two seconds of the game remaining.
The defending champs are now 1-0 on the season, but Cowboys fans will be able to take plenty of positives from the performance.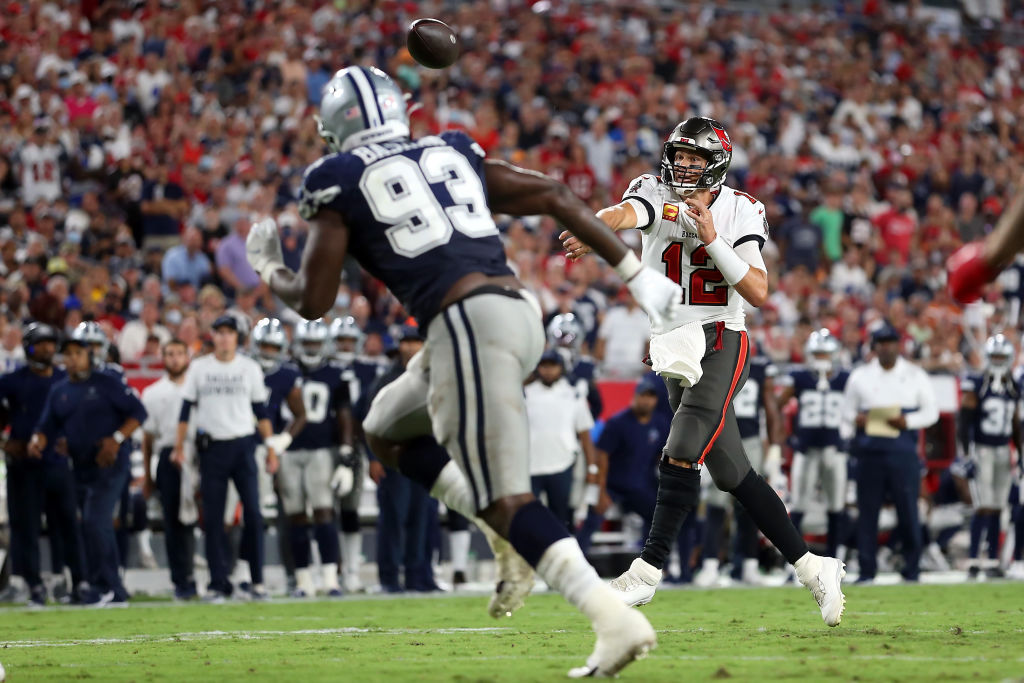 Missed OPI call causes controversy
The game wasn't without incident, and once again the refs were at the centra of the drama.
As the Bucs drove late on to take the lead, the refs missed an obvious offensive pass interference.
The incident involved Buccaneers receiver Chris Godwin, who appeared to push Cowboys cornerback Jourdan Lewis to create separation.
It looked like a clear OPI (see above) but the refs decided not to call it.
If the penalty had been called, the Bucs would have been moved out of field-goal range. Instead, they were able to set up the game-winning kick, adding yet more controversy to the no-call.
Fans go in on refs after no-call
The incident was yet more ammunition for fans who allege Brady, and whatever team he's on, get preferential treatment from NFL refs.
Cowboys fans took to Twitter to share their frustration at the no-call.
Fans overhear refs saying 'let's just say'
NFL refs are under more scrutiny than ever, but certain incidents don't help their cause.
Midway through the second quarter last night, both sides got into it.
Center Ryan Jensen got into it with a Dallas lineman leading to a 15-yard penalty from both sides.
One was for unsportsmanlike conduct while Jensen was flagged under the NFL's new taunting policy – which has been hugely criticised.
At one point, the mic'd up refs appeared to make up the call unsure of what the penalty was.
They could be heard uttering the words 'let's just say' before cutting the mic off.
Fans were incredulous.
Refs at the centre of controversy? The NFL is definitely back!
Related Topics