NFL With Nia is a London-based NFL news site, podcast and upcoming show that helps fans learn more about American football and the incredible personalities working in and around the National Football League.
Each episode features a guest who works within the American football industry, ranging from players past and present to coaches, analysts, writers, journalists and agents.
This week I was fortunate enough to chat to the host, Nia, about all things football, women in presenting and how she's surviving the lock-down.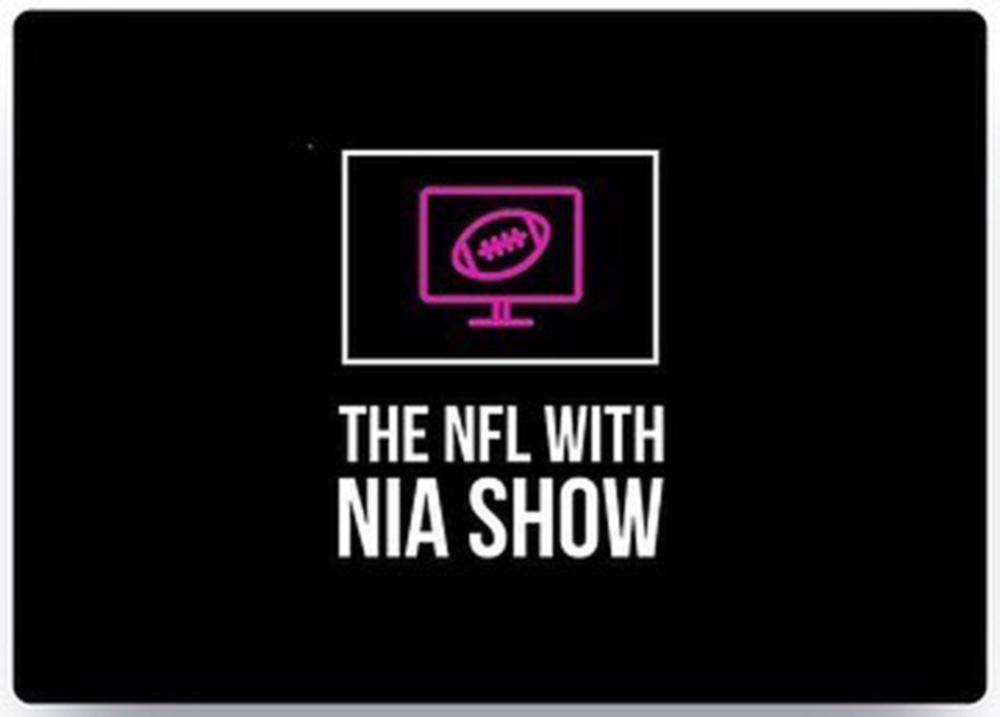 Interview
Before we chat about your podcast, last week was Draft Week – which team won the draft?
Great question. I think the biggest winners of the draft were the Miami Dolphins and Oakland Raiders. Both teams selected a range of players who matched well with the gaps each team needed to fill.
Oakland drafted a fierce receiver in the form of Henry Ruggs as well some other great guys. I think Tua Tagovailoa will bring fierce energy and heart to the Dolphins and will work well under coach Brian Flores. Offensive tackle Austin Jackson is also a great fit for Miami.
What's the vision behind NFL With Nia?
It's to inspire others through American football by sharing great stories from people around the league while acting as another educational football platform. I want to discuss 'real-life issues' and include them in my editorials and podcasts too – anything from activism to politics, philosophy, racism, injustice, equality and more.
Football is incredible but these issues are far more important and most of these 'real-life issues' have an impact on players. I think it's important not to separate things too much, it's never just football.
I'm also launching #ProjectSE25 later this year, which will provide equipment, mentoring and training sessions to youth in my area.
Where does your vision stem from?
I'd been a fan of the sport for about seven years before I decided to launch the podcast and platform. During that time I'd spend my days studying the game – looking through old tapes, learning play calls, studying formations, revising routes, researching team structures and their histories – anything football-related.
The more I learned, the more I wanted to learn. I seemed to know more about the sport than the average fan and wanted to channel that knowledge into something with a true purpose.
During this time, I'd also seen or read about a lot of NFL players being unfairly reported on, silenced or portrayed in unfair ways. But the issue was bigger than individuality. Players who are unfairly reported on are often the ones with the most important things to say or who have the biggest ability to make real change.
I was in New York when Colin Kaepernick began protesting against police brutality. The rage people felt towards him was wild. He was on the news on a constant reel for the entire time I was out there.
Days later I arrived in Las Vegas and checked-in to my hotel. I remember walking into my room and turning the TV on and there he was again, still headline news and not in a good way.
In some ways I couldn't fathom how or why anyone would be angered by his protest but in other ways, knowing how American society operates, I wasn't surprised at all.
Injustice is truly horrendous in America. It's bad here too, don't get it twisted, and I feel if our police were armed in the same way it would be just as much of an issue. But in America it's on a different level.
Kaepernick's movement served as yet another reminder that even if you earn millions of dollars, carry yourself in the right way, do great things for your community and speak out about important and unjust issues, the structure of white privilege in American society will always haunt you as a minority. That has to change.
Put it this way – if Tom Brady decided to take a knee during the anthem to raise awareness for children with cancer, do you think America would have screamed injustice? No. It was never about the protest, it was about the reason for the protest.
I decided I wanted to fuse my main passions – football, politics and philosophy – by launching an NFL podcast that talked about the sport but also dived into the lives of players and others across the league.
There were podcasts and shows in America that seemed to be player positive – such as The Simms & Lefkoe Podcast, Around The NFL and The McAfee Show – but there was nothing similar in the UK.
There are some great football podcasts but I wanted a crossover between educational football content, the latest league news, player stories and real-life issues.
I want to give back to the place I've lived for the past 11 years. So much talent, not enough opportunity.
I guess you had a pretty full-on few months getting everything off the ground?
It has been intense but so much fun. I initially announced the launch and concept of the podcast in April last year and got to work building social media audiences and mapping out ideas. The reaction from football fans was great and people seemed excited about the concept.
Unfortunately, a few weeks later I was involved in a bad car accident that left me with a nasty concussion. I was determined to carry on so a few weeks after the accident I hosted my first guests – Houston Texans Jon Weeks' and Sky Sports' NFL presenter Neil Reynolds.
But it was too much at the time as I was also trying to balance running my own business with a full-time career and the grief of a family loss. I stepped back and slowed down a little.
The recovery process was tough but plans got back on track in December and things have been great since. The podcast is turning into a show later this year and I have so many different concepts, ideas and guests to introduce.
It should be a lot of fun! Things have grown really well in just a few months. I've received thousands of listens already and I have listeners all over the world.
It's great to hear it has taken off despite the delay. I'm sorry to hear of your car accident – have you fully recovered?
Thank you! That's kind. Yeah, it was a tough few months and I am still working through the recovery process. I have had issues with co-ordination, directions, remembering names. It has been difficult, particularly when you pride yourself on your intellect.
I have a whole new level of respect for athletes, particularly American football players. The recovery that must be required when you take hits like that week after week – it's not something I can begin to comprehend.
A lot of fans seem to think it's fine because players earn big pay cheques – but that's a crazy way of looking at it. Money can't replace healthy brain tissue.
I think it's also worth remembering that while these players earn a lot, the majority of them also give back an awful lot, arguably unparalleled in any other sport?
Absolutely! That's the difference between an entire league comprised of players who have predominantly come into wealth, rather than being born into it. The desire to give back is fierce and we see it happening on so many different levels – visiting fans who are sick, getting involved in community action, standing up and speaking out against injustice.
I've seen players pay the bail costs of vulnerable people and I've talked to players who have helped change government legislation. Those headlines need to be circulated much more.
I think your concept is brilliant. I've listened to your episodes, most recently your interview with Lakisha Wesseling. Who have you been most excited to chat to?
It's always important to bring new ideas to the table, especially where they have the potential to make a positive change. What a question! I'd have to say I truly can't answer that. Each conversation has been so different, each holds it's own great experience. Speaking to Lakisha was great. She has such a great spirit and I found her inspiring. She gave me the pleasure of hosting her first ever interview. That was really cool.
Who is the nicest player you've met?
Good question! Mario Addison was a really cool guy. He gave me the opportunity to spend some time with him last year when the Panthers headed to London for their international game.
I showed him where his then team-mate Efe Obada grew up and we spoke about a range of things. He was a real humble guy. Shortly after his trip his younger brother was killed in a shooting, another reminder these athletes deal with a lot away from the field too.
Despite being 2020, the one question apparently every female sports presenter has been asked is "do you even like sport?" I read ABC's recent article and it filled me with anger. While the barriers of inequality are slowly breaking down within sports reporting, women still constantly face adversity. How have you found breaking into sports presenting as a female and have you faced many challenges?
It's an odd one for sure! I think we are starting to see a shift in the culture and mentality when it comes to sexism and stereotyping, but it's still an issue. Any issues I have personally experienced have come from social media users who have four followers and an avatar as a profile photo.
I know from speaking to Sky Sports NFL presenter Hannah Wilkes it will get worse as I progress through the industry. I guess changing the perception by representation is all you can do.
It's important to remember that for every man who makes an odd comment like that, there's a man holding out a hand to see how he can support or guide you. What I will say is there are women out there who add to that notion as well.
I've had a couple of women make strange and slightly insulting comments about 'us girls' not knowing huge amounts about the sport and I find that strange. The knowledge you have on the sport is the knowledge you have on the sport. Gender is irrelevant.
The best way to 'make it through' the challenges is to find yourself a good mentor and surround yourself with great people who have great mindsets – men and women.
Something that's challenging everyone at the moment is the threat of covid-19. How are you coping with lock-down?
It's a strange head space to be in. Keeping busy is key. I think not looking too far ahead is also important and trying to make the best of a strange and challenging situation.
I try to check in with myself regularly and ask what have I learned about myself during this time? How can I use this time to improve my mental well-being or life path and what will I do tomorrow to make it more fruitful than today? Meditation is always a good call. Getting out for your daily run is super important too, otherwise the days merge!
Good advice. Daily exercise is so important for physical and mental health. Thank you for chatting to me and I look forward to your next episode.
Related Topics