The Clippers star is famous for his expressionless face. But why does Kawhi Leonard not smile? We explore the story behind his ice-cold demeanor.
Kawhi Leonard had not played in the NBA in nearly 500 days, but on the opening night of the Clippers' season, we finally got a glimpse of the two-time champion in uniform.
Leonard got 21 minutes of action on opening night, scoring 14 points on 6-of-12 shooting as the Clippers claimed a six-point win over the Lakers.
The 31-year-old, nicknamed 'the Klaw', missed the entirety of the 2021-22 season as he rehabbed his reconstructed right ACL. Leonard will be load managing throughout the start of the campaign, meaning his minutes will be severely restricted. He will also miss certain games completely as the Clippers ease him back with next year's playoffs in mind.
Why does Kawhi Leonard not smile?
Although he may not be suiting up in every game, the five-time All-Star will be on the Clippers' bench supporting his teammates.
However, fans have asked during recent games why Kawhi Leonard doesn't smile, even when the Clippers are winning. In fact, seeing Kawhi smile at all is a rarity.
Leonard himself explained the reason before the All-Star game in 2020.
"I just try to stay locked into the game. It feels like when people are most serious, they play their best basketball. Nobody's smiling in the fourth quarter," Leonard told Inside the NBA.
Leonard evidently believes he plays his best basketball when he's serious. His generally serious disposition has undoubtedly paid dividends throughout his career.
He is a 2x NBA champion, 2x Finals MVP, former Defensive Player of the Year, and was named to the NBA 75th Anniversary Team last year.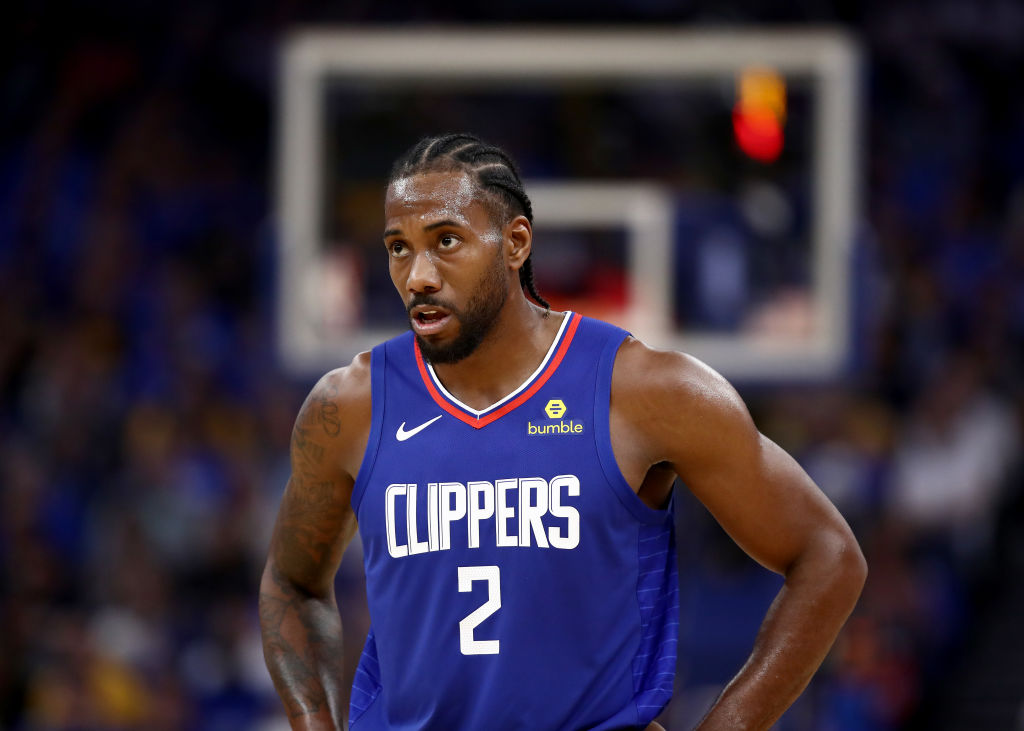 His tragic past could provide an insight into his cool demeanor
Kawhi's stoic nature could also be rooted in the personal tragedy he endured as a youngster. Kawhi's father, 43-year-old Mark Leonard, was shot and killed in front of his car wash in Compton in 2008 when Kawhi was just a teenager.
At the time, the LA Times reported that Kawhi played in a basketball game for Riverside King just 24 hours after learning of his father's death.
They wrote: 'Leonard tried to hide his emotions all day, but after Saturday's game, he and his mother embraced, and he broke into tears.'
Some years later, Jacquelyne Leonard, Kawhi's step-mom, revealed that it was 'very difficult' for Kawhi.
Speaking to ABC7, she said: "I knew from having Kawhi around me, I knew he was the kind of child that was going to be quiet and draw into his emotions," she said. "He was always a quiet child, but he seemed more withdrawn to me, and focused on his basketball. I think that was his therapy. I think that for him, that's how he got through it."
"I really didn't see Kawhi suffer from it," she would also tell ESPN. "I wanted him to. I would say, 'Kawhi, you OK? You OK?' But I think he just kept it in."
In 2014, Kawhi won his first Finals and Finals MVP trophy. "It's a very special meaning for me, knowing that he's gone and I was able to win a championship on Father's Day," he said.
Kawhi's laugh has become the stuff of legend
Kawhi Leonard may not smile too often, but when he does it usually breaks the internet.
The most famous example came in 2018, during his introductory press conference with the Raptors. Leonard was asked, "what he wants people to know about him." Leaning into the microphone he said, with a completely straight face, that he is a "fun guy."
"I'm a fun guy," Leonard said. "Obviously, I love the game of basketball. There's just more questions that you would have to ask me in order for me to tell you about myself.
"I just can't give you a whole spiel," Leonard added. "I don't even know where you're sitting at." He then let out a big laugh which became an all-time great NBA meme:
Kawhi was also spotted laughing at a Clippers game last year. In the second quarter of a game against the Pistons, his teammate Amir Coffey slipped on the ball and fell.
Cameras panned to Kawhi who was having a good chuckle next to teammate Paul George:
Kawhi may not be the typical NBA star who's brash or boisterous. However, his ice-cold demeanor has enabled him to become one of the best players we've ever seen.
The Clippers will no doubt be hoping his laser-like focus will lead them to a championship this season.
Related Topics