Jalen Suggs made his Orlando Magic debut on Monday (9 August). The former Gonzaga Bulldog was selected fifth overall in the 2021 NBA Draft, and now after making his mark on the summer league, people want to know more about his parents. Here's who Jalen Suggs' mom and dad are.
Suggs shines on Orlando Magic debut
Jalen Suggs was one of the hottest prospects entering this year's NBA draft.
The 20-year-old, who played college basketball for Gonzaga, was eventually selected fifth overall by the Orlando Magic.
The guard averaged 14.3 ppg, 5.3 rebounds and 4.5 assist in the 2020-2021 season.
Recently, he made his NBA Summer League debut for the Orlando Magic.
In a 91-89 overtime win vs the Golden State Warriors, Suggs finished with a game-high 24 points, nine rebounds, three blocked shots, two steals and one assist.
Afterwards, people wanted to know more about Jalen Suggs' parents.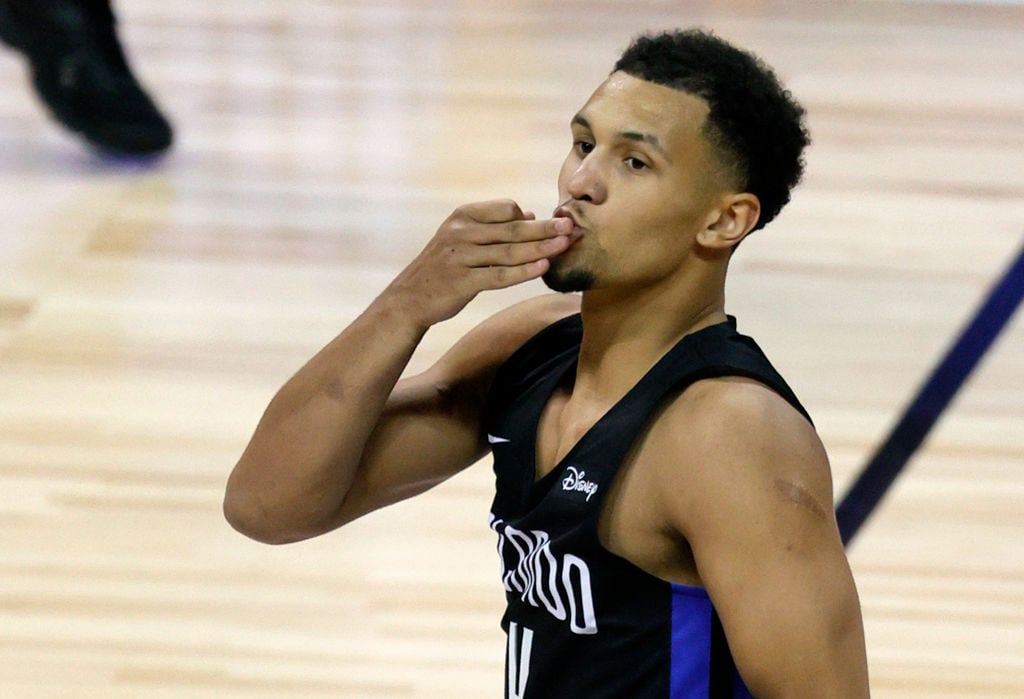 Who are Jalen Suggs' parents? Meet his mom, Molly Manley
Jalen Suggs' mom is Molly Manley.
Molly was born on 20 April 1981. She has been one of Jalen's biggest supporters throughout his career and helped get him to the stage of his career he's at now.
After he was drafted, Jalen spoke about what it would mean for his mom.
"I really want to get a nice car, not even for myself, for my mom. She's got an Escalade that she's dreamed of and talked about almost every day," he said. "I really want to get that for her. I never could've gotten here all by myself."
More on Jalen's dad Larry Suggs
Jalen isn't the only athlete in the family.
Jalen's dad Larry Suggs is a second cousin of Tyrell Suggs, the two-time Super Bowl champion.
His father was also former high school standout in basketball and football.
Jalen's father was the one who really motivated him to play sports. This included when Jalen was in seventh grade and played three games of junior varsity basketball for Minnehaha Academy in Minneapolis.
Larry Suggs also told ESPN how exceptional Jalen was at football at young age: "In terms of football, he played four grades up. He was just that talented. He played cornerback for us and kickoff return and punt return."
"Jalen was in second grade playing sixth grade football. In his own age group, he'd dominate."
Jalen has spoken about the values his father Larry instilled in him from an early age.
"He taught me … money doesn't grow on trees, no matter what position you're in or however high up you get.
"Regardless of how much he may earn, he knows he must "always be smart in my decision making and the way that I handle it," Jalen said.
The rest of Jalen Suggs' family
As well as being a relative of Tyrell Suggs, Jalen's cousin Rickey was the runner-up for Mr. Basketball in 1980.
He went on to play Division II basketball at Nebraska-Omaha and competed in the Canadian Football League.
Eddie Jones, the two-time NBA All-Star, is also a cousin of Jalen's. His other cousin, Raena, played women's basketball at Weber State.
Jalen also has two younger sisters, Jennica and Jaelle. Jalen has spoken about how much he treasures his family and how they inspire him to work harder.
Related Topics