Former Boston Celtics star Isaiah Thomas recently dropped 81 points in a Pro-Am basketball game. Afterwards, the point guard broke down crying, with the emotional moment caught on camera. But what exactly happened to Isaiah Thomas?
What is Pro-Am basketball?
Pro-Am basketball is elite level basketball leagues that take place outside the regular basketball seasons, usually in summer.
They take place around the USA with NBA, NCAA, overseas or individual players with exceptional talent or skill eligible to participate.
They are usually fiercely competitive, and allow for players to stay in shape or showcase their talents in the hopes they'll get picked up by a team.
Over the past few years, the likes of Kevin Durant, James Harden, Kyrie Irving, and Jason Tatum have all taken part in Pro-Am basketball.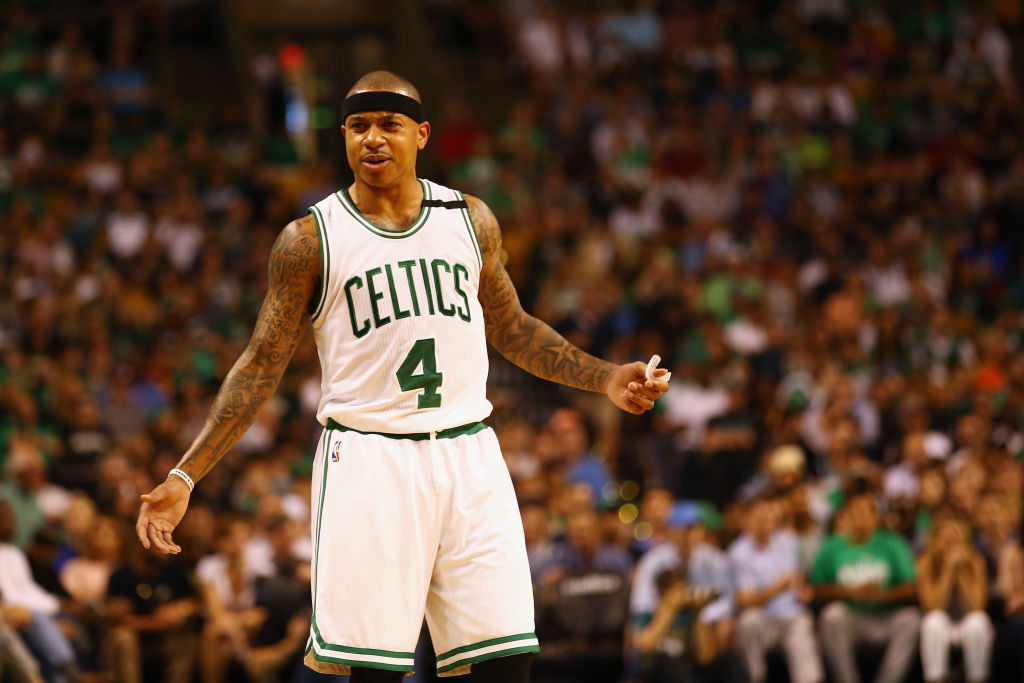 Isaiah Thomas starts crying after dropping 81 points
In the recent Crawsover Pro-Am League, put on every summer by former player Jamal Crawford, Isaiah Thomas dropped an astonishing 81 points.
The former Boston Celtics point guard scored 40 in the first half, and was raining in threes from all over the court.
Fans gave Thomas a standing ovation at the end of his performance. 
However, a heartbreaking clip has since emerged of Isaiah Thomas crying after the game.
In the clip, Thomas can be seen getting emotional about the league 'giving up on him', and remaining a free agent despite his obvious talents.
It's pretty tough to see someone's dreams and aspirations disappearing right in front of them, especially for someone who's a two-time All-Star.
So, what happened to Isaiah Thomas?
Free agent Isaiah Thomas hasn't played in the NBA since last season.
Last year, he signed a 10-day contract with the New Orleans Pelicans, but only played three games with the franchise.
Thomas averaged 7.7 points and scored in double figures in two of those games.
Isaiah enjoyed his best form with the Boston Celtics, where he was an All-Star in 2016-2017. In 2017, he finished fifth in MVP voting and averaged 29 points.
However, he then suffered a knee injury against the Minnesota Timberwolves. This actually turned out to be an undiagnosed hip injury which continued to plague Thomas.
Thomas was never the same since, and went on to have stints with the Cavs, Lakers, Nuggets, Wizards and Pelicans.
Let's hope his recent showing in the Crawsover Pro-Am League will result in some NBA interest.
Related Topics