New LA Lakers guard Russell Westbrook recently appeared on the Straight From The Hart podcast by Kevin Hart, where he spoke about his return home to LA. During the podcast, Brodie was asked about the Lakers being an old team, and he had the perfect response.
Lakers show faith in experience
It's no secret the LA Lakers are an ageing squad.
LeBron James is 36 years old and they have added 37-year-old Carmelo Anthony, 35-year-old Dwight Howard, 36-year-old Trevor Ariza, 33-year-old Wayne Ellington, 32-year-old Kent Bazemore, and 32-year-old Russell Westbrook.
The Lakers currently have an average age of 31.8 years.
And with other star man Anthony Davis being 28, they are without doubt the oldest roster in the league.
Russell Westbrook gives NSFW response to team being old
Despite all that experience, many detractors have said a team that old won't have the legs come postseason.
Championship-calibre teams tends to have a healthy mix of hungry young guys and wily vets.
Russell Westbrook has heard all that criticism and had a few choice words to say about it on the Straight From The Hart podcast by Kevin Hart.
He was asked what it felt like to be one of the youngest players on the team despite turning 33.
His response came in typical Brodie fashion.
He said, ""Listen, we've got a team full of nice experienced vets that's going to kick these young asses. That's what we going to do."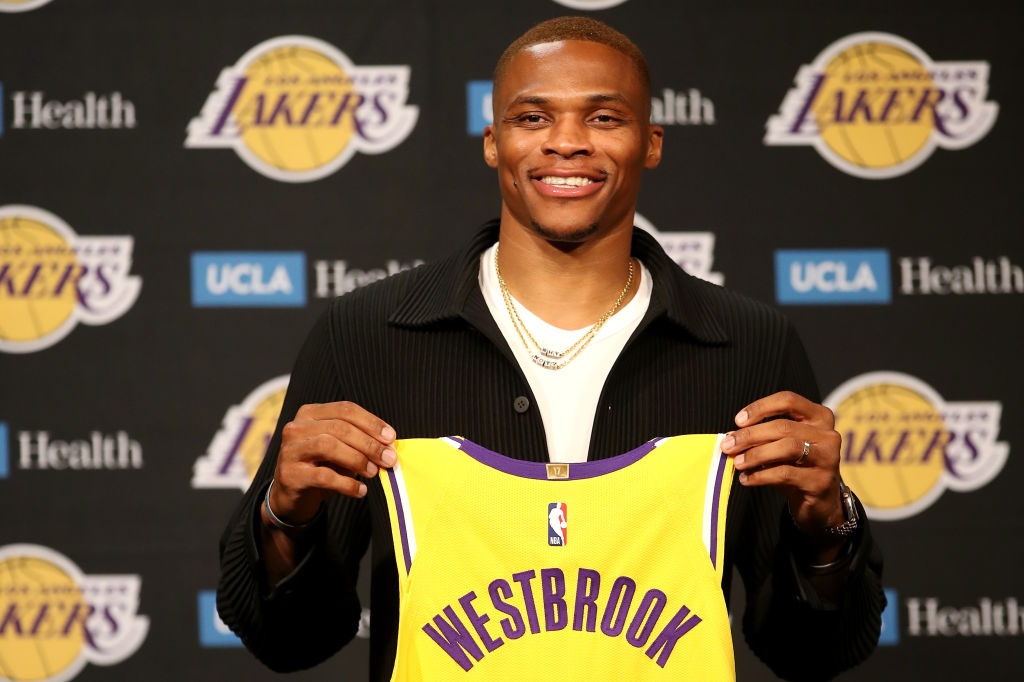 The pressure that comes with donning the purple and gold
Westbrook also spoke about linking up with the likes of AD and Bron.
He's well aware of the expectations that come with a Big Three (or even Big Four if you count Melo), but he isn't fazed.
"When it comes to pressure, honestly, it's kind of how you take it. Myself, LeBron, AD, we've been in a position where pressure is nothing. We've been there before. That's kind of how I take it. Ain't too much pressure. We'll go out and hoop and we'll figure it out," he said.
Only time will tell.
Related Topics