Giannis Antetokounmpo stayed true to his word and delivered a title to the city that drafted him. The Greek Freak dropped an all-time great performance in Game 6 on Tuesday, silencing the doubters who like to focus on what he can't do rather than what he can do. A certain Brooklyn Nets star has been critical of Giannis' game in the past but, with a ring and Finals MVP to add to his resume, the Bucks star has the last laugh. Twitter did its thing and made some hilarious James Harden memes.
Giannis dominates Game 6, wins Finals MVP
Giannis Antetokounmpo put in one of the greatest Finals performances ever on Tuesday night with 50 points in Game 6 against the Phoenix Suns.
Milwaukee beat the Suns 105-98, with the Greek Freak registering 50 points, 14 rebounds, and five blocks to capture the franchise's first title in 50 years.
Giannis shot 16 for 25 from the field and made 17-of-19 free throws – that's 89% compared with 55.6% he's been shooting for the rest of the postseason.
He joins Bob Petit (1958) as the only player to score 50 points in a Finals-clinching game.
After winning Finals MVP, he joins Michael Jordan as the only player in NBA history with multiple MVP awards, a Defensive Player of the Year award and a Finals MVP.
James Harden's words on Giannis don't look so smart now…
NBA Twitter is often a strange place, and while you'd think after such a historic night the focus would be on Giannis, many turned their attention to James Harden.
Why? Well, in 2020 the Brooklyn Nets star took a shot at Giannis by saying he had no real skills and dominated by just being an athletic 7-footer who runs and dunks.
"I wish I could be 7ft, run and just dunk. That takes no skill at all. I gotta actually learn how to play basketball and how to have skill. I'll take that any day," he said.
TRENDING: Twitter goes in on 'choke artist' Chris Paul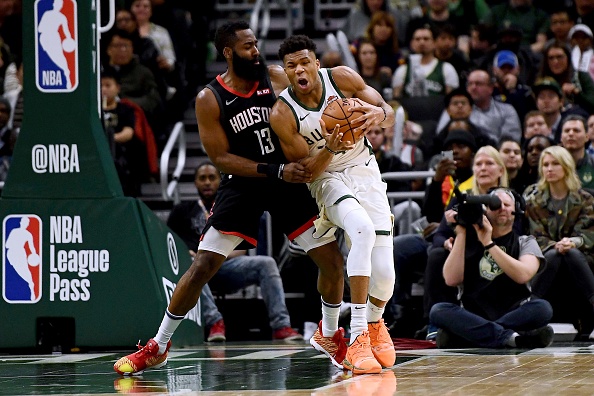 Twitter piles in with James Harden memes
In this year's Eastern Conference semi-finals, the Bucks beat the Nets in seven games, although the likes of Harden and Kyrie Irving were never at full fitness.
However, throughout his career Harden has played a total of 137 playoff games compared with Giannis' 64. In terms of playoff averages, the Greek Freak leads Harden in points, rebounds and blocks, so that coupled with the fact he now has a title and Finals MVP to his name, makes Harden's words seem all the more egregious.
Twitter didn't let the Nets man get away with it, however, creating some glorious James Harden memes.
REVEALED: Player who started "Bucks in 6" chant named
Fair play to Giannis. He stayed loyal to the team that drafted him and brought them a title.
Not all rings are created equal, and in an era of super-teams, Giannis' achievement will stand out from the pack for years to come.
Related Topics