One of the NASCAR Cup Series' most popular events takes place on Sunday – the Southern 500 at Darlington. Which driver is the most successful in the race's history and who are the most successful Darlington winners in the current field?
Who has most NASCAR Southern 500 wins at Darlington?
Jeff Gordon, now vice-president of Hendrick Motorsports is NASCAR's most successful driver of all-time in the Southern 500.
The four-time Cup champion secured six of his 93 career Cup wins at the 1.366 mile oval in South Carolina.
Between 1995-1998, Gordon swept all four Southern 500s, a feat no other driver has come close to matching.
The driver of the #24, Gordon's run was ended by Jeff Burton in 1999.
However, the Californian native would go on to add a further two victories in 2002 and 2007.
His final victory in the event eclipsed Cale Yarborough's 25-year record.
Three-time Cup champion Yarborough scored his fifth win in 1982, 14 years after his maiden triumph in 1968.
Bobby Allison is the only other NASCAR Cup driver to score more than three Southern 500 wins, his four coming in 1971, 1972, 1975 and 1983.
A clutch of two and three time Southern 500 Darlington winners
The first driver to dominate the Southern 500 was Herb Thomas.
Thomas became NASCAR's first multiple champion in 1953, adding to his '51 success.
In the Southern 500, he claimed three wins in 1951, 1954, and 1955. He was the first driver to defend the race win.
David Pearson, one of only two NASCAR drivers to win over 100 Cup races was a three-time winner as was Bill Elliott – father of current Cup champion, Chase.
Dale Earnhardt Sr's three wins came in the period from 1987-1990, the man known as The Intimidator only losing to Elliott in 1988.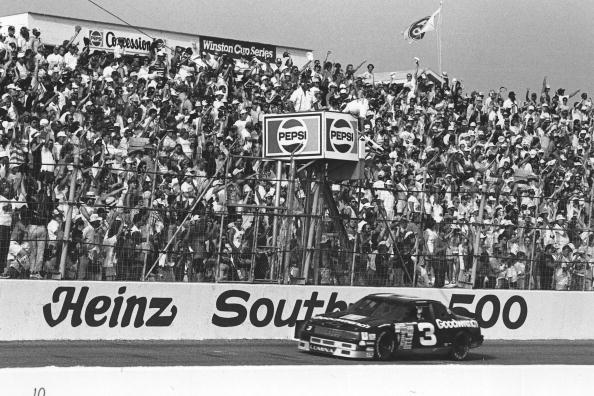 Fireball Roberts, Terry Labonte, Mark Martin and Greg Biffle are all two time Darlington winners in the Southern 500.
Now IndyCar driver Jimmie Johnson secured a record-equaling seven Cup titles in his career, which spanned 686 starts.
However, he could only win twice at Darlington in the Southern 50,, in 2004 and 2012 (in overtime) – neither of which were title winning years for the #48.
What about current Cup drivers?
Regular season runner-up Denny Hamlin and 2020 regular season champion Kevin Harvick are among the eight drivers to have secured two Southern 500 wins.
Hamlin added to his 2010 success in 2017, whereas Harvick is the defending race winner.
After an excellent regular season in 2020, the #4 Mustang continued his strong form on into the first round of the Playoffs.
However, his form deserted him and Harvick finished an eventual fifth in the standings, having taken nine race wins from the 36 events.
Kyle Busch (2008), Martin Truex Jr (2016), Brad Keselowski (2018) and Erik Jones (2019) are the only other currently active drivers to be Darlington winners in the Southern 500.
What about Richard Petty?
Richard Petty may have competed in NASCAR for 35 years.
He raced 1,184 times in stock car racing's highest level, winning 200 of them.
He has seven Cup titles to go with his seven wins in the Daytona 500.
But he only won the Southern 500 once.
It came in 1967, during Petty's most dominant season.
He won 27 times that year in the Grand National Series, including 10 race wins in a row.
The fourth of these came in the Southern 500 as he went about winning his second title.
Despite competing in NASCAR until the end of the 1992 season, Petty's best result after that '67 win was second place.
He achieved that four times, in 1971, 1975, 1976, and 1982.
Related Topics