Fresh from taking an emotional win at Indianapolis for the part-time Kaulig race squad, and his first Cup win in seven years, who is NASCAR racer AJ Allmendinger?
Part-timer gets the win
Amid the chaos of the NASCAR Cup race at Indianapolis, California native Allmendinger raced for the part-time Kaulig Racing squad.
The 39-year-old, who drives full-time for the team in the second-tier XFinity Series was taking part in his fourth event of the season.
After top 10s on the Daytona road course and at Circuit of the Americas, he took 29th at Road America.
For the inaugural Cup race on the IMS road course, he qualified eighth fastest.
In the race he was able to navigate the kerb chaos that hit the event.
Driving the #16, he inherited the lead on the final lap when Chase Briscoe punted Denny Hamlin off.
It was Kaulig's first Cup win in just their seventh race, ahead of going full-time racing in 2022.
Allmendinger took his own first win since the 2014 race at Watkins Glen.
Despite the win, it doesn't qualify the man known as 'The Dinger' for the playoffs.
As he isn't running a full-time schedule in Cup in 2021, he is ineligible for the playoffs.
What did he make of the win?
"Honestly we didn't really have a race-winning car on outright speed, probably about seventh to tenth," he explained after the race.
"I sped on the pit road, so I just kind of carried on for how I felt yesterday, so put us in the back there, and we were just fighting hard.
"I thought we probably maybe would get in the edge of the top 10 and have a solid day.
"But yeah, once that chaos started happening and we started getting close to the front, I had a really good restart on the front.
"I think we were restarting 17th with eight to go and was able to get to seventh through all that mess.
"I thought, all right, now we're at least in shouting distance of it.
"That second restart, got to third, and it's like, okay, now we've got a shot at this."
What has he raced in the past?
Allmendinger has been on the scene in American motorsport since 2004, when he raced in the now defunct Champ Car series.
After taking five wins in 2006, he left the series to make the switch to stock car racing – signing on with Red Bull Racing's NASCAR squad.
This proved to be disastrous as, more often than not, he failed to qualify for races.
For 2009, he moved to Richard Petty Motorsports, driving for the seven-time Cup champion's eponymous outfit.
A fruitful three years with RPM saw Allmendinger make another move for the 2012 campaign – switching to Penske.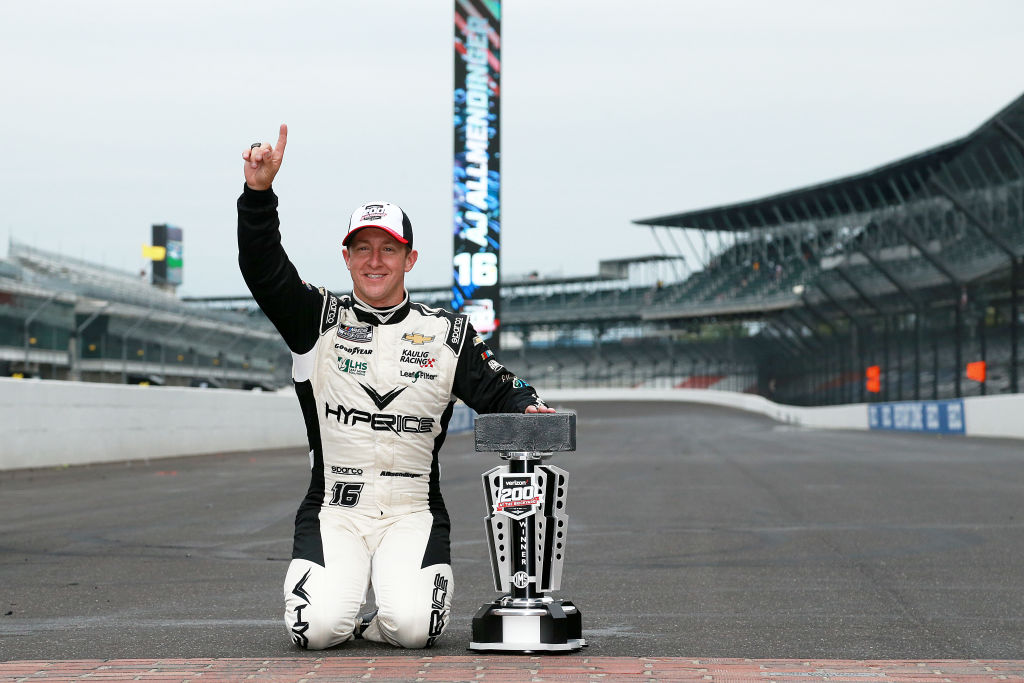 He was released from The Captain's squad midway through that year after testing positive for a banned substance.
After undergoing therapy, he was allowed back into competition.
For 2013, he was dovetailed a part-time Cup campaign with an IndyCar assault, once again for Penske.
Despite being in contention on his Indy 500 debut, loose seatbelts ruined his chances of a win.
During that time, and to this day, Allmendinger continues to race sports cars.
He's a one-time (2012) winner of the 24 Hours of Daytona, having taken part in the endurance event since 2006.
Full-time Cup career and 2022 plans
For 2014, Allmendinger found a full-time ride with JTG Daugherty Racing.
He would stay at the team until the end of 2018.
In his five full seasons, his best result was that win at Watkins Glen in 2014, securing a career-best 13th in the standings.
Despite being well set, Daugherty opted to bring Ryan Preece aboard for 2019, ending Allmendinger's time.
He then took on the part-time Kaulig gig.
For 2022, while Kaulig will move full-time into Cup, Allmendinger won't.
He will tackle XFinity full time, hoping to put together a title challenge.
As is the case in 2021, he will step up to Cup for selected events, including those on road courses.
Related Topics