George Russell has been announced as a 2022 Mercedes Formula One driver, replacing Valtteri Bottas. The Briton will be the 12th driver to have driven for Mercedes in F1, but who are the other 11?
Fangio among the first Mercedes F1 drivers
Mercedes-Benz first entered the world championship at the 1954 French Grand Prix.
It brought examples of its W196 streamlined car to Reims for Argentine Juan Manuel Fangio and German duo Karl Kling and Hans Hermann.
Fangio and Kling dominated as the Silver Arrows clinched a one-two on debut – Kling 0.1s behind at the flag.
Hermann retired with an engine problem.
Fangio would famously strike oil barrels next time at Silverstone in a poor handling machine before dominating the rest of the season.
He would win in Germany, Switzerland, and Italy to clinch a second world title for himself, and first for Mercedes in grand prix racing.
For 1955, team boss Alfred Neubauer gave a full-time seat to British racer Stirling Moss.
Ex-Ferrari driver Piero Taruffi and Frenchman Andre Simon were also given occasional drives in this second season.
Fangio would retain his title in 1955, with four wins and a second place from his six starts.
That second place was to Moss in the British Grand Prix at Aintree.
It was Moss's first world championship victory, although he did not know whether Fangio had let him through to win in front of his crowd.
Mercedes-Benz had already signaled its intention to withdraw from F1 at the end of 1955.
In the 1955 Le Mans 24 Hours, Mercedes driver Pierre Levegh was caught up in an incident on the pit-straight.
Levegh's car flew into the crowd and he was killed along with 83 spectators.
Mercedes would not be back in F1 until the 1990s.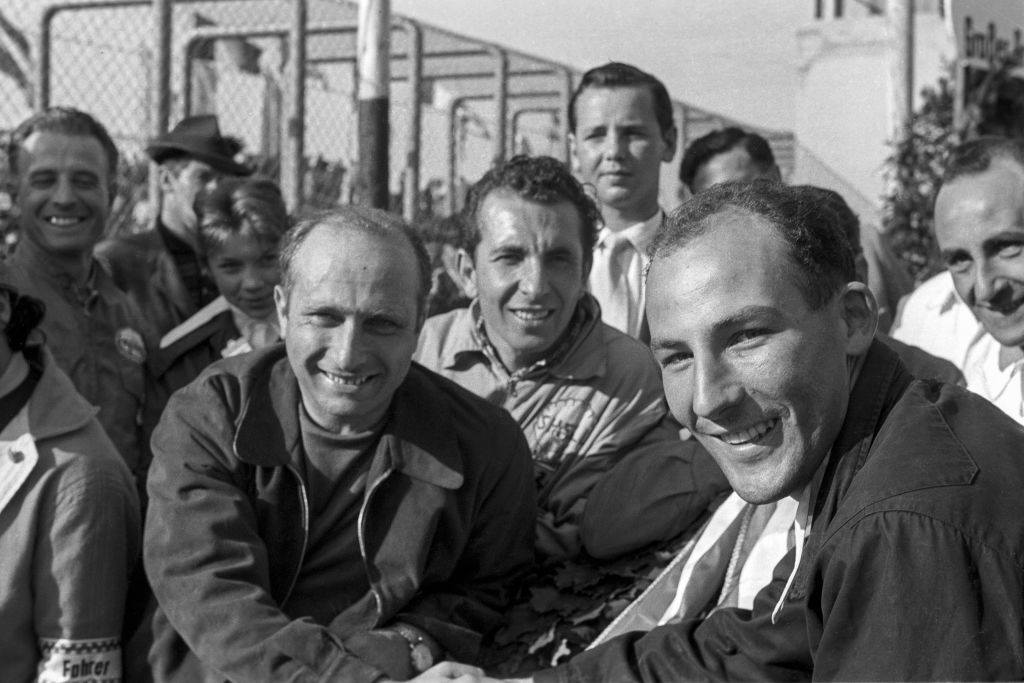 Engine supplier then works team
McLaren boss Ron Dennis managed to get Mercedes back in F1 in 1995 as an engine supplier.
The McLaren-Mercedes partnership would endure from 1995-2014 and deliver four world titles as the team went up against the Ferrari/Michael Schumacher juggernaut.
Mercedes was engine supplier when Mika Hakkinen won his two titles in 1998/1999, and Lewis Hamilton took his first in 2008.
After Honda withdrew from F1 in 2008, Mercedes offered a supply of engines to Ross Brawn for his eponymous Brawn GP.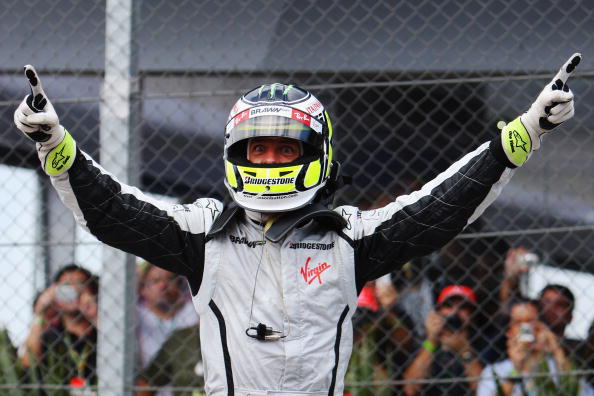 Jenson Button would take a remarkable 2009 drivers' title while Brawn took the constructors' in its only season of competition.
Mercedes brought Brawn out for 2010, returning to F1 as a full works squad for the first time since 1955.
Mercedes remains loyal to F1 drivers through title success
For 2010, Michael Schumacher was convinced out of retirement, as Nico Rosberg switched from Williams.
Rosberg would deliver the team's first podium at the 2010 Malaysian GP, adding two more that year.
In 2012, Rosberg would take the team's first win since the 1955 Italian Grand Prix in China.
Schumacher would retire for the second time at the end of 2012, replaced by Lewis Hamilton, poached from McLaren.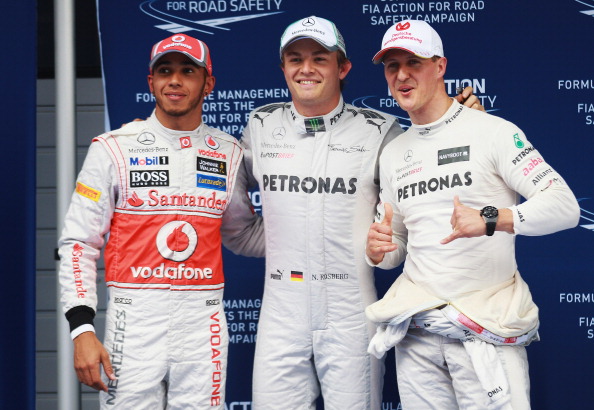 The Hamilton/Rosberg relationship would prove to be rather tetchy.
As Mercedes crushed the opposition in 2014, it became clear early on that one of the two would win the title.
A breakdown in their relationship that year was compounded by a collision in Belgium.
Hamilton would become the first Mercedes-Benz world champion since Fangio 1955 triumph at the 2014 Abu Dhabi GP.
He would retain his title in 2015, before Rosberg took his crown in '16, and then immediately retired, not after another two collisions, including both cars retiring in Spain and on the final lap in Austria.
In their four years together, Hamilton and Rosberg racked up 54 wins, and took Mercedes' first ever constructors' title in the 2014 campaign.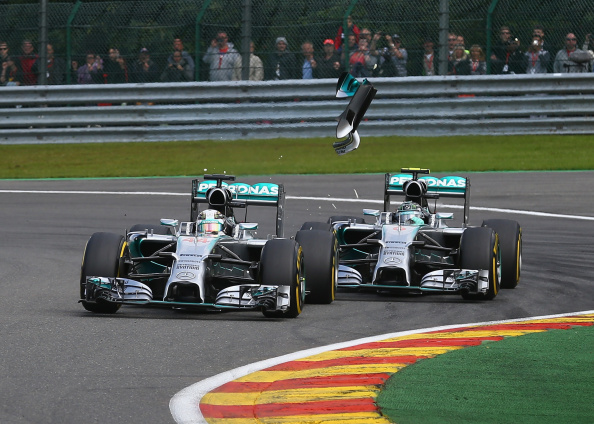 Bottas and Russell get chances at Mercedes
Rosberg was replaced by Valtteri Bottas for 2017.
The Finn has won nine grands prix in his five seasons at the Brackley-based squad, and provided support to Hamilton on-track.
Since Bottas joined Mercedes, it has won both world titles every year, and is the only team in F1 history to have won both titles seven consecutive times.
He has not been able to match Hamilton's consistency, with team boss Toto Wolff keen to look to the future when it came to selecting the 2022 Mercedes F1 drivers.
Max Verstappen (Red Bull), Charles Leclerc (Ferrari), Lando Norris (McLaren) and Esteban Ocon (Alpine) are all on long-term F1 deals.
They are poised to become team leaders, leading their squads into the latter half of the decade.
Mercedes would face the prospect of being the only front-running team without a younger driver if it did not move for George Russell.
He became the 12th driver to race for Mercedes in F1 in 2020, subbing for a covid-19 positive Hamilton in Sakhir.
Russell has signed a "long-term" deal at Mercedes to lead the team post-Hamilton's retirement.
Mercedes F1 drivers
Juan Manuel Fangio – 1954-1955 – Two world championships
Karl Kling – 1954-1955
Hans Hermann 1954-1955
Stirling Moss – 1955
Andre Simon – 1955
Piero Taruffi – 1955
Michael Schumacher – 2010 – 2012
Nico Rosberg – 2010 – 2016
Lewis Hamilton – 2013 – present – Six world championships
Valtteri Bottas – 2017 – 2021
George Russell 2020, 2022 – onwards
Related Topics