Lewis Hamilton and Max Verstappen are set to resume their Formula One title battle this weekend in Belgium as F1 returns after the summer break. But which current drivers are F1 winners in Belgium?
Raikkonen leads F1 race winners at Spa
Among the current field of 20 drivers, only five of them have tasted success at Spa and claimed victory in Belgium.
With four wins apiece at Spa, Kimi Raikkonen and Lewis Hamilton are tied among active drivers.
Both are behind Michael Schumacher's six wins and Ayrton Senna on five.
The Finn's wins all came between 2004 and 2009.
His maiden triumph at the now 4.3-mile circuit was in 2004 – the race where Michael Schumacher took his seventh world crown.
That was Raikkonen's sole win in 2004 as McLaren struggled and Schumacher won 13 of 18 grands prix.
McLaren was back on form in 2005, with a faster overall package than Fernando Alonso and Renault.
Victory that year put Raikkonen 25 points behind Alonso – in the days of ten for a win, with three rounds left.
However, across the season Raikkonen's McLaren was more unreliable than Alonso's package.
Raikkonen ultimately failed to overhaul Alonso as the Spaniard took the 2005 world title next time out in Brazil.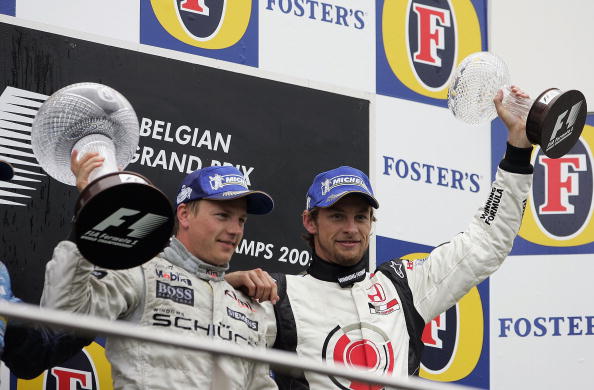 A comfortable 2007 win for new team Ferrari helped Raikkonen to claim his only world title, to date.
For 2009, Ferrari and McLaren both struggled with the new technical rules, having pushed all the way in their 2008 battle.
Things improved mid-season for both to take wins, with Raikkonen scoring Ferrari's only 2009 win in Belgium.
He passed Giancarlo Fisichella in a Ferrari car equipped with the KERS energy boost system.
The Italian, a surprise pole-sitter for Force India (now Aston Martin), didn't have the system fitted.
He was powerless to stop Raikkonen overtaking at the top of Eau Rogue.
Hamilton also a four-time Belgian GP winner
Lewis Hamilton's four wins have been split across his time at McLaren and Mercedes.
In a chaotic wet/dry race in 2010, he survived a late trip through the gravel to notch his first official victory.
The Briton did cross the line first in 2008, but was slapped with a contentious 25s penalty.
He ran wide through the braking area for the bus-stop chicane, before passing Raikkonen at Turn 1 on the next lap.
The stewards believed he had gained an unfair advantage in cutting the corner.
The McLaren driver dropped from first to third, handing title rival Felipe Massa the win.
Hamilton's 2015 win was narrow, if comfortable, over teammate Nico Rosberg as Mercedes crushed the opposition.
In 2017, he held off a charging Sebastian Vettel as he faced the resurgent German in an ultimately successful title season.
Last time out in Belgium, Hamilton took pole, led every lap and won his fourth Belgian GP.
He narrowly missed out on a grand chelem as Daniel Ricciardo took the fastest lap.
Vettel close behind as three-time Belgian GP winner
The only other multiple grand prix winner at Spa on the current grid, Vettel has a trio of wins to his name.
In 2011, the German was the dominant driver on the grid taking 15 poles and 11 wins from the season.
Victory in Belgium came in a Red Bull one-two with teammate Mark Webber following Vettel home.
His 2013 triumph in the Ardennes Forest was the start of an all-time F1 record.
Starting with Belgium, Vettel would win the final nine races of the season – breaking the all-time consecutive wins record.
Alberto Ascari previously held that record, winning every race between the 1952 Belgian GP and 1953 Argentine GP for seven on the trot.
Ascari's run was ended by the inclusion of the Indianapolis 500 on the calendar, which F1 drivers didn't really bother with.
But it was a world championship event Ascari failed to win that left his run at seven, despite a further two wins after the 500.
Vettel would have to wait until 2018 for his next Spa win, coming for Ferrari.
He got in Hamilton's slipstream up Eau Rogue on the first lap, powering past the Mercedes for the lead.
It was the 52nd win of his career, moving him above Alain Prost into third place on the all-time wins list.
A pair of one-time Belgian GP race winners
Daniel Ricciardo was the only other driver than Hamilton or Rosberg to win in 2014 as Mercedes dominated the first turbo hybrid season.
His first win came in Canada, but in Spa he was perfectly placed to steal the spoils after a Mercedes meltdown.
On Lap 2, Rosberg tagged Hamilton's left rear, giving him a puncture. Car #44 would ultimately retire as Rosberg tried to salvage points.
Ricciardo passed teammate Vettel when he ran wide at Pouhon. This was enough to move the Australian into the lead once Rosberg stopped.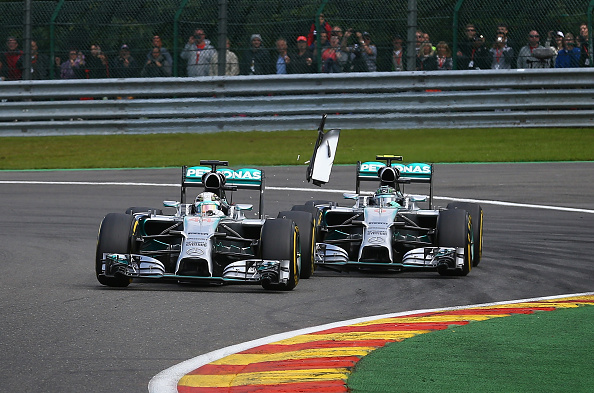 The fifth driver to have secured a grand prix win at Spa is Charles Leclerc.
The Ferrari driver is the only driver on the current grid to have taken his maiden win at the circuit.
It came in 2019 in tragic circumstances.
In the Formula 2 race the day before, Leclerc's close friend Anthoine Hubert was killed.
A moment's silence was held before the grand prix in Hubert's memory, before Leclerc started on pole.
The Monegasque would hold off a charging Hamilton in the closing stages to score an emotional first win.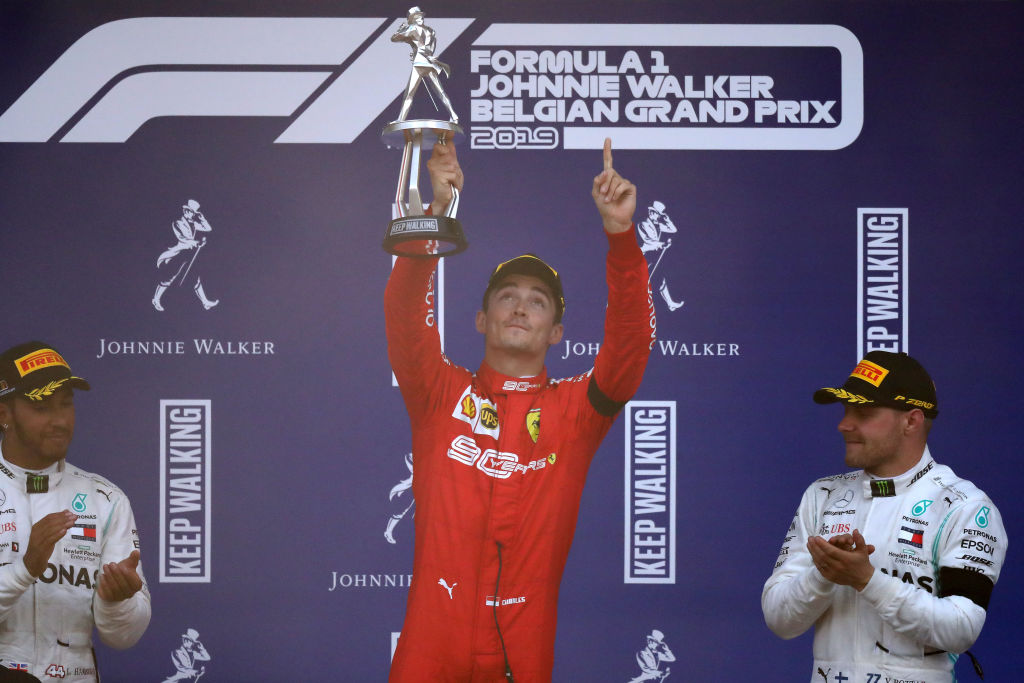 Related Topics