Mercedes driver Valtteri caused a huge crash on the first corner at the Hungarian GP, rear-ending Lando Norris. The incident caused damage to Max Verstappen's car and left the race in turmoil. Twitter reacted.
Valtteri Bottas causes crash on first lap of Hungarian GP
Mercedes driver Valtteri caused a huge incident on the first corner at the Hungarian GP.
Bottas, in P3, got a slow start to the race and was taken down the inside by Lando Norris.
In the wet surface, the Finn then broke way too late heading into Turn 1, re-ending Norris who then cannoned into Max Verstappen.
Both the Red Bulls were taken out, with Championship leader Verstappen sustaining damage and dropping down the field.
Lance Stroll also caused an issue, colliding into Charles Leclerc down the outside, forcing the Ferrari driver to retire from the race.
The red flag subsequently came, with Verstappen dropping from P3 to P13.
It is Bottas' first ever first-lap retirement, with the accident leaving Lewis Hamilton in P1.
Stroll, Bottas, Perez, and Leclerc are all out of the race.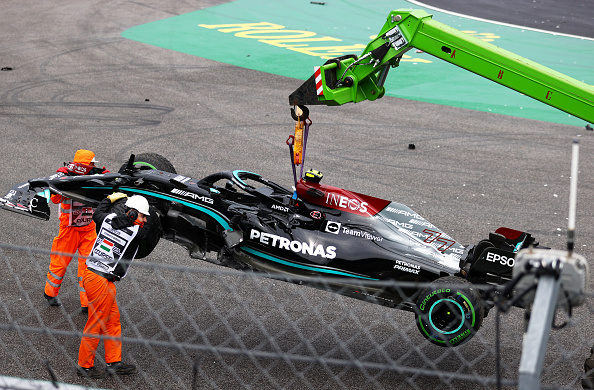 Twitter reacts to the accident
It was another exhilarating first lap after the previous incident involving Verstappen and Hamilton at the British GP.
Twitter was understandably shook, criticising Bottas for causing the incident.
There was also some great memes at the expense of Bottas.
Leclerc tweets out in frustration
Charles Leclerc was one of the people involved in the chaotic start at the Hungarian GP.
Aston Martin's Lance Stroll took out the Ferrari driver down the outside at Turn 1, forcing him to retire.
The Monégasque has already tweeted his frustration out.
Related Topics