Former Los Angeles Dodgers right fielder Yasiel Puig paid tribute to Vin Scully on social media after it was announced the broadcaster had passed away.
Legendary Hall of Fame broadcaster Vin Scully has passed away aged 94. Scully entertained and informed Dodgers fans in Brooklyn and Los Angeles over a 67-year career, and was a much-loved media member.
Scully was the longest-tenured broadcaster with a single team in pro sports history. His career began in the 1950s, covering the likes of Jackie Robinson, right through to 2016 with Yasiel Puig and Clayton Kershaw.
He was known for his distinctive voice, lyrically descriptive style, and signature introduction to Dodgers games: "It's time for Dodger baseball! Hi, everybody, and a very pleasant good (afternoon/evening) to you, wherever you may be."
ESPN reported the Dodgers spoke to family members, who revealed Scully died at his home in the Hidden Hills section of Los Angeles. No cause of death was given.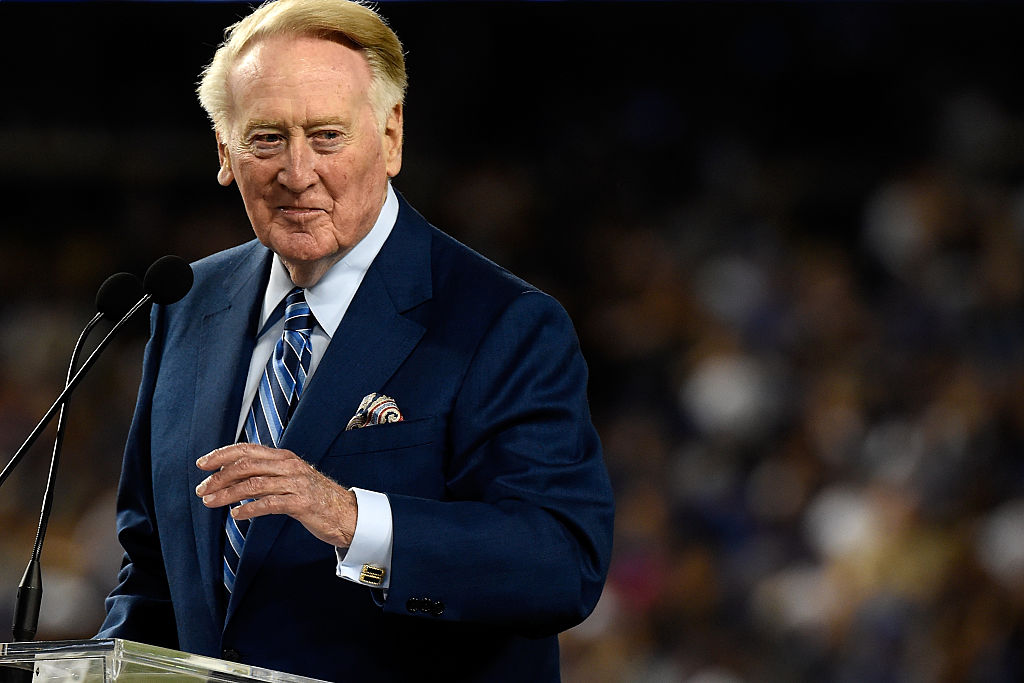 Yasiel Puig's touching tribute to Vin Scully
Former Los Angeles Dodgers right field Yasiel Puig paid tribute to Vin Scully after he heard the news of his passing.
"You gave me my Wild Horse name," Puig wrote in a poignant Twitter post.
"You gave me love, you hugged me like a father. I will never forget you, my heart is broken. My hand over your family's hearts. Los Angeles, I am sorry I am not there with you today to cry together."
Watch the tribute below:
People were touched by Yasiel's response and posted footage of 'special times' from 2013:
People remember Yasiel's 'Win for Vin' shoes
In 2016, Yasiel wore a special pair of Nike spikes with the phrase 'Win for Vin' along with a superimposed image of Vin Scully's face on them.
On the other shoe was a reference to the iconic broadcaster's opening line before games. "It's time for Dodger baseball" was represented with '#ITFDB' on the shoe.
Puig apparently didn't know of Scully when he arrived in Los Angeles four years before but during his time with the Dodgers he became a huge fan of the broadcaster.
"I play baseball and I like the way he narrates," Puig said, according to ESPN. "And 67 years of work, he deserves his respect. If it's not 'Win for Vin,' it's win for the city of Los Angeles and for ourselves."
The year before, Vin was asked why he chose to come back to the Dodgers for his record-setting 66th season.
"I wanted to wear Yasiel Puig's jersey," Scully joked to SportsNet LA's Alanna Rizzo.
Tributes pour in for Vin
Tributes for Scully poured in on social media as news of his death circulated.
"He was the best there ever was. Just when you think about the Dodgers, there's a lot of history here and a lot of people that have come through. It's just a storied franchise all the way around. But it almost starts with Vin, honestly," Clayton Kershaw said after the Dodgers' game Tuesday night. "Just such a special man. I'm grateful and thankful I got to know him as well as I did."
"The heart of a city. A voice that bridged generations. An iconic storyteller who, through his words, brought so many summer nights and fall evenings to life. We've lost a true legend. RIP Vin Scully," the Los Angeles Chargers on Twitter.
What is your favorite Vin Scully moment? Let us know in the comments below.