Swimming legend Michael Phelps was recently spotted at Caves Valley Golf Club in Baltimore, Maryland with Jordan Spieth. The Olympic icon has been helping golfers on the mental side of the game in recent years, and after his appearance on the course, people wondered what Michael Phelps' golf handicap is.
Olympic swimming legend has been helping Jon Rahm and Jordan Spieth
The greatest swimmer ever, Michael Phelps, has been helping golf superstars Jon Rahm and Jordan Spieth recently.
Phelps – who has 28 Olympic medals, 23 of which are gold – turned his attention to athlete mental health after retiring in 2016. He has suffered with mental health and depression for a number of years.
However, Phelps is the king of handling expectation and pressure at the elite sporting level, and both Rahm and Spieth have benefited from speaking with the former swimmer about the mental side of the game.
"He's a great guy," Rahm said. "He's gone through a lot, and as an athlete he's somebody to look up to very easily.
"When you're the greatest Olympian of all-time, you definitely have a couple tricks up your sleeve, a couple good moments of wisdom in that sense. … I'm not going to disclose too much on what I've asked him golf-wise, but he has helped me a lot."
Phelps was recently at Caves Valley Golf Club for the pro-am on Wednesday 25 August.
He was paired with Spieth ahead of the 2021 BMW Championship.
Speaking about his relationship with Phelps, Spieth said: "I pick his brain on the mental side of things now. He's getting very involved in mental health, and it's been something that I've actually worked on a lot in the last few years."
"And that's been a space that probably should be talked about more within athletes, their experiences across different sports, too. I've been really fortunate that he's lent an ear and also bounced ideas off me.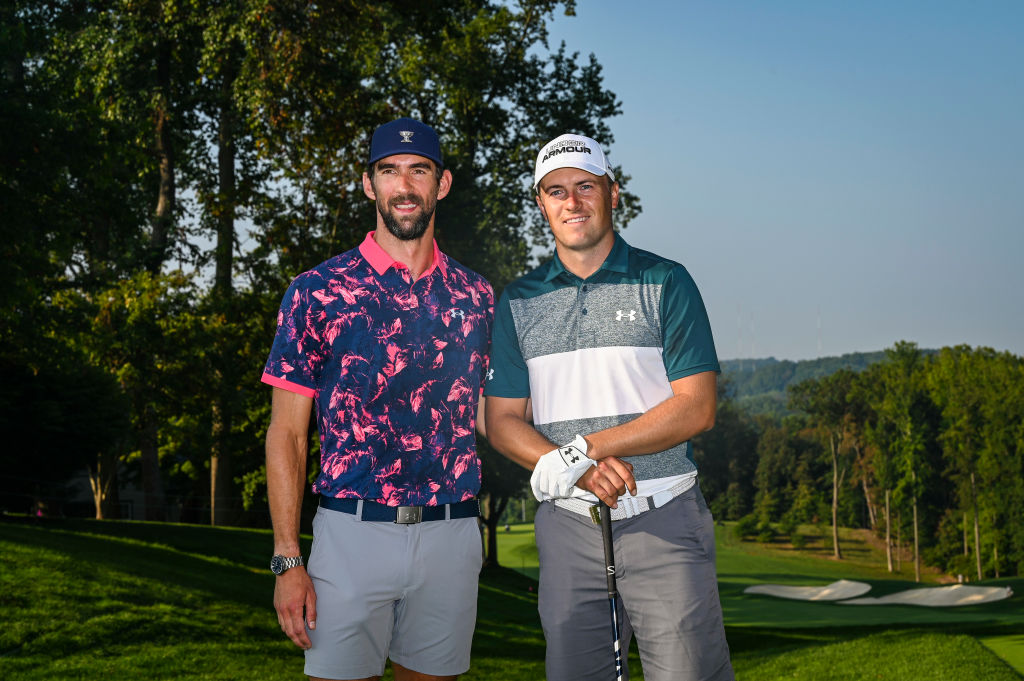 What is Michael Phelps' golf handicap?
A clip of Phelps teeing off at the event was shared on social media.
Most people commented that it was a solid, if not perfect, swing.
Naturally, people wondered what Michael Phelps' golf handicap is afterwards.
According to Golf Digest, Phelps handicap at the time of his retirement was 12.
In golf, the lower your handicap, the better you are.
According to Golf Span, the average handicap for men and women golfers is around 15. This means they would shoot about a 90 on a typical 18-hole course.
A golfer with a very good handicap would probably have less than a 10.
However, an updated article by GD suggests Phelps' golf handicap is 10.5.
They write: '[he] has improved his Index by almost five shots from 2015.'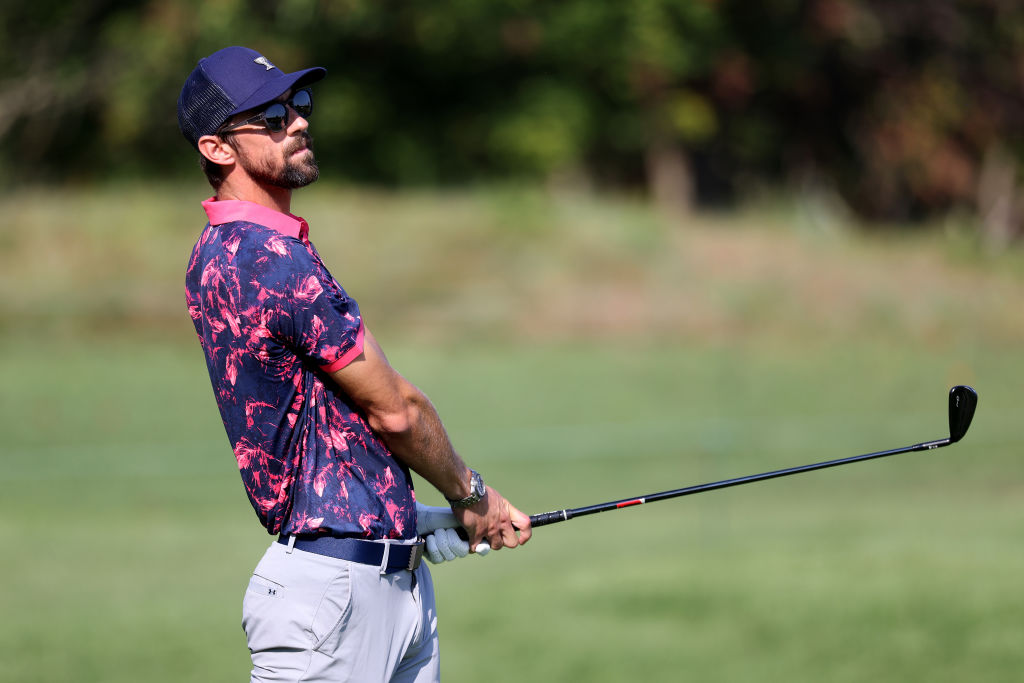 Phelps' one-of-a-kind clubs
Phelps was clearly enjoying himself at the Caves Valley Golf Club in his hometown of Baltimore on Wednesday.
And why wouldn't he be, especially playing with his own custom set of clubs.
He has a custom 28-star wedge stamp, featuring one star for each Olympic medal.
However, despite Phelps' cool, calm and collected disposition, he still loses it sometimes on the course.
He said: "Oh yeah, I've thrown clubs.
"I launched my 7-iron and managed to get it stuck in a tree. All my buddies were laughing because they know how competitive I am.
"They love torturing me in the only sport I can't beat them."