ESPN reported yesterday that things "could have gotten ugly really fast" when a patron shouted "Great job, Brooksie!" at Bryson DeChambeau, who was walking, defeated, toward the Caves Valley clubhouse. The jab's origin lies in a feud between DeChambeau and Brooks Koepka – so what's the meaning of "Great job, Brooksie"?
The origin of 'Great job, Brooksie' explained
By shouting "Great job, Brooksie!" at Bryson DeChambeau after Patrick Cantlay beat him in Sunday's BMW Championship, the unidentified heckler was recalling a feud that goes back to 2019.
CULTURE: Meet the actress who plays Lisa Trevor in Resident Evil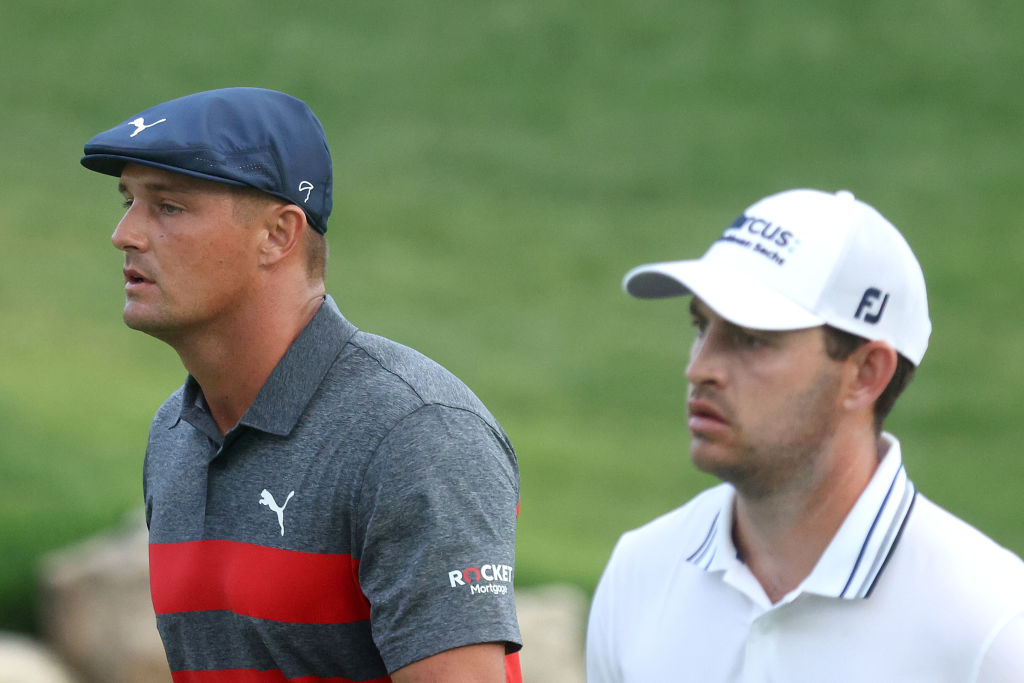 According to ESPN writer Tory Barron, the earliest discernible signs of beef between the two players – DeChambeau and Koepka – appeared when multiple PGA Tour players, including Koepka, criticised DeChambeau for playing too slowly.
Shortly afterwards, in August 2019, USA Today columnist Eamon Lynch tweeted that he'd seen "an irritated Bryson DeChambeau" tell Koepka's caddie to "make any comment about slow play 'to my face'".
What did Bryson DeChambeau say to Brooks Koepka?
A few days later, in an interview with Michael Collins from Out Of Bounds, DeChambeau conceded, "Let's be honest, we know who would win that fight, and it's not me."
Koepka agreed.
Up to that point, relations between the two seemed civil, even if there was some heat. But during a video game livestream in January 2020, DeChambeau allegedly criticised Koepka's physique. 
He said: "He didn't have any abs, I can tell you that. I got some abs."
MOVIES: Who is Avan Jogia from Resident Evil? Meet his character Leon Kennedy
Since then, they have quipped back and forth. Koepka commiserated Aaron Rodgers following the announcement that he would be teeing off alongside DeChambeau. DeChambeau said it was "nice to be living rent free" in Koepka's head.
Recently, Koepka's supporters have been taunting DeChambeau with the nickname "Brooksie", in an allusion to the players' ongoing beef.
So, what is the meaning of 'Great job, Brooksie'?
The "Great job, Brooksie" jab's origin goes back at least as far as 26 May. After DeChambeau teed off one afternoon, a patron teased him by saying "alright Brooksy".
To this, DeChambeau apparently replied by saying, "Whoever is calling me Brooksy needs to get out of here". The jab seemed to have struck a nerve. 
Koepka was quick to share footage of the incident on Twitter, which was liked by almost 50K users on the platform. One comment even suggested the two players meet "on the 9th green at 9 tonight" to "hash this beef out" – and even offered to "moderate".
RELATED: Who is golfer Patrick Cantlay's girlfriend, Dr Nikki Guidish?
What happened next?
Fortunately, on Sunday, DeChambeau didn't confront his heckler. He did, however, allegedly spin around "in a rage" and begin briefly walking in his direction.
On the topic of DeChambeau and Koepka's apparent beef, ESPN's Tory Barron reckons their spat "hasn't quite reached the threshold" of other notable feuds, such as those between Muhammad Ali and Joe Frazier, or Mark McGwire and Sammy Sosa.
Nevertheless, it prompted the Guardian to write earlier this year that the "long-simmering feud" might "save golf".
Related Topics