Does Tiger Woods support Trump? The two have had a relationship for many years and Woods has regularly been seen playing golf with Donald Trump. Fans are now wondering about Tiger Woods's political leaning. Is he a Democrat or a Republican?
Who is Tiger Woods?
Tiger Woods is arguably the most famous golfer on the planet. Woods was born on 30 December 1975 in California under the name Eldrick Tont Woods.
He was the youngest man, and the first African-American, to win the US Masters in 1997, aged just 21.
In total, the star has won the Masters five times and the US Open three times. He also became the first player to win the four major golf tournaments in a row – the US Open, British Open, the Masters and the PGA Championship.
Although best known for his golfing prowess, Woods is also infamous for the infidelity scandal that ended his marriage in 2009. It was exposed by the media that he had been cheating on his wife and the pair announced they were divorcing soon after.
Does Tiger Woods support Trump?
It's unclear which way Tiger Woods leans politically. Woods tends to avoid talking politics and prefers to stick to talking about sports on all his social media channels.
Trump awarded Woods the presidential medal of freedom in 2019 after his comeback at the Masters and his impressive golfing career.
When asked whether he supports Trump, Woods said: "He's the president of the United States. You have to respect the office…no matter who is in the office. You may like, dislike the personality or the politics, but we all must respect the office."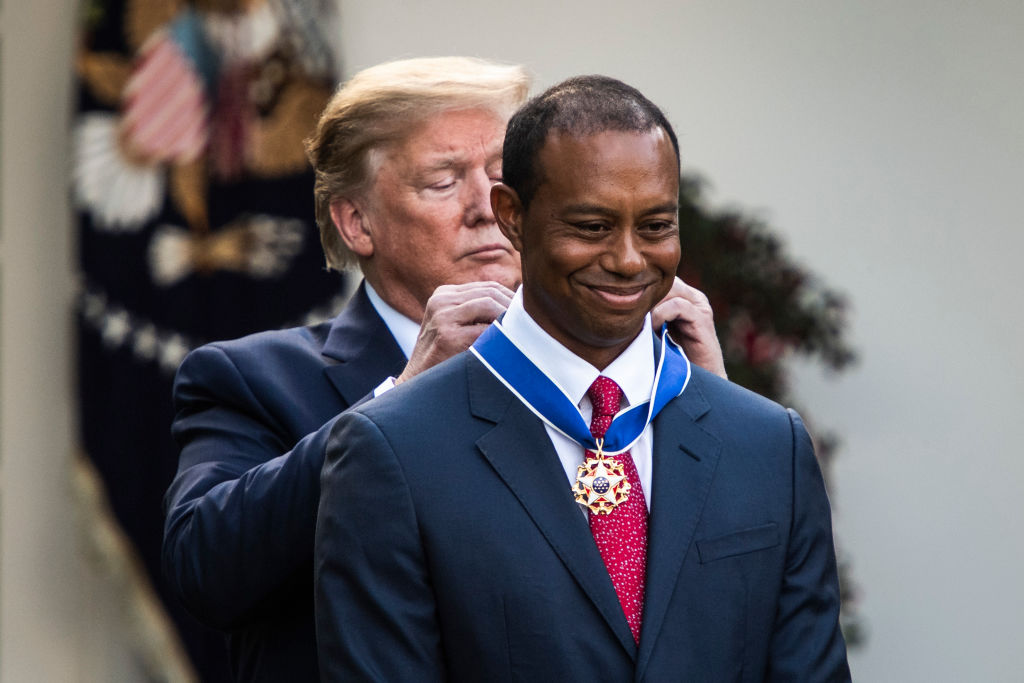 Woods and Trump have had a relationship that goes back many years, as Woods told the New York Times: "I've known Donald for a number of years. We've played golf together and we've had dinner together. So, yeah, I've known Donald pre-presidency and, obviously, during his presidency."
However, over the years Tiger Woods has also been seen playing golf with both President Obama and Donald Trump – showing sport really does cross party lines.
He also called Obama's election "absolutely incredible' and said: "(Obama) represents America. He's multiracial. I was hoping it would happen in my lifetime.
"My father was hoping it would happen in his lifetime, but he didn't get to see it. I'm lucky enough to have seen a person of colour in the White House."
So, does Tiger Woods support Trump? The jury is still out. It seems Woods prefers to remain publicly apolitical and prizes connections with people through golf rather than political alliances or allegiances.
Related Topics