Day one of the Border-Gavaskar trophy has been an arm wrestle so far but the result could hinge on one decision made by Australia regarding Virat Kohli, says Vivek Rambharadwaj.
India won the toss and elected to bat but lost their openers, Prithvi Shaw and Mayank Agarwal, in the first session.
Shaw played on to his stumps to only the second delivery he faced. Mitchell Starc bowled a good-length delivery that angled away then moved back in to clatter Shaw's castle off the inside edge.
Agarwal and Chesteshwar Pujara stitched a decent partnership. However, India had only reached 32 when Pat Cummins bowled a terrific inswinger to take out Agarwal. The ball found the gap between bat and pad before hitting the top of off stump.
That brought India's man for all occasions Virat Kohli to the crease. The captain settled down with Pujara to patiently build an innings, although India were lucky a few nicks failed to carry to slip and leg slip.
Kohli vs Paine – a pivotal moment
What could be the pivotal moment in the Test came when Nathan Lyon bowled the 35th over. The first ball was shortish and spun down the leg side.
Kohli tried to cut it fine but the ball appeared to brush the glove on the way to the wicketkeeper and opposing captain Tim Paine. Despite a huge Aussie appeal, the decision was not out.
After giving it some thought, Paine decided not to review the decision but hot spot later proved the ball had brushed the glove. A review would have plunged India into trouble with their talisman sent packing having scored only 16 from 50 deliveries.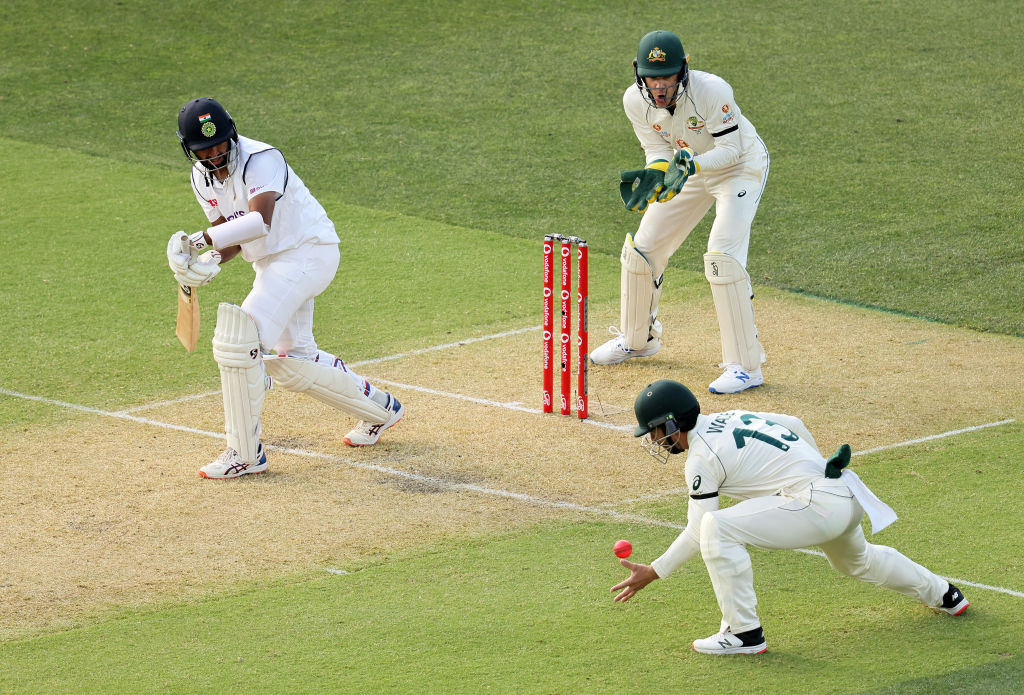 Kohli is in top form and has no fear of Australia. The captain has scored 1,274 runs against the Aussies including six centuries and three fifties (Howstat).
Australia had missed a game-changing chance that may prove expensive. At the time of writing, Kohli had notched his fifty and moving ominously towards another Test ton, ably supported by Ajinkya Rahane.
Lyon vs Pujara
Earlier, Lyon won his battle with Pujara. The spinner consistently attacked the edge of the bat and got his man when an inside edge off the thigh pad was caught at short-leg.
Australia had two more reviews left when the Kohli incident occurred. Having Pujara and Kohli both back in the hut would have given Australia a great chance to rip through India's batting.
The high-risk, high-reward move would have paid off but Paine refused to gamble. At the end of the first day, we will know which captain has the early upper hand.
Full first day match report to follow.
Related Topics