The Best in the World himself made an incredible return to wrestling on Friday night, debuting at AEW Rampage. Fans were understandably hyped about his return, and the wrestler thanked fans in attendance at United Center with a treat. But what were CM Punk's promo 'Pretty Cool' ice cream bars?
CM Punk makes wrestling return, signs with AEW
Seven years after his last WWE appearance, CM Punk returned to wrestling Friday night (20 August) at AEW Rampage.
Punk walked away from WWE following the Royal Rumble 2014, and went on to fight in the UFC.
His debut for AEW took place in his hometown of Chicago in front of a sold out crowd at the United Center.
"Sometimes you fall out of love with stuff," Punk said of pro wrestling in a post-event news conference. "If you set something free and it comes back to you, it's true love."
Punk will wrestle Darby Allin in his first match back at AEW All Out on 5 September.
CM Punk hands out free ice cream bars to crowd
At the end of his AEW Rampage in-ring promo, CM Punk announced he'd be giving out free ice cream bars to everyone in attendance.
In 2011, Punk called for WWE to revive its classic ice cream bars but it never happened.
His his post-show media call he said: "I used to do it all the time when I would Q&As at comic-cons and stuff like that.
"I would bring people donuts, pizza. And to me these ice cream bars represent an idea, an idea that was gift-wrapped to people that didn't bother to take the time to try and understand their audience. This is the easiest home run I've ever hit and this is a legit thank you."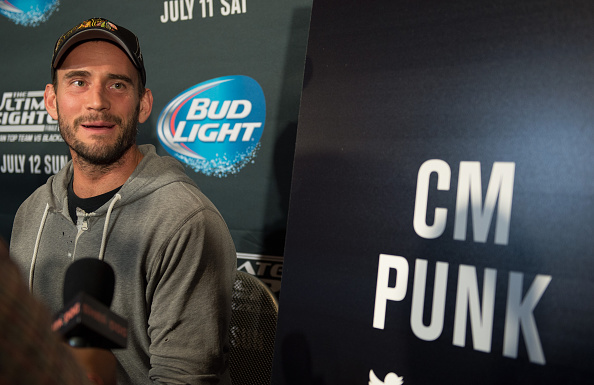 Fans share images of the free ice cream bars on social media
Fans were handed CM Punk's promo ice cream bars on the way out of United Center.
Staff had boxes of them on hand and gave them out as people went through the turnstiles.
Fans uploaded images of the ice cream to social media proving Punk was true to his word.
What flavor were they?
CM Punk's 'Pretty Cool' ice cream appeared to come in just one flavor.
On the wrapper it said, 'CM Punk Chocolate Covered Vanilla Bean Ice Cream Bar.'
Underneath it said, 'Rich custard style ice cream infused with Madagascar vanilla bean dipped in our signature chocolate shell.'
One fan uploaded a photo of what the actual ice cream looked like without the wrapper.
Looks great!
Related Topics