The world is a strange place at the minute – nothing really makes sense. Therefore, I'm calling on all floating football fans to support SC Paderborn 07 when the Bundesliga returns on Saturday (16 May).
Each one of the club's past six seasons has ended with promotion or relegation since securing a debut appearance in the German top flight in 2014.
Paderborn have curiously endured more relegations than promotions in returning to the Bundesliga this time owing to a fortuitous twist of fate. For good measure, a miracle comeback was confirmed last season despite a dramatic final day slip-up.
Joy and despair
Supporters of the cash-strapped German side have barely been able to draw breath between bouts of joy and despair. Now, with nine games of the current campaign left to play and Steffen Baumgart's side ten points adrift of guaranteed safety, the options on the table are a fourth 'relegation' in seven campaigns  or another dramatic season finale.
Why does supporting Paderborn make sense? Largely because their recent history makes no sense at all. Having competed in the amateur divisions a decade earlier, Andre Breitenreiter's proudly attacking side achieved the club's first promotion to the Bundesliga in 2014. After four games, they stood at the top of the table.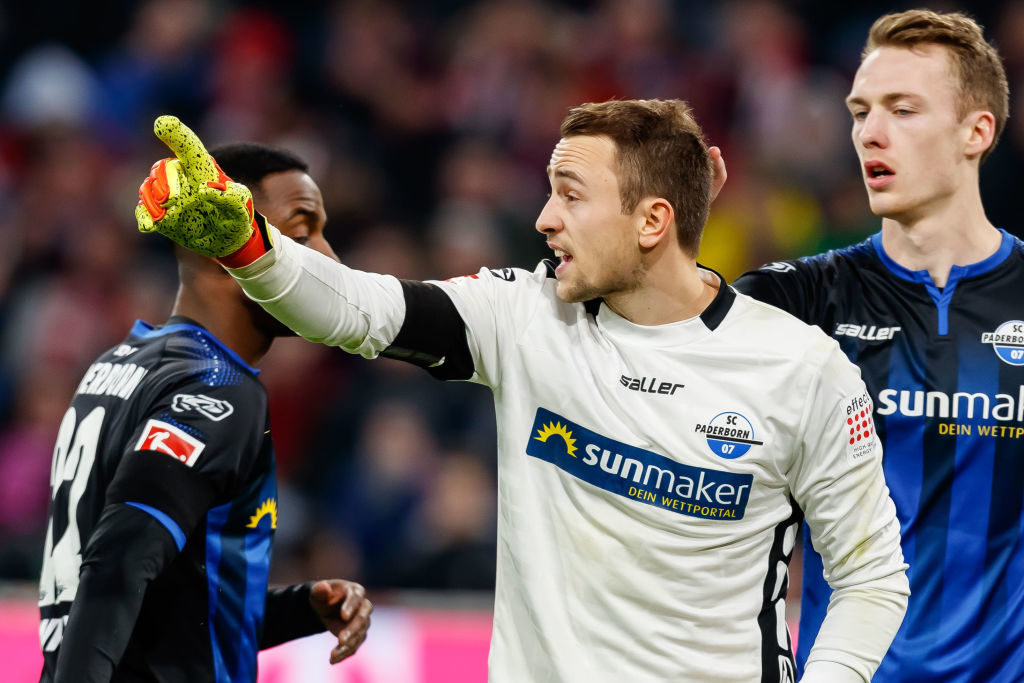 However, a 4–0 thrashing by reigning champions Bayern Munich was followed by Paderborn snowballing to bottom place and an immediate return to the second tier.
With Breitenreiter heading to Schalke and skipper Uwe Hunemeier leaving for Brighton, among several key departures, Paderborn finished rock bottom of 2.Bundesliga at the end of the 2015–16 season.
Then they stumbled straight into another relegation after failing to win on the final day. It was a collapse that signalled re-entry into the amateur regional divisions. The black and blues were back at the bottom.
1860 Munich
Or so it seemed until 1860 Munich, then in the second tier, failed to pay its league licence. This saw Paderborn reinstated to 3.Liga. Seemingly in free-fall, the lifeline led the club to launch a monumental turnaround under Baumgart.
Having accumulated 44 points the previous year, a reborn Paderborn finished second the next season,  39 points better off and two points off the title . They repeated the feat the following year in the second tier. Just.
In true Paderborn style there was a final twist in store. A 3-1 defeat by Dynamo Dresden in their last league game left the door wide open for Union Berlin to secure automatic promotion.
Desperately waiting
Requiring victory and trailing 2-0, Union fought back with goals in the 83rd and 86th minute against their ten-man opposition. Desperately waiting for news of the result, there was an almighty eruption from Paderborn's fans when their Bundesliga return was confirmed.
And here we are. Almost six seasons on from the relegation that kick-started one of the fairy-tale stories of modern-day football. While there has been entertainment in two narrow 3-2 defeats at the hands of champions Bayern Munich and a 3-3 draw with Borussia Dortmund, an otherwise difficult campaign has seen only four victories and four draws in 25 league games, with 54 goals conceded.
The odds, as always, are not in Paderborn's favour. Their run-in will see them playtitle hopefuls Dortmund, RB Leipzig and Borussia Monchengladbach. Fixtures against three of the four sides they have managed to defeat this season, however, leaves room for optimism.
Paderborn is a club that doesn't care much for statistics, reason or what may or may not be deemed possible or probable. Stability is out of fashion in 2020. Right now, with the world stunned by a pandemic that has stolen more than 250,000 lives and climbing, we could all do with some hope.
Hope that things will get better no matter how tough they seem. In life, suffering is inevitable and often necessary. In the case of Paderborn, it's optional. This is only football, the game that is everything and nothing at the same time.
With Paderborn, we can at least expect a lot of fun along the way. Which way that might be, no-one knows. However, a relegation six-pointer against Fortuna Dusseldorf this weekend could be decisive.
Komm schon Paderborn!
Related Topics