Are Hashtag United a real team? Which league do they play in? Tonight, Hashtag United will face Soham Town Rangers in the first qualifying round of the FA Cup, knowing that they are just four victories away from reaching the FA Cup 'proper' scheduled for November.
Are Hashtag United a real team?
You bet. In fact, this is Hashtag United's debut FA Cup campaign. They have already defeated Park View FC in the extra preliminary round and then Felixstowe & Walton United 13-12 on penalties, to set up tonight's tie, which will be their first BBC-broadcast match in the competition.
The added incentive of television audiences in seasons gone by have usually seen a catalogue of FA Cup upsets, or 'giant-killings', but the cameras are nothing new for Hashtag United.
The club, which was founded in March 2016 by YouTuber Spencer Carmichael-Brown or Spencer Owen, as he is more commonly known, has historically been a side that thrives with media attention.
They have live-streamed matches on their YouTube channel, which boasts over 514,000 subscribers and use social media to document all areas of the club.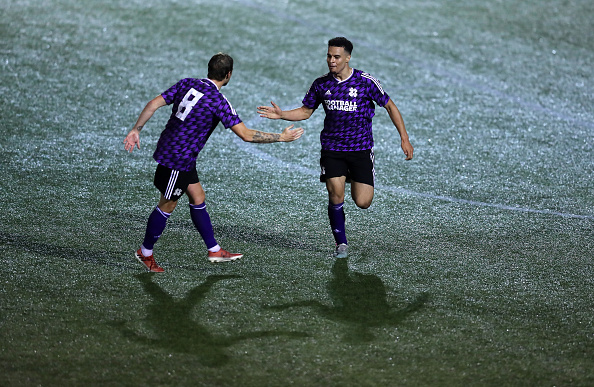 Where are Hashtag United from?
The club is a semi-professional side based in Pitsea, Essex, and compete in the Essex Senior League, the ninth level of the English football pyramid.
Their badge includes their home colours, yellow and blue, with their name adorned along the horizontal lines of a hashtag symbol. They play their home games at the Len Salmon Stadium.
What league do Hashtag United play in?
The Tags joined the English football league system in 2018 and earned promotion from the Eastern Counties Football League, following the 2018-19 Division One South title success in their first season.
They had also appeared in the 2017 version of the simulated videogame Football Manager, after defeating members of the FM team 7-1 in May 2016.
Just regular guys
According to Carmichael-Brown, who left his post as manager of the side following their pyramid registration, the club are just genuine lads, with a diverse range of qualities.
Speaking to BBC Sport in 2016, he said, "We don't pretend to be top-quality footballers.
"We all come from different backgrounds and our squad is made up of players with varying abilities.
"We are just a group of down-to-earth guys who enjoy playing football with each other and we're loving some of the incredible things we've got to do together."
This FA Cup run may not end at Wembley, but Hashtag have already played there and won the 2017 edition of the EE Wembley Cup charity competition.
However, the stakes will undoubtedly be higher than those in the Wembley Cup, especially if they are to advance tonight.
Hashtag United to League One
Former Tags midfielder Scott Pollock now plays for League One side Northampton Town. He was 16 years old when he appeared in the 2017 EE Wembley Cup tournament for United, winning the Man of the Match award.
Having been a youth player at The Cobblers, Pollock was awarded a two-year professional scholarship at the side in September 2018 and scored his first goal for the side in October 2019 against Carlisle, and could potentially be one to look out for in seasons to come.
Related Topics