The hills are alive with the sound of litter crunching underfoot.
What do you expect when mountain climbing in Britain? Rasping rain, gale force winds, and rocks as jagged as they are slippery. Added obstacles you'd hope not to encounter include empty Lucozade bottles, Snickers wrappers, and cans of Red Bull. Maybe it gives you wings, but how about some common decency?
Messy mountains
Climbing the Three Peaks across Scotland, England, and Wales recently, I found myself ageing not just from the fierce conditions and aching joints, but from grumbling anger at my fellow hikers. By the summit of the final leg of the challenge, I was tutting and moaning like a middle-aged grump-rump.
Ben Nevis has a beautifully constructed pathway up into the heavens. But the sheer volume of debris scattered en route makes me wonder if we really deserve the ascent.
Are isotonic drinks so incredibly effective that walking a kilometre into the sky is not exercise enough and, to burn off the excess energy, launching a bottle down the mountain is necessary? Or are climbers so desperately hungry they engorge their snacks and don't even notice the wrapper drop to the floor?
Scafell Pike has a World War One memorial marking its peak. It also has a two litre, half-full bottle of Highland Spring resting atop the cenotaph. Who does that?
Tarnished natural beauty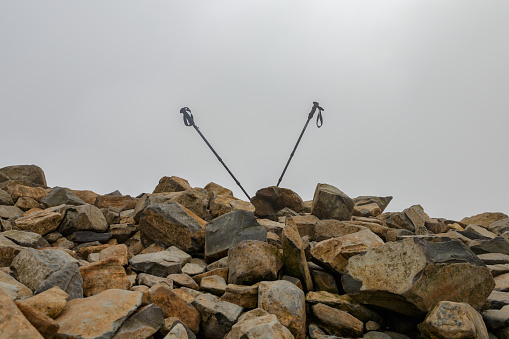 The mountain landscapes in this country are stunning. They double up as one of the endangered habitats where the human species can still be spotted interacting with those in their presence rather than via a screen.
Phones are reduced to cameras. People smile, grimace, slip, laugh, and strike up conversations. Even with strangers! Signal is often bad and the climb requires focus. As such, stories passing the time are given undivided attention and each group of walkers puts the here and now before the scroll and stare.
The only smudge on this picture of mankind at one with nature is the rubbish. Banana skins, apple cores, orange peels, fine. But the plastic waste littering these delicate environments is a worrying reminder of a wider reality. Even in areas of the most outstanding natural beauty, the human race will leave its mark.
Litter bugs
And it's not just food and drink waste. There are gloves, socks, face masks, thermal skins. I almost expected to find a half-naked topless hiker searching for a sock. Assuming they were British, they would naturally be apologising for all the litter falling out of their bag as they hopped along.
Disappointingly, no such hopper was to be seen, and this only points to a sadder truth.
Related Topics