Borrowing the title of Martin Luther King's 1967 book, Where Do We Go From Here, which advocated for human rights and a sense of hope, American talk show pioneer Oprah Winfrey gathered ten Black thought leaders over two nights on Zoom earlier this week to discuss whether this "is the moment that will finally change our country" because "I don't recall a moment quite like this one."
What followed was an honest, thoughtful, inspiring and cathartic conversation where the panel brought both their personal experiences and areas of expertise to bear on Winfrey's three main questions: "What matters now? What matters next? What do we want?"
The panellists come from different parts of the United States, and beyond (David Oyelowo grew up in London and Lagos but has lived in the US for 13 years). Their feelings and reactions ran the gamut from Charles M. Blow, who said he has become "exhausted," to Ibram Kendi who said he was "enraged."
Why is this video different?
Filmmaker and director Ava DuVernay might have directed 2018 Disney children's fantasy film A Wrinkle In Time, making her the first black woman to direct a live-action film earning $100 million at U.S. box office, but her life started out more modestly.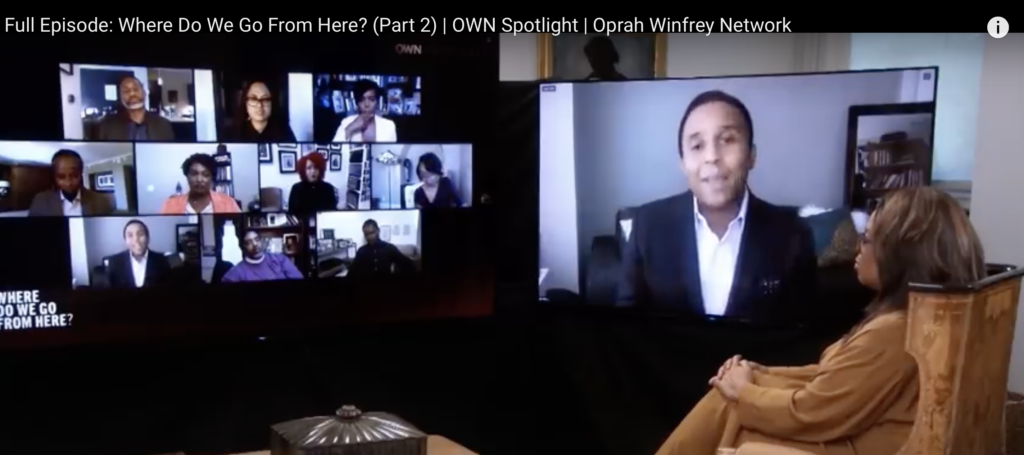 She recalled growing up around Compton in the 1980s and seeing her dad on the ground in their yard after a Los Angeles Police Department officer came looking for an accused murderer. "When I grew up, we didn't call the police," she said, "we called each other."
She discussed the personal and generational exhaustion she feels in having the same conversations her ancestors and elders probably had. As someone who had to watch a lot of violent, disturbing footage in making Selma, 13th and When They See Us (I recommend also watching 2012's Middle of Nowhere) she said that watching Floyd's was more powerful.
She realised that unlike the other videos, in this case, she was able to see both sets of eyes, both faces. "Seeing that face and knowing his name and witnessing is something that's been missing," she said.
"He [Chauvin] wouldn't stare into the camera if he didn't think he would get away with it," agreed Nikole Hannah-Jones.
Hannah-Jones, who is a Pulitzer Prize recipient for and the creator of the 1619 project at the New York Times – which examined slavery's modern legacy, reevaluating the way we understand this history and the contributions of Black Americans – said the issue is equity. (Her podcast of the same name is also a fantastic riveting listen).
Like DuVernay, she wants police to serve and not occupy Black communities.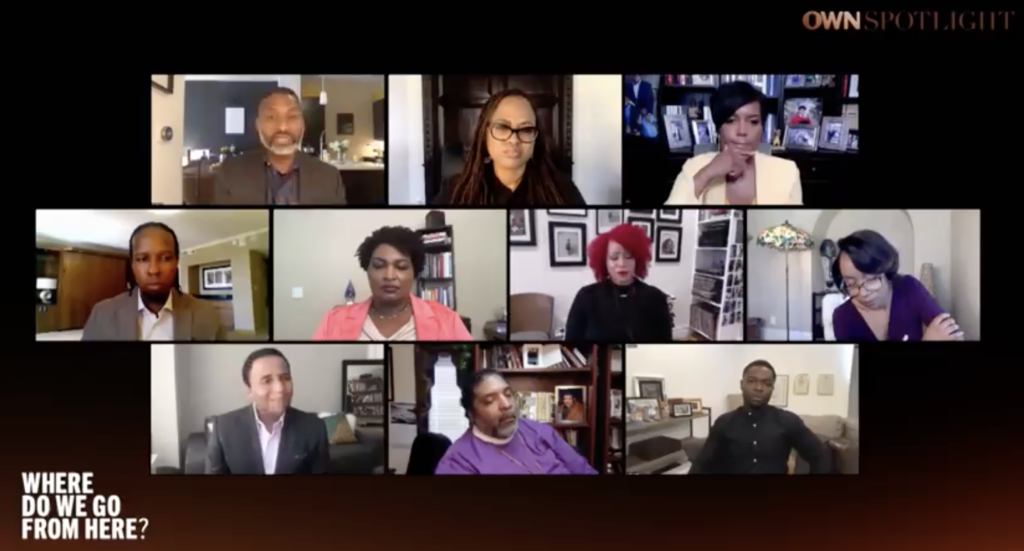 It was Chauvin's nonchalance that got to New York Times opinion writer Charles M. Blow. Chauvin knew he was being filmed and "he doesn't even move enough to disturb the sunglasses on his forehead," Blow said.
Open dialogue
Keisha Lance Bottoms, the mayor of Atlanta – a city that is 50% Black – said in a press conference about Floyd that "I hurt like a mother would hurt." "How do we get past this anger?" she asked the panelists. Holding up her grandmother's grandparent's slave records and documents, she explained they were freed slaves, and said she's been calling on their strength a lot this week.
"How did they get past humiliation and hurt and anger and pain? The only thing I keep coming back to is that they believed there was something better for their children, and their children's children, and that's where we are in America. We've got to be believe in word and deed that there's something better," Bottoms said.
"For the first time, we can unapologetically say we are angry," she said. "The silver lining is that we get to have open conversations about what white privilege is."
Stacey Abrams was mostly more pragmatic. Abrams, who lost a gubernatorial election in Georgia in 2018 by fewer than two percentage points in a race tainted by allegations of voter suppression, is now known for her advocacy on the issues of election reform and voter suppression. She is the first Black woman in U.S. history to have won the gubernatorial nomination of either major party and is reputedly on the presidential hopeful Joe Biden's shortlist for vice president.
She talked about how Black Americans have less access to healthcare, are more likely to be unemployed due to the pandemic, and make up a larger portion of the over 110,000 American virus-related deaths than they should but how power and demographics have shifted enough throughout the past 400 years that their membership and allies have grown.
A hunter posing on the neck of a deer
She also spoke of her visceral reaction upon seeing the Floyd video. "That's what a hunter does on the neck of a deer," she said.
Bishop William Barber, American Protestant minister and political activist, agreed. "I have seen that 100 times in the (American) South, posing with an animal." He said that "life is the first thing the state is supposed to protect," but that to be successful in demands for change, "it must be a multi-cultural coalition."
Founder of Repairers of the Breach, created to repair the breach caused by centuries of systemic oppression and injustice in the U.S., Barber is also the co-chair of the Poor People's Campaign, fighting to end systemic racism, poverty, the war economy, environmental destruction, and other injustices.
For David Oyelowo, "the knee on the neck started when we were stolen." "The sin is baked into this country and and how it was built." He said that "white people need to recognise that they are beneficiaries of the system, and come together to repent."
London-born Oyelowo seemed heartened and even amazed that Black Lives Matter was projected onto the houses of Parliament in London, a place he referred to as "the creators of this evil."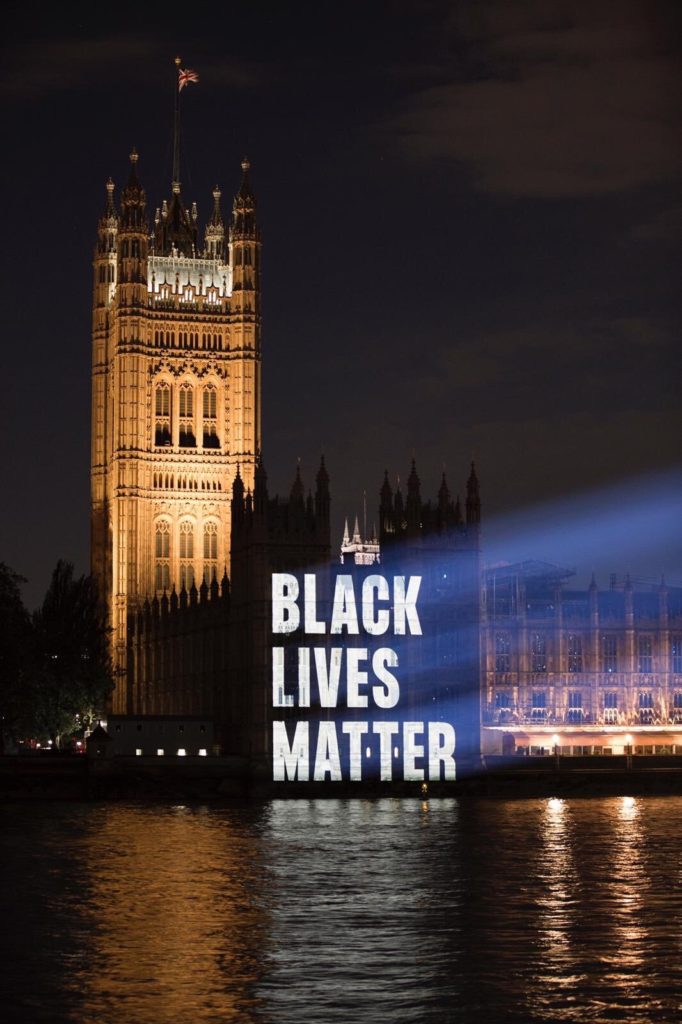 White privilege
Hannah-Jones said Black wealth has been stagnant for 70 years and that it's time for an "unprecedented reckoning." Regarding the concept of white privilege, she used the analogy of swimming against the current, explaining that black people swim against it, versus white people who swim with it. Of white people she said, "They're struggling in a system meant to push them forward; we are struggling in one meant to push us back."
Ibram X. Kendi, the author of How To Be An Anti-Racist, said he was enraged. "People view black people as dangerous which is the most racist idea," he said. Floyd was both unarmed and cuffed when he was asphyxiated by Derek Chauvin.
For Kendi, the founding director of the Anti-racist Research and Policy Center at American University, there are no non-racists; there are only racists — people who allow racist ideas to proliferate without opposition — and anti-racists, those who expose and eradicate such ideas wherever they encounter them, and being anti-racist is a practice.
Blow said, "This is about power, protecting the powerful's property." He argued police body cameras aren't the answer to stopping brutality against Black people. "I don't believe there's really necessarily a technological fix to a cultural problem… This has always been about power, and the police are the lowest cog in this machine. That's the one that touches you."
Rashad Robinson, president of racial justice organisation Color of Change said, "We were given a real gift by that Amy Cooper video," pointing out the less overtly violent way that Cooper wielded her white privilege.
"People don't experience issues, they experience life."
What's next
Barber said, "I'm glad to see diversity in the street. There have always been moral coalitions; that's how we get change."
He is seeking something larger this time. "Look at George [Floyd]. By the time he got to that corner, he was already being suffocated." Floyd had an essential job during the pandemic, "but it didn't give him what he needed."
All of these protests we see are just justice trying to breathe."
Bottoms and Abrams focused on voting. "You can't just walk in and vote for the president, you have to vote down the ballot," Bottoms advised. Local elections matter too. Abrams cautioned that "power is who gets to set the laws, enforce them, and judge them; power is people." So vote.
For Blow it's also about the diversity. "White allies need to show up and not be half in the game," he said. "I don't want you to be out in the street because you're embarrassed and just against cruelty. I want you all in."
Related Topics