Mention the Ahmadiyya Muslim Youth Association (AMYA) and, on the whole, you will be met by blank looks. Like many charities and non-profit organisations in Britain AMYA, which serves communities through humanitarian endeavours, receives little to no media attention.
The ongoing commitment of AMYA and Muslim charities like it is to provide service to humanity – one of the basic tenets of the Islamic faith and a goal that deserves more widespread recognition, praise and attention.
There is a tendency for such Muslim charities and their impressive work to remain invisible in the mainstream media, which concurs with findings that coverage of Muslims by British news outlets involves a predominantly negative slant.
During these extraordinary times, the humanitarian work of Muslim groups is proving more vital than ever.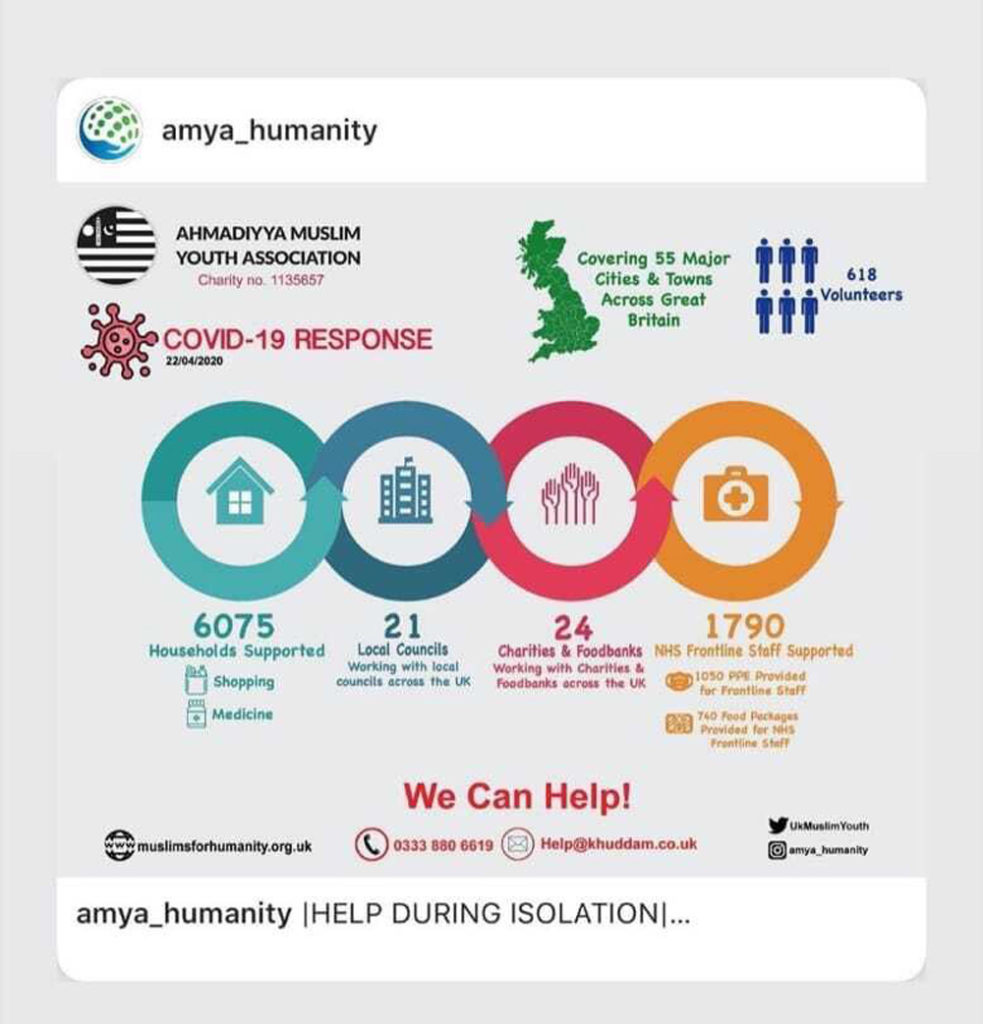 AMYA's incredible work in the fight against coronavirus has so far helped 6,075 households with their shopping and medicine requirements, with volunteers providing free doorstep deliveries. Covering 55 major towns and cities across Great Britain, the group works with local authorities, charities and food banks.
The lack of personal protection equipment (PPE) for healthcare workers is one of the most well-documented failings in the government response to this crisis. Some have criticised the #ClapForOurCarers ritual observed every Thursday because, to them, it reeks of irony and insult as the government fails to adequately protect NHS and other front-line workers.
In the meantime, AMYA and small organisations like it have stepped up to provide 1,790 NHS front-line staff with PPE and food packages.
Instead of giving these unsung heroes the recognition they deserve, hatred towards their peace-loving religion continues to rise, driven, in part, by the populist media.
Racially motivated
Muslims have been on the receiving end of racially motivated hostility in recent weeks, with far-right groups condemned for "exploiting the pandemic" to gain support for their ideology.
In India, Muslims are being blamed for the spread of the virus, labelled by the media as "corona bombs" and enemies of the nation. Similar violations are occurring in the UK, where far-right groups have been accused of fanning hatred towards Muslims.
A report compiled by independent members of a British government advisory group on Islamophobia states right-wing extremists have been sharing false claims that Muslims are spreading the virus by breaking lock-down restrictions.
Report co-author Imran Awan, a criminology professor at Birmingham City University and an independent member of the Anti-Muslim Hatred Working Group, shared such concerns with The Independent.
He wrote: "The covid-19 crisis has been used to create 'others' of Muslims, blaming them for the spread of the virus. The spread of fake news online is contributing to this extremely worrying trend.
"While we haven't yet seen this translate into physical hate crimes, once social distancing rules are relaxed there are concerns this could be the case."
Ramadan
The British media was quick to report the health secretary's recent request that British Muslims stay at home during this year's Ramadan.
The language in these reports — the Express used words such as "begged" and "pleaded" – implies Britain thinks the country's Muslims will break social-distancing rules and spread the virus.
Because of US president Donald Trump's references to coronavirus as the "Chinese virus", people of Asian descent are being abused on the streets of London. This is more proof the pandemic is being used as a breeding ground for racist sentiment around the world.
Instead of being showered with recognition and praise for the commendable work of organisations such as AMYA, Muslims seem to be on the receiving end of yet more negative racial bias, this time fostered by a combination of pandemic panic and media-born scapegoating.
Related Topics