As prime minister Boris Johnson announced changes to lock-down rules he made it clear further loosening of restrictions would depend on how well we abide by these guidelines.
Knowing how far there is to go and understanding the sacrifices we have made during lock-down have helped. We're now swimming together in a murky new reality with no clear end date.
Will it ever feel natural to go in for that hug or handshake when we run into someone we know? Will sitting next to strangers in crowded cinemas and laying mat to mat in sweaty yoga classes ever be free of anxiety or will we always have to sanitise spaces first? Have live music and professional sports in packed stadiums disappeared forever?
I guess what I'm wondering is what are the long-term impacts of this state of hyper-hygiene and health awareness? Do our societal rules and mores need to be rewritten or can we return to how it was before as if it never happened?
Behind the mask
If our future resembles that of China or Italy, masks will be de rigeur for a while, although they remain 'recommended' rather than mandatory in the UK. Professional sports are returning in Germany and South Korea, while the Premier League is discussing a 1 June return. So far, none of these games will include spectators.
When we first locked down, like everyone else my life changed a great deal – but not in the ways you would expect. As someone who works from home, I felt invaded. Suddenly I had company.
At first it was exciting to show my family new things about our neighbourhood during the day, "look how the sun hits that tree every afternoon", but that got old fast.
There was more hoovering, laundry, rubbish, crumbs and clutter, and less space for me. The children and I had to amuse ourselves quietly so my partner could work. It felt like a lot to ask.
Neighbours
Then there were the neighbours, most of whom weren't around during my long, solitary, work-from-home days. Suddenly trips to the end of the front yard on rubbish collection days in my robe and slippers had become public. Gabby neighbours I had never met wanted a socially distanced chat.
I wonder what will happen when we see each other post-lockdown? Will household turn against household because of a gaffe over gloves?
If the world wasn't going through this together I would have been resentful, looking to blame someone for ruining my life. Instead, I can't stop wondering about the impact this isolation will have on a generation. I wonder whether this will make children's lives more virtual than we thought possible.
Are Zoom birthday parties here to stay? How isolated and unused to human contact will today's young people become? Will they be the agoraphobe generation? Will they be squeamish in one another's company and quick to judge on hygiene and cleanliness?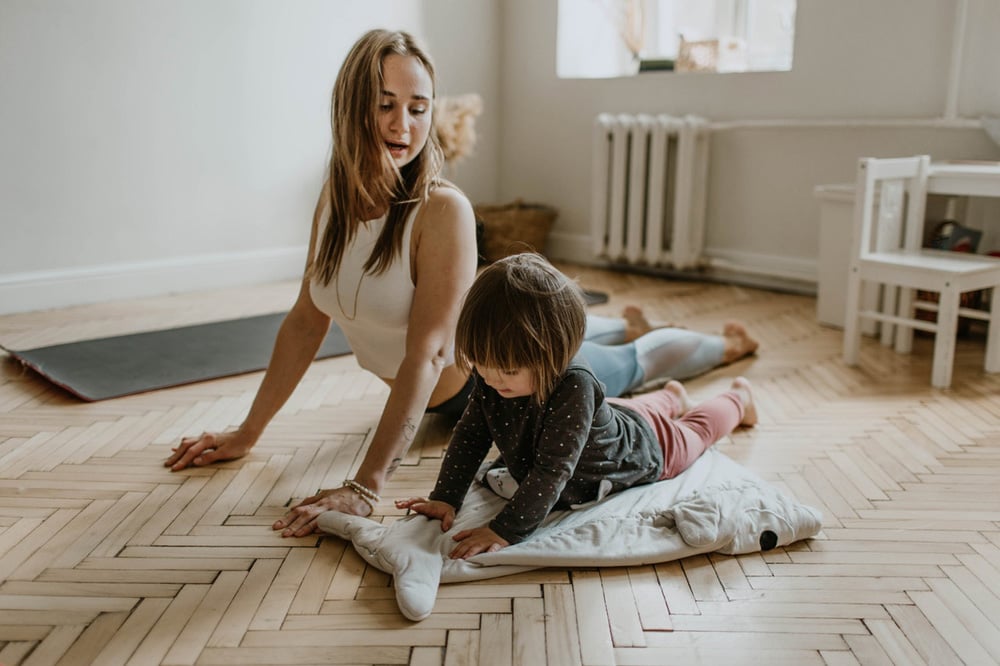 More devices
Where the kids are concerned, part of me wants to buy more devices and headphones so we can be siloed in our own virtual space instead of trying to tough it out together.
So much time together isn't always easy, although the children are learning some life skills I should have taught them by now. Washing dishes, doing laundry, and making their beds is finally part of the morning routine. It isn't like I didn't want them to do this stuff sooner, it's just it's often easier to do it yourself than watch someone else do it wrong.
On my once-a-day outings, I'm seeing signs people's lives are becoming simpler as they take advantage of time outside. I've loved going to my local park for my hour of exercise and seeing it packed.
There's the guy who practises archery, and the couple who bring their own weights and do a full CrossFit-style workout, both shirtless. There are cricket players, badminton players, yogis and yoginis, rope-jumpers, footballers, runners, walkers and joggers. There's the guy who has perfected the handstand push-up and the one who has been working on his pirouette.
Lock-down spaces
What I'm trying to say is people are using these spaces during lock-down. Neighbourhoods are more lively. People are on their balconies and spending time in their front yards.
They're planting in the garden and cooking family meals. Our more vulnerable and elderly can go to the front of the queue at the supermarket and, in many cases, have dedicated times. Why hasn't it always been that way?
In this lock-down life, we're all alone together. There's also an odd feeling we're in this together – everyone, all over the world. It's about time.
Related Topics