A recent art restoration fail involving The Immaculate Conception Of Los Venerables, a renowned work by Baroque artist Bartolomé Esteban Murillo, was bad enough to make Spanish art conservationists call for stricter laws in their field. Oh, boy!
To be fair, the whole thing could have been avoided if the owner of the painting had found an actual art conservator for the job. Instead, the feckless art collector called on a furniture restorer and, presumably, crossed his fingers all the way home.
To celebrate this news story, which feels torn from an alternate, less-depressing timeline, let's look at five more epic art restoration fails.
Don't worry, afterwards you can go back to sifting through Twitter for a glimmer of hope!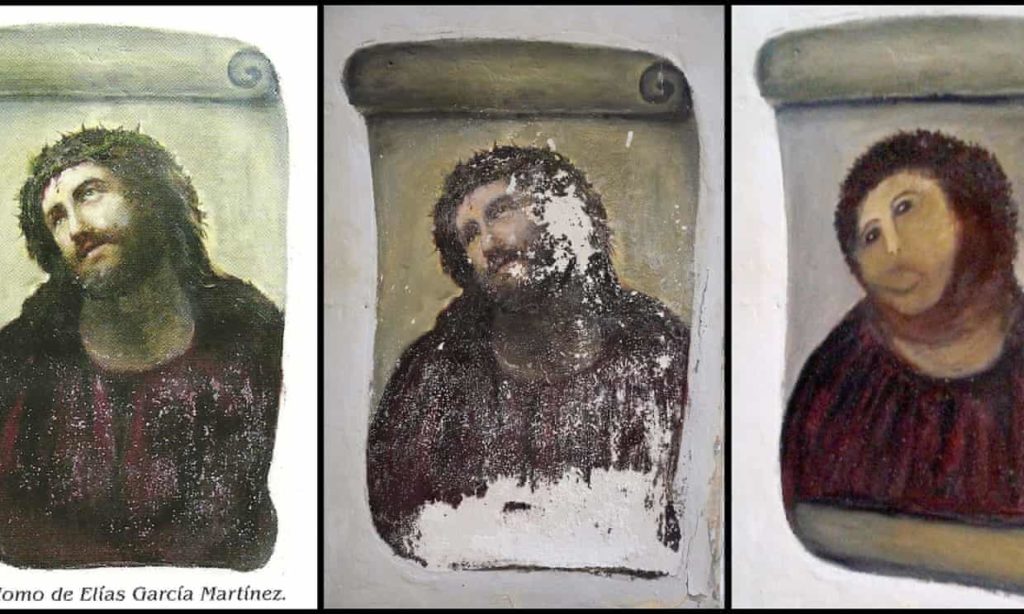 Ecce Homo
In 2012, Cecilia Gimenez became internet-famous thanks to her hilariously terrible attempt at restoring a religious painting of Jesus by Elías García Martinez. The 82-year-old managed to turn Ecce Homo (Behold The Man) into something resembling a scrapped mock-up of the fifth Teletubby. My god!
Gimenez's heart was in the right place, but everything else about the fixed-up fresco was amiss. The final result was renamed by denizens of the internet as Beast Jesus or Ecce Mono (Behold The Monkey).
In an endearing turn of events, however, Ecce Homo 2.0 attracted a mass of tourists, putting the sleepy Spanish town of Borja on the map and inspiring the creation of an opera, documentary and dedicated arts centre.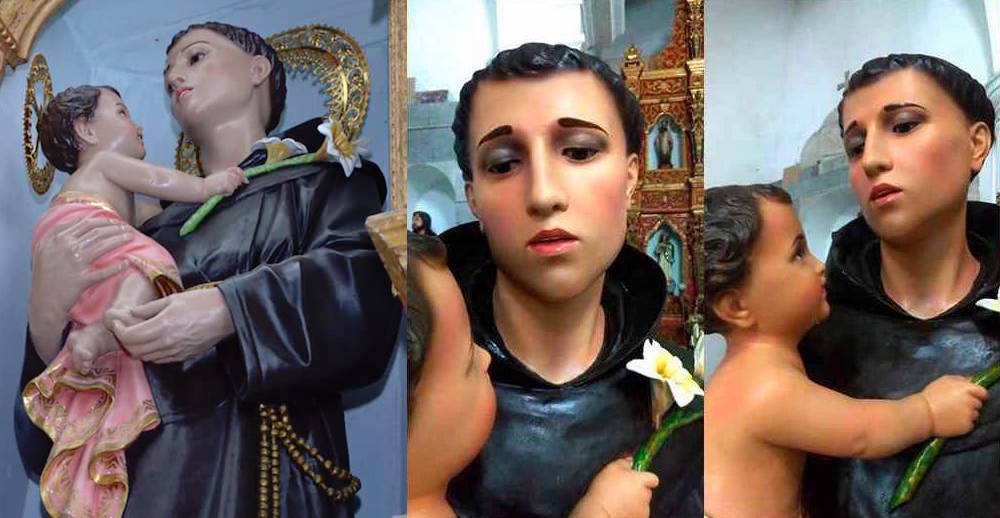 St Anthony of Padua
Say what you want, but I think it suits him. St Anthony of Padua was a handsome, fearless man who knew how to rock eyeshadow ahead of his time. 
So what if church-goers in Soledad, Colombia, were aghast when the restored 19th century statue returned to the congregation wearing full make-up? So what if it sparked a bitter retort from former culture secretary Giovanni Montero that "whoever did this cannot call themselves an art restorer"? 
You do you, St Anthony of Padua. You do you.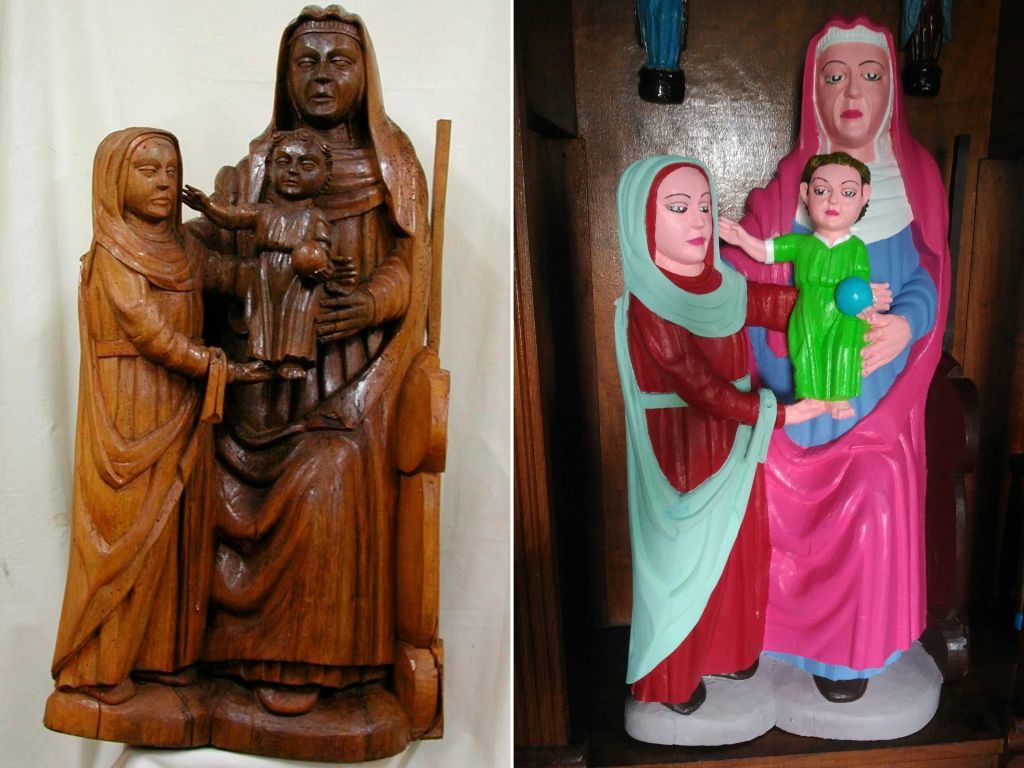 A Family Guy trinity
Asturias-based church parishioner (and presumed Family Guy fan) María Luisa Menéndez turned this 15th century trio of sculptures into a tribute to her favourite cartoon show. 
She obtained the blessing of the parish priest, then proceeded to give Mary, St Anne and baby Jesus the neon makeover of a lifetime. Mary is wearing bright lipstick in "Virgin Red" and sporting a cat-eye in teal liner. Meanwhile, St Anne is on-trend with sculpted brows and a summer-pink robe. Talk about chic!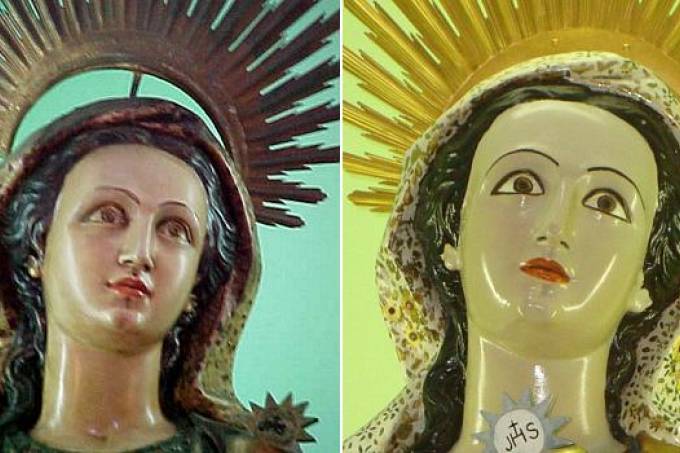 Santa Barbie
The statue of Santa Barbara at Santa Cruz da Barra Chapel, near Rio de Janeiro, Brazil, underwent an Instagram-worthy glow-up seemingly overnight. Allegedly, all the overzealous conservators did was remove four layers of older paint, revealing the statue's original 19th century colours. 
If the thick eyeliner and flat, terror-stricken gaze prove anything, it's the Victorian style was even weirder than we remember. 
But historian Milton Teixeira, a frequent visitor to the church for more than 20 years, isn't buying it: "They turned Santa Barbara into Santa Barbie!" 
I'm with you on this one, Milton, and a little scared.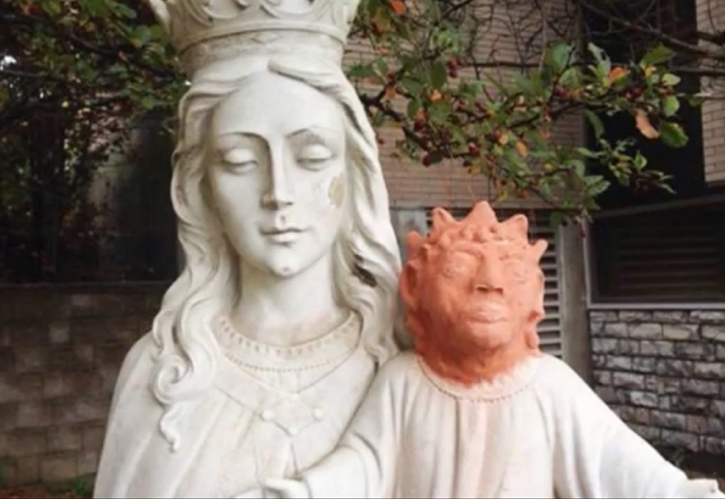 Melting Jesus
This restoration attempt was so bad it made the thieves who vandalised this Ontario church return the original and apologise.
To add insult to injury, the terracotta abomination standing in for baby Jesus' head began to melt in the rain. This didn't look at all creepy, and it made absolutely no-one doubt their faith in a just world, I'm sure.
After copious media attention, the church finally decided to take down the whole piece for a proper restoration. However, they admitted they'd grown fond of the ridiculous, red baby Jesus, leaving the possibility of a comeback open.
I hope you feel better about the world – and your own art skills – after reading about these epic art restoration fails. You're welcome!
Related Topics