Amanda Nicholls talks to a first-time nurse about what life is like on the NHS front line during the coronavirus pandemic.
What a time to be fired into your first nursing post. Even for a seasoned healthcare professional, nursing is no picnic right now, with lack of PPE and anxiety over redeployment.
Covid-19 is having a knock-on effect across the NHS and will continue well into life after lock-down. Despite this, one newly qualified caregiver says it hasn't been the baptism of fire she feared.
The reason, she tells me, is thanks to an incredible team, kind gestures from local businesses, and the public doing their bit at home. She shares observations – heartwarming and heart-rending – from her first week on the job.
"Your mind is so beautiful, please do your best to care for it," reads a love letter to the NHS that has been stuck to lockers in the staff room. Chloe Collins counts herself lucky, she has just bagged her dream nursing post in gynae and obstetrics and, in another stroke of good fortune, it "couldn't be on a nicer ward".
With the pressure of a new job and all the extra worries attached to coronavirus, Chloe's first week coincided with the country's approach towards what it hopes will be the peak of the outbreak.
State of mind is pretty far down her list of priorities, but she appreciates provisions being made for staff by her superiors and the public, if not so much the government.
She says: "Our ward can be emotional as it is because of the sensitive nature of what happens here. I've had four shifts now and I've seen five deceased foetuses at different stages. 
"We have appointed counsellors and there's a huge ethos around talking if you feel sad or upset. It's a genuinely supportive ward. There's a noticeboard where everyone writes suggestions for staff days out and things they love about the people who work there. One note says: 'I love coming to work on this ward because I feel like my team are my family'."
In their daily updates during the pandemic, it's emphasised counsellors are also there to be accessed if staff feel anxious about dealing with the virus, while there's a staff wellness representative who attends any meetings on the subject and reports back to the ward.
Mixed bag of emotions
It's a strange time to join the NHS, however, with equal doses of anxiety, fear, fulfilment, guilt and relief. All elective surgeries on Chloe's ward have been cancelled so the only cases are emergencies, plus a few outliers – patients who, ordinarily, would be in the main hospital.
"For me, it has been perfect – people actually have the time and energy to train me and teach me properly so it's been a bit of a soft landing," says Chloe. "I was really surprised at how quiet and calm it has been. The most patients I've had in a day is four, which is half the standard amount.
"We have had so many treats sent in," Chloe adds. "There's a lot of handwashing going on but we've had hand cream and products from Lush and delicious meals delivered weekly by a guy who owned a restaurant but shut up shop when the government restrictions came in. He started crowdfunding to make food for NHS staff from the kitchen of his restaurant."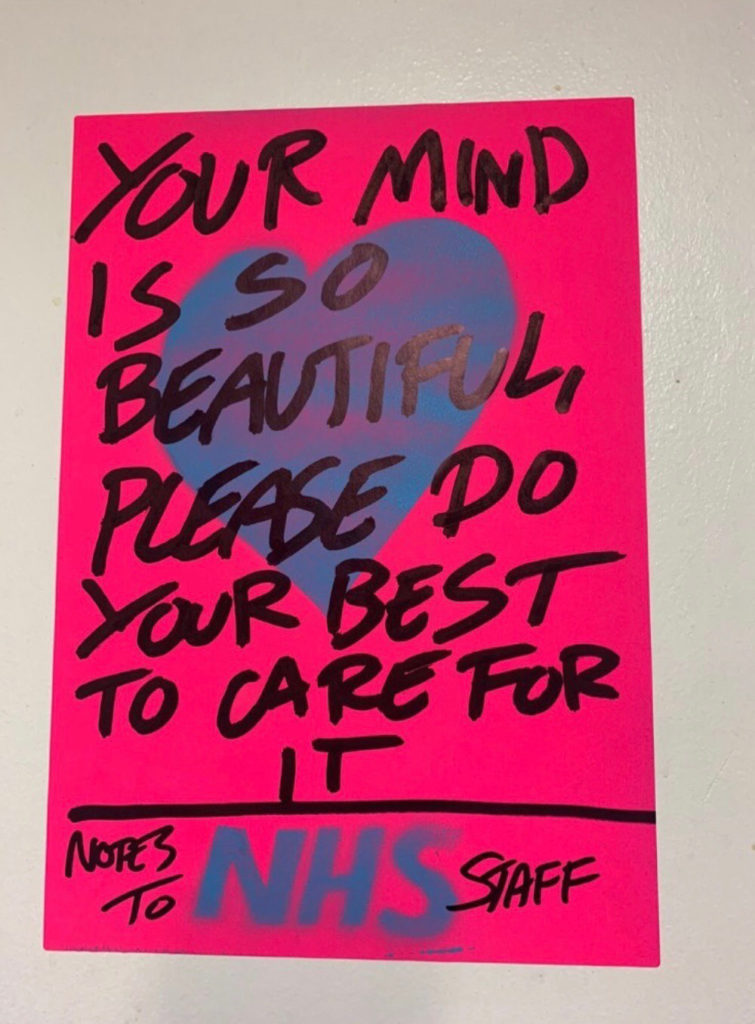 So far, so relatively untraumatic by the sounds of it – but that doesn't mean covid hasn't affected new starters. Chloe's three-day induction was condensed into one to get her cohort in situ as quickly as possible and minimise time spent in the same room.
"There's such a lot of information to take in, being rushed was anxiety-inducing and especially surreal as we were all sat two metres apart."
During training Chloe met older nurses who had been happily working in roles that don't require many clinical skills but had suddenly been redeployed to critical care, where they may need to revive capabilities they consigned to the past long ago.
"A lot of them are worried not knowing where they'll be placed," says Chloe. "You can't refuse deployment and they're concerned they've lost their clinical skills over the years and will be put in positions where they could have to start using them again. It's scary."
In many instances, the whole intensive care unit (ICU) model has changed from one-to-one patient-to-nurse ratios to three to one or six to one, with nurses who aren't necessarily ICU-trained leading teams.
Keen to prepare, many have started boosting their knowledge. Education hub FutureLearn, for example, has launched a free online course for workers who are learning to manage critical care patients while protecting themselves and colleagues.
Released into the wild
Following her induction and only two weeks of supervised practice, the anxiety Chloe felt during her first shift was intense.
She says: "Managing to take blood a couple of times increased my confidence. I still feel nervous but, as one nurse told me, that feeling never goes away, no matter how experienced you are. You always feel slightly anxious in this job because it comes with so much responsibility."
Chloe says hearing the #ClapForCarers applause on Thursdays is always heart-warming for her and her colleagues, who listen to it from the ward.
"On gynae we almost feel guilty, though," she admits, "because the public are hailing us as heroes and we have an elevated status in their minds at the moment – but many of our wards are empty and the workload is easier than it has been."
To the rest of us, though, any notion of guilt is worthy of the 'white-guy blinking' meme. These nurses may not be on ICU but wards such as gynae can be physically and emotionally tough any day of the week.
The fact nurses are working in close quarters and dealing with challenges such as late-stage terminations and ectopic pregnancies is cause for applause in itself. To that you can add worries over losing team members to redeployment, an unnerving lack of the correct PPE and general tension surrounding the pandemic.
One of Chloe's first tasks on the ward was to look after a couple of dementia patient outliers. "The two old ladies made friends with each other and wanted to sit on each other's beds to have a chat and a cup of tea. We would usually encourage that but we had to keep separating them due to social distancing, which was really sad."
Social-distancing patients is time-consuming too but not half as much as gear changes. While Chloe feels fortunate to have PPE – unlike some care home workers – having to remember to change gowns, gloves and other gubbins every 30 minutes is stressful in itself, while wearing surgical masks all day is enough to make the coolest cucumber feel claustrophobic.
'With every patient interaction we wash our hands, put on all the PPE, finish with the patient, take it all off, and wash our hands again.'

Chloe Collins
"When you're wearing the glasses as well you're completely covered so it's a relief to go into the staff room and take it all off," Chloe says. "With every patient interaction we wash our hands, put on all the PPE, finish with the patient, take it all off, and wash our hands again."
Polemics of PPE
The tension increases tenfold when you don't feel confident the protective equipment is adequately doing its job. Clearly concerned about exhausting supplies, the hospital is allocating the sought-after stuff to staff in theatre and ICU, where there's more risk.
In her first week Chloe was fit-tested for the particulate-proof FFP3 mask, which filters pollutants most effectively. However, Chloe has felt first-hand the friction insufficient PPE is causing among colleagues.
She says: "When you're fit-tested you put a mask on and stand with a big plastic dome over your head while they pump spray into it as you do breathing exercises. The spray tastes like deodorant and, if it hits the back of your throat, it shows the mask isn't fitting properly.
"I wore mine back to the ward and then had to go down to theatre to get a patient. One of the doctors told me I shouldn't be wearing the more expensive mask. He seemed a bit irritated, even when I explained I'd just been tested and thought I may as well use it rather than throw it away."
The gynae gang receive a covid update every day and, with guidelines changing daily, it's tricky to keep up.
"One shift the PPE rules changed three times," Chloe recalls. "When I arrived, we had to wear surgical masks, then masks and glasses, then the proper FFP3.
"Since then it has changed back again so even if we have a confirmed covid patient we're still only to wear the surgical masks, which are thin and need to be changed every half hour because if they accrue too much moisture they don't work.
"I was so nervous before I started the job I'd spent more than £100 buying FFP3s from eBay," says Chloe. "I ended up telling the ward sister I'd brought my own."
Quite right too. If we're going to ask our country's healthcare workers to put their lives on the line like never before, we need to make it as easy as possible for them to do their job safely and make their well-being a priority.
These people are precious assets rather than disposable resources and should be treated as such long after life returns to any kind of normality.
Healthcare landscape post-covid
We wait to see whether the prime minister's brush with mortality drives him to designate more funding to the NHS and push it further up the political agenda. Will lessons be learned from this eye-opening wake-up call?
Needless to say, a significant payrise would be nice as well as maintaining the benefits brought in during the outbreak. The little things – free coffee, meals, trips, transport and accommodation – do make a difference.
"We can park in the staff car park at the moment, which we're not normally allowed to do," says Chloe. "You're already doing a 13-hour shift and on top of that you struggle to get to work and park so it's nice this has happened."
There's other positives to take away as well as hope for tangible change. "I hope it plays out a bit like the plastic bag situation," says Chloe. "At one time, if I went to the supermarket and bought two items and they asked if I wanted a bag I'd instantly say yes, out of habit, whereas now my gut reaction would be to refuse one.
"The move to charge for bags was so simple and suddenly there was a conscious awakening. I'm hoping there'll be a knock-on effect like that with the public's day-to-day use of the health service – particularly coming into A&E for non-essential treatment.
"It has been a lot quieter in A&E because people don't want to put themselves at risk of infection and some realise they can help themselves at home or ring 111. I hope that mentality will stick around after this to ease the pressure on NHS resources."
Lock-down has certainly helped distill those who really require NHS services. Strange as it may seem to those with a phobia about hospitals, some people love to be in an infirmary. Reasons may range from a sense of reassurance to escaping a domestic situation.
However, with elective surgeries and non-essential procedures being cancelled, there will be a backlog when the pandemic is over or at least starts to slow.
"I do wonder how all that's going to be managed," says Chloe. "Patients will still need their surgery at some point. One pharmacist I spoke to doesn't think the UK's situation will change much for the whole year.
"Because this is a virus, it's going to stick around and potentially mutate so social distancing is purely to ease strain on the NHS. A lot of people think we're almost over the hill but, from the NHS perspective, this is just the beginning."
Related Topics