Music lovers and fans seem now to be sharing their favourite songs and playlists via jewellery. As the music sharing method goes viral on social media, some are curious to know how to get their hands on their own Spotify necklace.
What is the Spotify necklace?
Spotify necklaces are seen to feature the streaming platform's logo along with a series of lines which make up a unique code similar to that of a barcode or QR code.
Users of the music service can then scan the necklace, which will take them to a corresponding playlist or song.
The necklaces use Spotify codes which were first introduced in 2017. According to Pocket-lint, Spotify is seen to produce unique codes that link to specific songs, albums, playlists and even artists.
Spotify users can find the generated codes by clicking the three white dots which appear on the pages of both artists and playlists as well as next to individual tracks.
MUSIC: Drake's Champagne Poetry samples this unexpected Beatles classic
TRENDING: Who is Chris Henry ex-fiancée Loleini Tonga and where is she now?
Twitter reacts to Spotify necklace trend
The personalised necklaces seem to have recently become popular on social media after a Twitter user shared a picture of one he was gifted by his girlfriend.
While sharing a picture of himself wearing the necklace and the playlist it was associated with, Twitter user @_krisveitch wrote: "No Simp s**t, this is the sweetest gift !!! Shorty got me this necklace & when I scan the code on it, a playlist of songs pops up that she made for me."
Following the sweet post, many have taken to the social media platform as some admit they want one for themselves:
Other's have since joked about how the necklaces have set a new standard for gifting for your other half: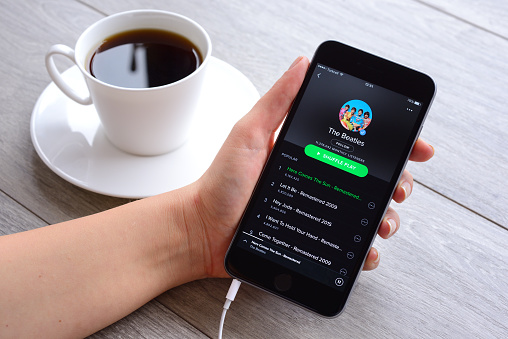 EXPLAINED: TikToker Niko Spire's death rocks online community
Where can I buy one?
As many are curious to know more about the unique music coded jewellery some may be surprised to hear is not an official product of Spotify.
Instead, those looking to share a song or playlist via a necklace can purchase their own through a number of sellers on both Amazon and Etsy.
Alternatively, if a necklace is not to your taste, some sellers on Etsy are also selling keyrings, stickers and artwork which can be customised to feature your own Spotify code.
Related Topics