Haven't heard of the Spotify Billions Club? Well, you're in for a musical treat.
As Olivia Rodrigo's Drivers License is the latest track to join the club, users have been notified on their listening stats contributing to the club's streams. Even famous faces such as Phoebe Bridgers has shared that she was in the first 10% streams of Rodrigo's smash hit Drivers License.
Let's take a look at how the new addition works.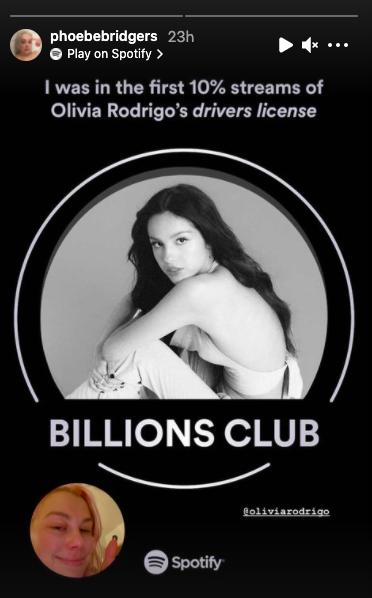 What is the Spotify Billions Club?
The Spotify Billions Club is an official playlist created by the streaming site to celebrate all of the songs which have over a billion streams on Spotify.
Currently, there are 167 songs on the playlist. Some of the hits featured in the Billions Club include Dynamite by BTS, Lush Life by Zara Larsson, 7 Rings by Ariana Grande, and older hits such as Mr. Brightside by The Killers and Don't Stop Me Now by Queen.
You can view and follow the full playlist here.
TRENDING: Why does TikTok think Pete Buttigieg and Elon Musk are brothers?
Spotify users see stats on the Billions Club
As Drivers License hit over one billion streams on Spotify, users of the music listening app were notified of the milestone.
One fan tweeted: "spotify just told me i was apart of the first 0.1% of olivia's "driver's license" and so i'm apart of the billions club".
Another added: "If Spotify didn't say you earned bragging rights from the billions club, then ur SOUR ranking months ago is now invalid".
Those taking to social media to claim bragging rights have confused other Olivia Rodrigo fans, who did not receive a notification.
Others went in search of how to get their percentage. One fan tweeted: "i wanna see the billions club spotify pop up to see which percentage of streams i'm in for [Drivers License]."
It would appear that this is just a one-off pop up and that the streaming statistics are not available. It is not featured on the playlist, which linked above.
There are, however, other ways to view your listening habits. You can check out Stats For Spotify and Receiptify, which turns your top tracks into a customised shopping receipt.
CELEBRITY: Kaley Cuoco and husband's multi-million dollar net worth explored
Related Topics