Rapper and musician Seckond Chaynce has cancelled his upcoming shows following the news of his little sister's death. Now fans are curious to know what happened to Seckond Chaynce's sister as well as which shows are no longer going ahead.
Who is Seckond Chaynce?
Seckond Chaynce, whose real name is Trevor Thomas, is a singer and rapper from Jacksonville, Florida.
Having found a passion for music as a teenager, the musician has gone on to become known for his unique sound that blends genres such as hip-hop, rock, country, and R&B.
Some of his most streamed songs include Write This Down, My World, and Head Over Heels. Since its release in 2017, the music video for Head Over Heels has amassed more than 42 million views.
CELEBRITY: Are Baddiel and Skinner making royalties from the Three Lions song?
Seckond Chance announces sister's death on Instagram
The musician took to Instagram today (Thursday, 8 July) to announce his upcoming weekend shows will not be going ahead following the death of his younger sister, who was 18 years old.
Posting a video to his 208,000 followers, he said: "Hey, what's going on guys? It's Seckond Chaynce here. I've got some terrible, terrible news.
"I just found out that my little sister was murdered tonight, so all of my shows that were supposed to be this weekend are definitely cancelled. I will be flying back home."
Fans of the singer have since shared condolences to the performer and his family.
TRENDING: Where to buy foodie Tabitha Brown's Sunshine seasoning
In tribute to his sister, Seckond Chaynce shared a picture of them together, taken when they were younger, to his Instagram Story. In a moving message, he admitted he had wanted to be a role model for his sister.
Thomas wrote: "Before Poetry Got here this lil girl was my motivation to go back to school and get my diploma. She is also the reason I started going to church in the first place."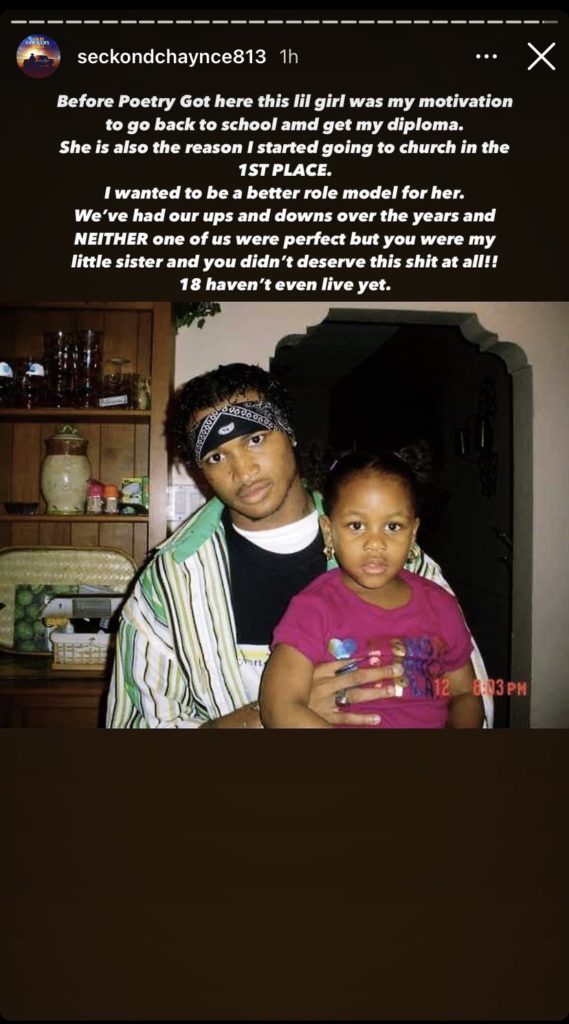 EXPLAINED: What happened to Britney Spears' back tattoos?
Rapper cancels upcoming shows
Following the announcement of his sister's tragic passing, the rapper announced his upcoming shows are cancelled.
Thomas was set to take to the stage tonight (Thursday, 8 July) in Iowa City, Iowa. He was also booked to perform this Saturday in Omaha, Nebraska, and Sunday in Sioux Falls, South Dakota.
Related Topics