Joni Mitchell closed Rhode Island's Newport Folk Festival on Sunday, 24 July 2022, in what NPR called a "new high point" in the "ongoing personal and artistic collaboration" between Mitchell and her "steadfast friend" Brandi Carlile.
Carlile has spent much of the last five years ensuring Mitchell's place "at the centre of popular music history", the outlet adds.
She's a singer in her own right. Her music spans many genres and has earned her 18 Grammy Award nominations.
But what do we know about the "personal and artistic" relationship Brandi Carlile shares with Joni Mitchell? When and how did they meet, and how long have they been working together?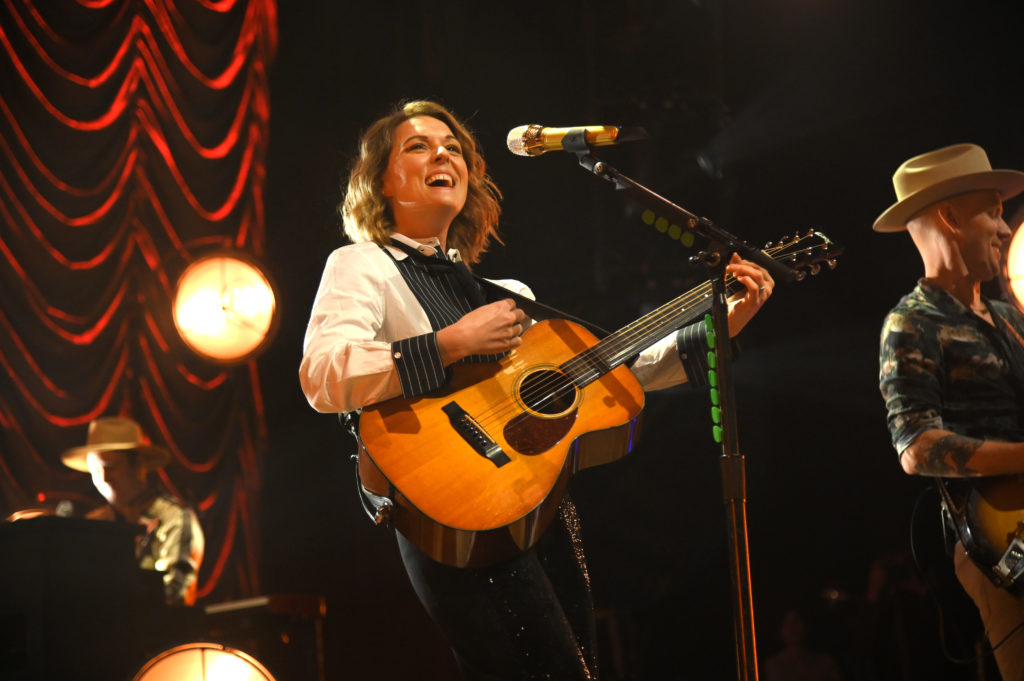 Brandi Carlile And Friends gig becomes 'bona-fide' Joni Mitchell concert
Joni Mitchell first played at the Newport Folk Festival in 1967. It was her first public appearance as a performer, according to the Joni Mitchell Library.
Almost exactly 55 years later, it was Brandi Carlile that was the force behind the Mitchell's return to the festival – it was Joni's first full live show in over two decades.
Billed as Brandi Carlile And Friends, what started life as a "supportive celebration of a beloved elder", NPR writes, evolved into a "bona-fide Joni Mitchell concert".
Carlile declared during the evening that the scene, which featured bandmates Phil and Tim Hanseroth and Celisse Henderson – plus guests Allison Russell, Jess Wolfe and Holly Laessig of Lucius, Blake Mills, Taylor Goldsmith, Marcus Mumford and Wynonna Judd – "shall be forever known henceforth as the Joni Jam!"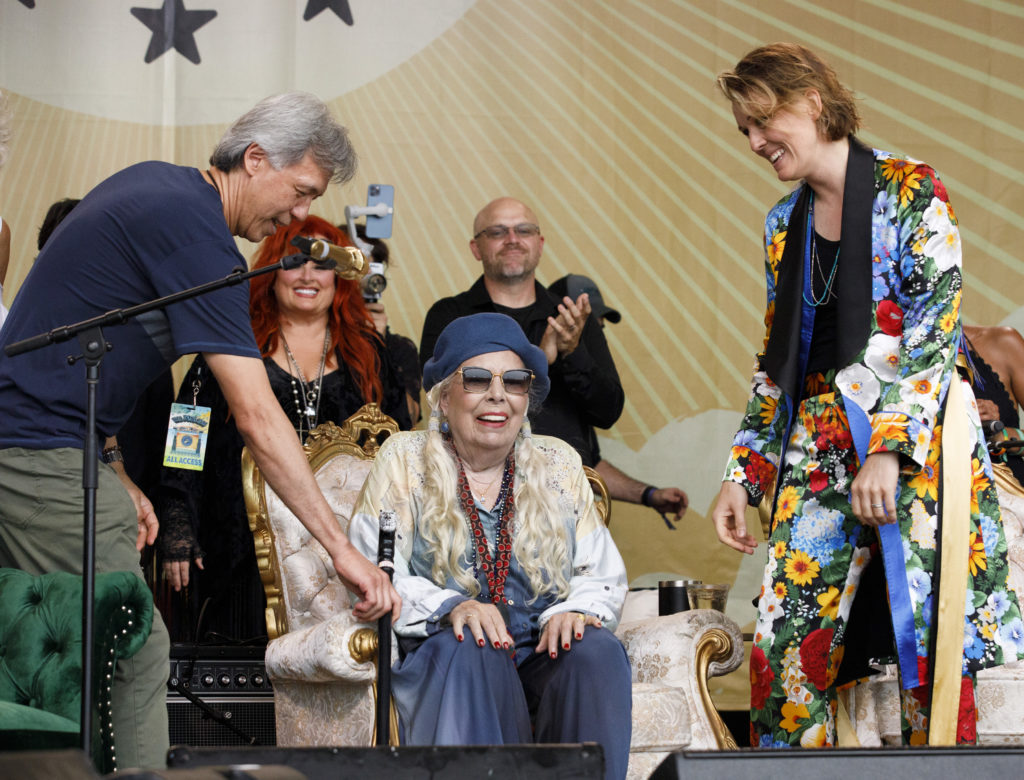 How long have Brandi Carlile and Joni Mitchell known each other?
Joni Mitchell and Brandi Carlile were first pictured together on 7 November 2018.
That day, Joni celebrated her 75th birthday with 3,000 of her biggest fans, closest friends and most adoring peers, Paste Magazine wrote the following year.
Among those in attendance were Tom Hanks, Mandy Moore and Kris Kristofferson. Kristofferson performed too, alongside Brandi Carlile, Emmylou Harris, James Taylor, Rufus Wainwright and Glen Hansard.
Meryl Streep wrote a passage for the concert program; Peter Gabriel joined via Skype. The night served a dual purpose: to celebrate the 75th birthday of a music icon, and to record a live album.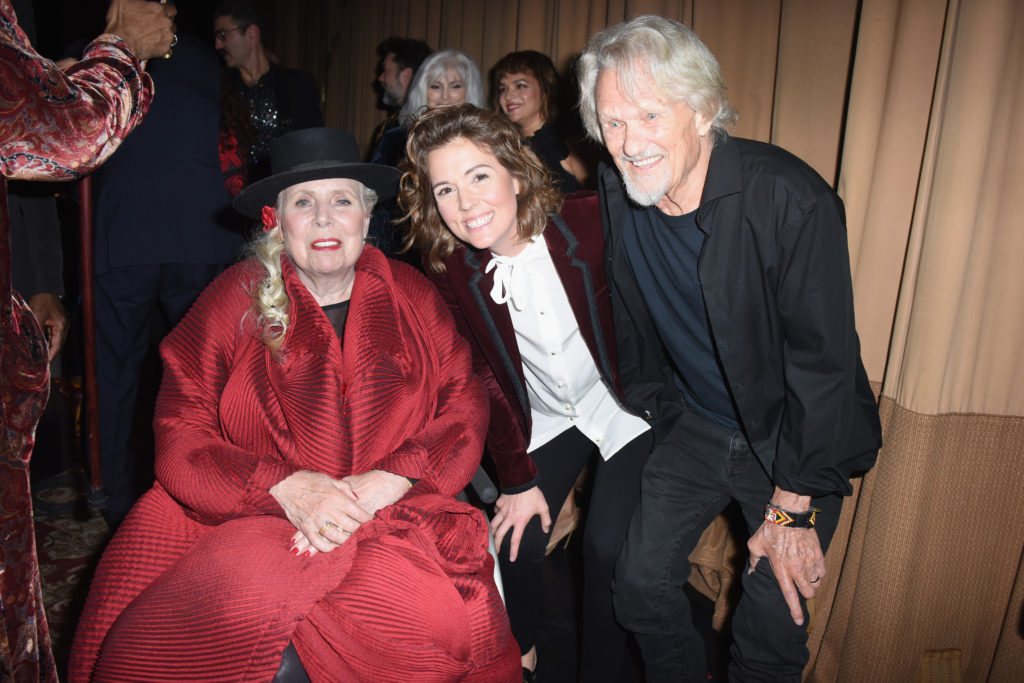 Carlile played Mithcell's Blue in its entirety in October 2019
On Monday, 14 October 2019, Brandi Carlile performed Joni Mitchell's 1971 album Blue in its entirety. The show took place at the Walt Disney Concert Hall in Los Angeles.
In its review, Blurred Culture called the one-time concert, dubbed Songs Are Like Tattoo, a "once in a lifetime night".
"She left us with the same words that she opened", wrote reviewer Erin Finn. "People may not have realised or appreciated that they lived at the same time as Shakespeare or Rembrandt, but we are different. We KNOW we are living at the same time as Joni Mitchell and she should appreciate how lucky we are."
The Joni Mitchell Library quotes Brandi Carlile as saying she felt "the need to play this masterpiece in its entirety so that I can honour Joni Mitchell and the way this album brought me into myself".
She has since become a 'steadfast friend' to Mitchell
NPR compares Brandi Carlile to Judy Collins. Collins first invited a young Mitchell to perform at Newport Folk Festival in 1967.
Carlile has "diligently worked", per NPR, "to ensure Mitchell's place at the centre of popular music history for the past five years".
This has included performing tribute concerts – such as the Blue concert above – writing liner notes for Mitchell's archival series, and "becoming a steadfast friend" to her.
Joni Mitchell suffered a brain aneurysm in early 2015. It meant she found it difficult to communicate and had to spend weeks in hospital. Her performance at Newport Folk Festival on Sunday was her first full length live concert since 2000.
Related Topics