The Late Night Talking music video has finally arrived, a follow-up to Harry Styles' first single from Harry's House, As It Was.
The video released on Wednesday, 13 July 2022 and racked up nearly 500,000 views in just ten minutes. The video hit almost 1 million views in under an hour, which comes as no surprise given his ever-growing fandom.
In his latest music video, the 28-year-old British singer can be seen lounging around in bedtime wear and getting cozy for the evening, all the while singing about the sweet talk between partners before they're off to sleep.
Luckily for fans of Harry Styles, you can get your hands on a pair of pajamas similar to the ones Harry is wearing in the video. These similar styles won't cost the eye-watering sum paid for Harry Styles' pair in the music video!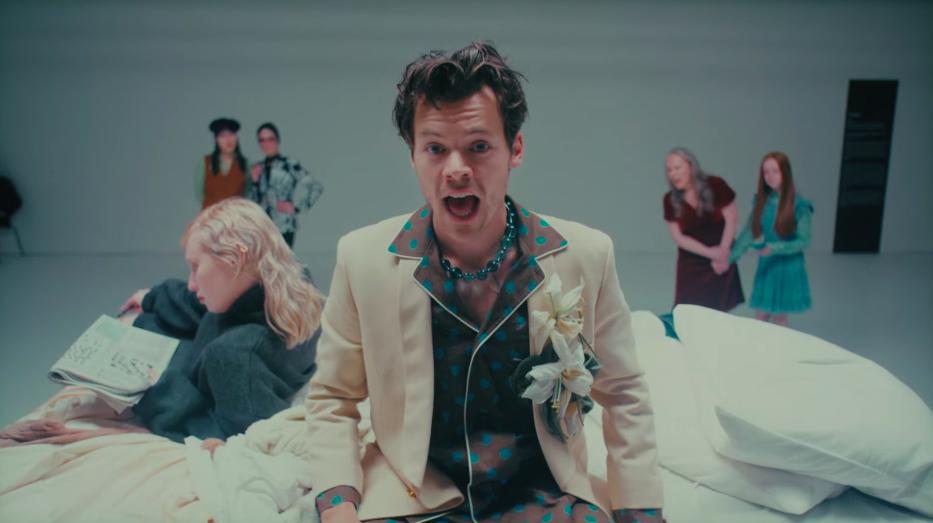 Where are the pajamas Harry Styles wears in Late Night Talking from?
The pajamas Harry Styles is seen sporting in the Late Night Talking music video are from Gucci. In the video, he wears a pink set with brown polka dots, and a brown set with blue polka dots. Harry also dons a Gucci coat and jacket featuring a corsage.
Currently, the pajamas seen in the Late Night Talking video are not for sale on the Gucci website. But we can estimate that the silk set would come in at a similar price.
Gucci silk pajama sets currently retail at over £2,200 ($2,600). This means the Late Night Talking video has thousands of dollars worth of sleepwear clothing Harry and the other actors.
REVISITED: Where cast of That '70s show is now – co-star romance to superhero villain
Harry dons the same pair to read a bedtime story
Back in May, Harry Styles donned the same pair of blue and brown polka dot PJs to read children a bedtime story. Following in the footsteps of other celebs, such as Tom Hardy, who have read a story on a CBeebies broadcast, Styles read 'In Every House, On Every Street', one of his favourite children's books.
You can watch Harry Styles read the bedtime story here.
In the short segment, he is wearing the same Gucci pajamas as in the Late Night Talking video. It is not confirmed when these pajamas were released, if they were from a previous seasons or not, or if they are yet to be released.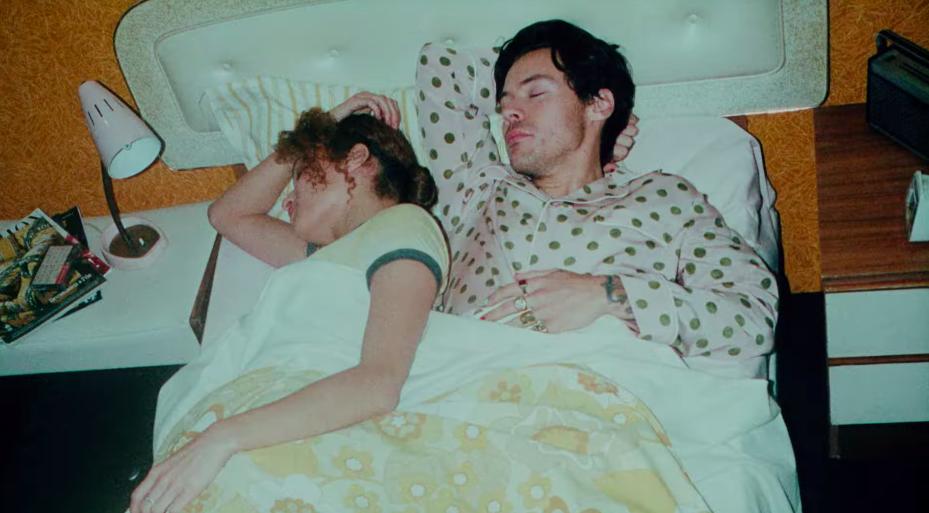 All about Harry Styles' work with Gucci
If you're a Harry Styles fan, you'll surely know that the singer has been associated with Italian fashion house Gucci over the past few years. And the association was professionally cemented as Gucci announced their collaboration with the singer at Milan Fashion Week in June 2022.
Together, they are launching 'Gucci HA HA HA', a 25-look collection inspired by 70s tailoring. Fashion editors at Milan Fashion Week announced they had received a preview of the collection, including adorable stickers which are reminiscent of Styles' Pleasing line.
Oh, and included in the collection? Pajamas, of course. Although they are not the PJs from the Late Night Talking video, the Gucci HA HA HA collection includes some adorable teddy-bear print pajamas.
No exact release date for the collection has been confirmed, although it is reportedly expected to drop in October 2022.
Where to buy a similar pair to Harry's spotty pajamas
If you are looking to get your hands on a pair of pajamas similar to those seen in Late Night Talking, but aren't willing to fork out two grand, then we've got you covered.
For those available to shop on ASOS, the online fashion brand has a number of options including their taupe and cream polka dot pyjama set (£32). Also available is the Lost Ink embroidered polka dot set in black and white, currently on sale for £29.
If you're opting for a slightly more upmarket pajama purchase, then Derek Rose has a number of polka dot options for men, women, and children. Coming in at a price point in the hundreds, they're not nearly as expensive as Harry Styles' Gucci pair, but they will cost a pretty penny.
MUSIC: Spotify x Heardle deal price could be in millions based on past spending
Related Topics