Billie Eilish's highly-anticipated second album has finally arrived this Friday 30 July 2021.
Happier Than Ever is the follow-up to Eilish's critically acclaimed, Grammy Award-winning When We All Fall Asleep, Where Do We Go?
The sixteen-track album is laden with messages of empowerment and full of introspection, notably exploring the abuse of power in relationships. This comes off the back of Eilish detailing the fallout of her relationship with rapper Q in The World's A Little Blurry and the Me Too movement.
One of the album's most talked-about tracks so far is Billie Bossa Nova. With many fans curious about the title and lyrics' meaning, we've done some digging.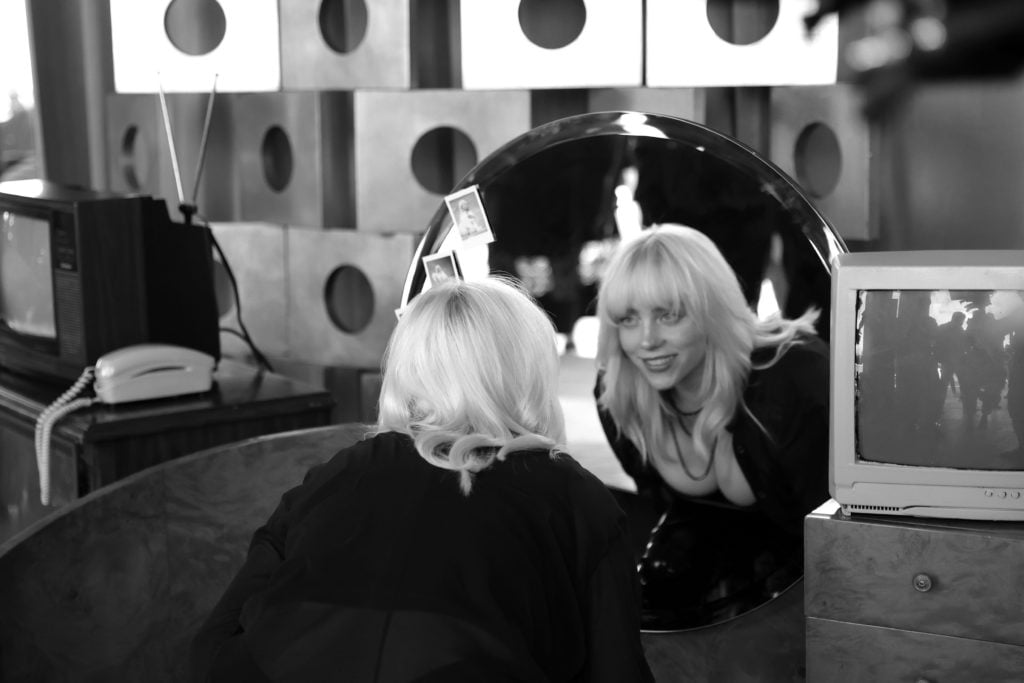 What is a bossa nova?
Bossa nova is a particular style of samba rooted in the 1950s and early 1960s. It originated in Brazil's capital city, Rio de Janeiro.
While bossa nova is rhythmically similar to a samba, it is harmoniously closer to Jazz, its other parent genre.
Billie's version of a bossa nova features some of its most central elements: simple instrumentation with a strummed guitar at its helm and a quick syncopated beat. With Finneas on production it comes as no surprise that the bossa nova beat is modernised with an emphasis on electronic production.
The title's meaning is pretty self-evident; it is Billie Eilish's version of a bossa nova, thus titled 'Billie Bossa Nova'.
NEW: Where to buy Billie Eilish's Happier Than Ever merch
Billie Bossa Nova's meaning explored
The meaning behind the lyrics of Billie Bossa Nova have been of interest to Eilish's listeners.
While Billie Eilish, now 19, has previously sung about her past relationships, this is Eilish's most romantically specific song to date. The lyrics detail Billie and her lover's escapades in hotel rooms. It also touches on Billie Eilish's need for privacy given her fame – which she elaborates on in NDA.
You could think that these lyrics are about Eilish's reported new boyfriend Matthew Tyler Vorce, however Finneas told Rolling Stone that the story was made up by the songwriting duo.
Speaking about the meaning of Billie Bossa Nova, Finneas explained that it's a fantasy they conjured up around "the life of a touring pop star." Finneas explained: "We have to do a lot of goofy bulls*** when we go on tour, where we enter through freight elevators in hotels and stuff, so that paparazzi doesn't follow us to our room."
"And so we acted as if there was also a secret love affair going on in there of Billie being like, 'Nobody saw me in the lobby/Nobody saw me in your arms,' as if there was a mystery person in her life during all of that," he continued.
So, it's not about Matthew, despite what some fans think, but just a fabricated story Billie and Finneas made up.
TRENDING: Is this new Fortnite skin based on Bella Thorne?
Let's take a look at the lyrics
The lyrics that Finneas is referring to are featured in the song's second verse.
Billie Bossa Nova's chorus repeats these lyrics:
"You better lock your phone,
And look at me when you're alone,
Won't take a lot to get you goin',
I'm sorry if it's torture though."
You can imagine that Billie's fanbase were surprised by these more specifically sexual lyrics, which has seemingly sent Twitter into a meltdown.
READ NEXT: What is the meaning behind Billie Eilish's new song Oxytocin?
Related Topics